My Roubo Bench Journey #30: Glue Up and Assembly
I finished prepping the stretchers yesterday for draw boring the joints. I also made some shims out of Bubinga, and cut the pegs to length.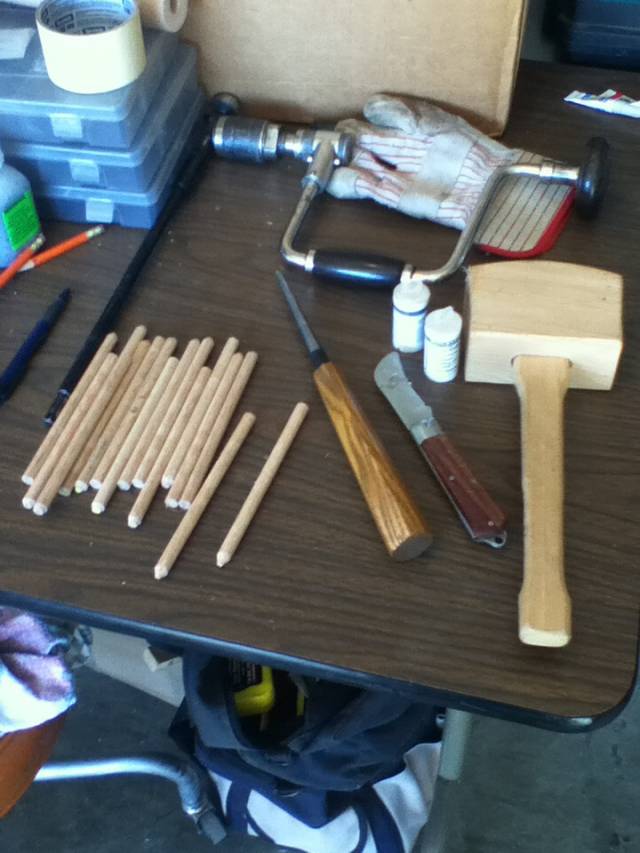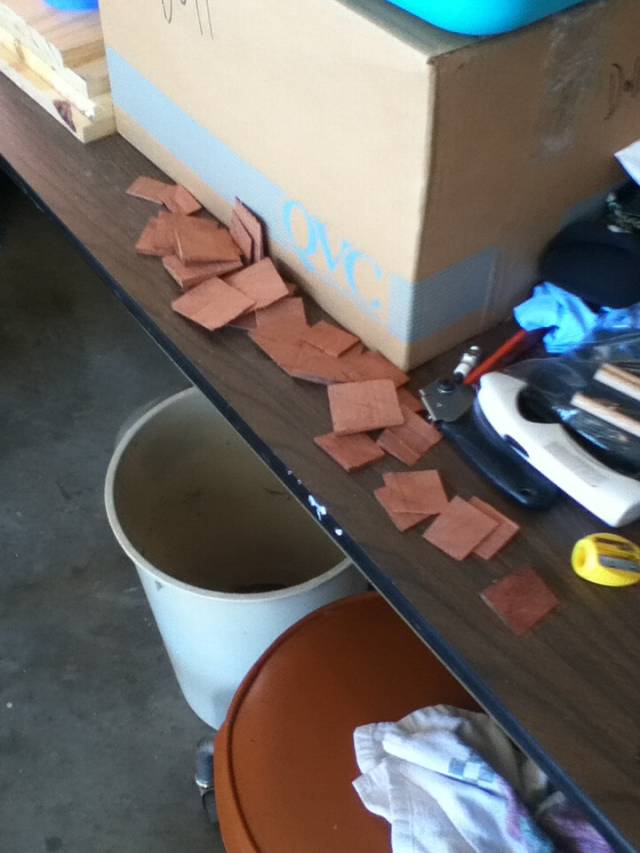 I set out the legs and stretchers ready to be glued up.
Two of my neighbors came by to help with the glue up and setting the top onto the legs, no action shots of that sequence. I started by gluing the legs to the stretchers, then used a couple of loose clamps to hold the assy together while the top was placed onto the leg base assy. Once the top was on, I lubricated the pegs and started to mallet them in. Several of them exploded, I was able to hammer in new pegs, but a couple just kept exploding about half way thru. I suspect it was due to the excessive unevenness of my hole drilling. Even using a drift pin did not help, I am not worried since I know that the pegs did get thru most of the tenon. After the stretchers were pegged, I turned my attention to shimming the leg tenons. Surprisingly, I was a few short, but I won't loose any sleep over it. The Bubinga was so hard, it was denting into the Douglas Fir as it wedged into the joint gaps.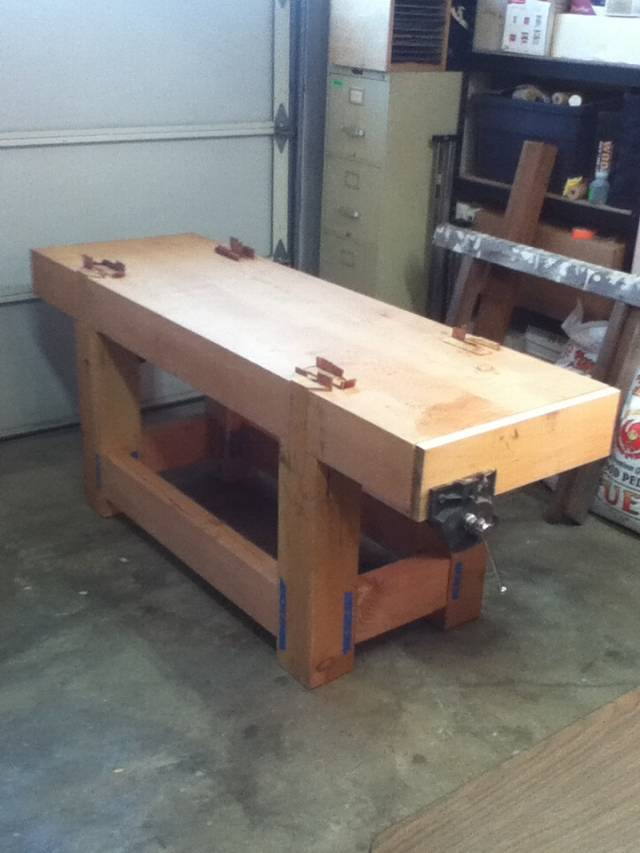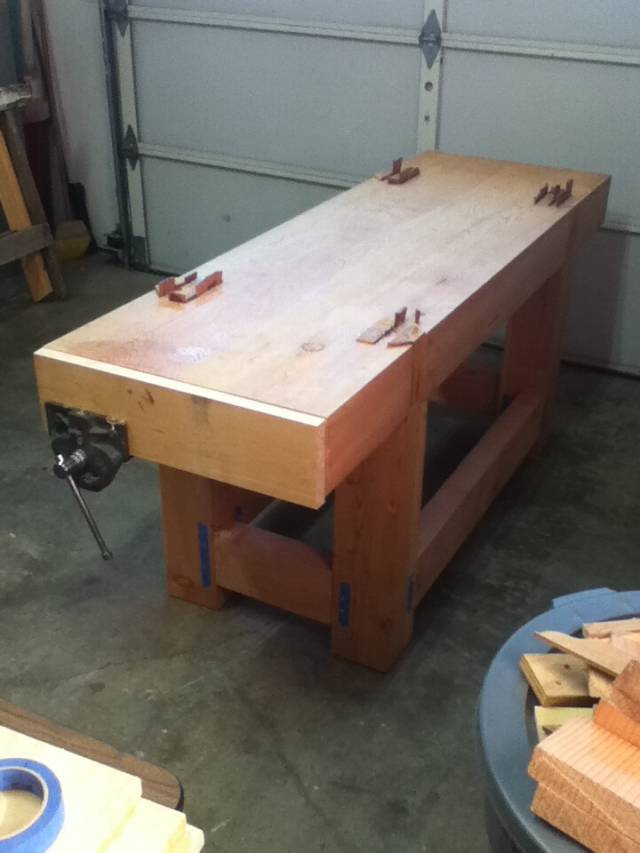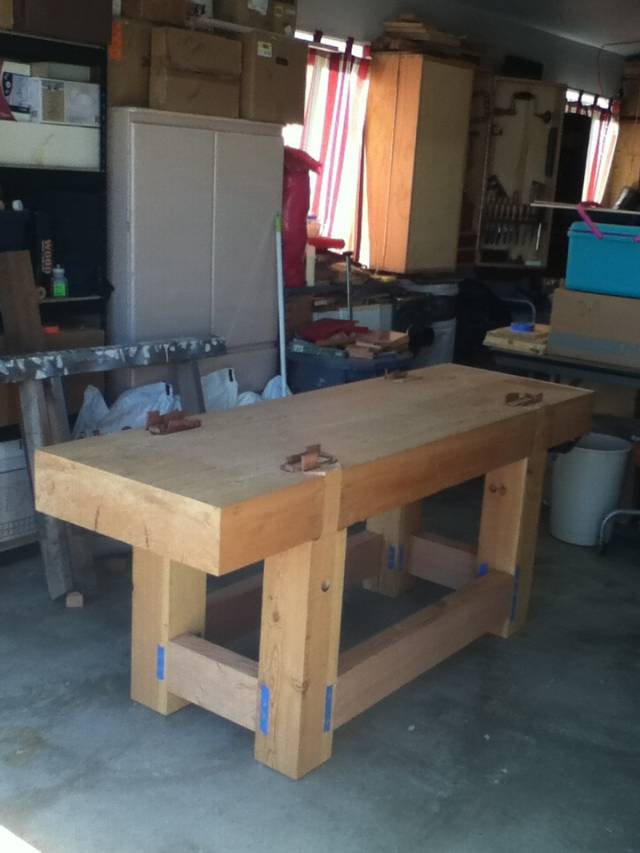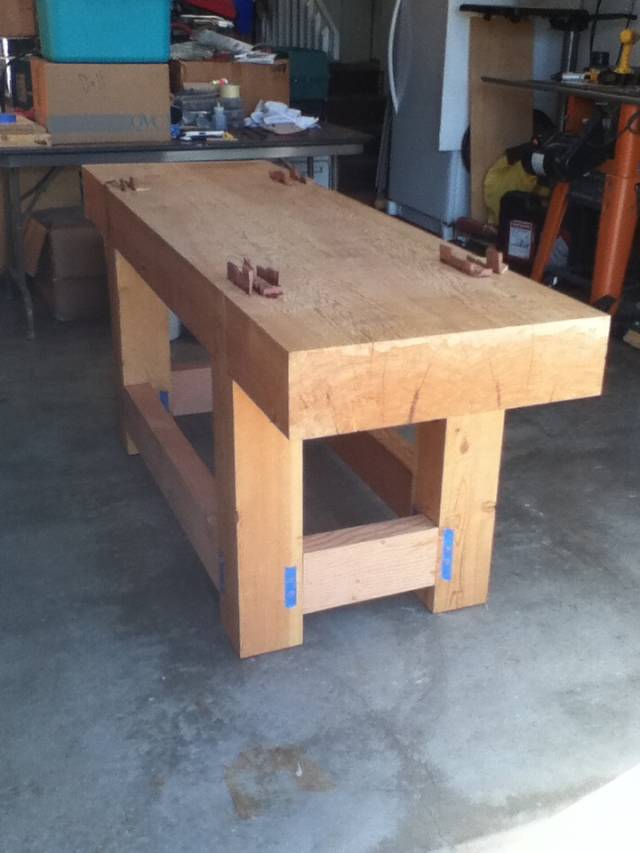 Things left to do:
Trim off the shims, pegs and excess tenons
Shape the new wood chop for the tail vise
Acquire wood and make new wood chop for leg vise
Think about making installing leg vise parallel guide
Make and install runner for bottom of sliding deadman
Acquire wood and make sliding deadman
Lay bench on each side and hand plane legs, stretchers and top level
Hand plane bench top level again
Acquire wood to make lower shelving (hand plane tongue and groove or shiplap) and install
Think about installing a planing stop, don't really have any desire to drill thru six inches of bench top again
Think about holes for holdfast, can't decide about either buying a big dog hand made one or just drill 3/4" holes for my Veritas Surface Clamps
And finally, start making new appliances: Moxon Vise, new bench hooks, hand planing jigs and stops, battens, etc…
View all parts of My Roubo Bench Journey »