Handtoolscollection-edited 21 May, added one more picture
Okay, here is my input,
First pic is the hand saw vise, more hand braces, old Stanley Miter Box, larger hand saws (rip and crosscut), and a hand made Roubo Square.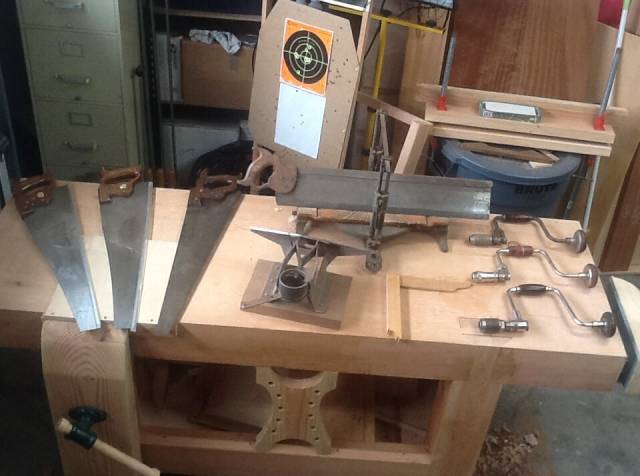 The next pic is of my first Hand Tool Wall Cabinet, when I started out, it only held a small amount of hand planes as you can still see the plane cubbies. Right now, there are two small used block planes that need rehabbing. My hand plane collection out grew this cabinet, so I built a second cabinet just for them, will be the second picture.
The Dovetail, small carcass and sash and two large tenon saws are Adria and are some of my fav tools to use, love them! The halfback saw is made by Wenzloff. A japanese flush cut saw and two dozuki saws. A Knew Concepts coping saw. There is a set of bevel edge and mortising chisels and skew chisels from LN. Also several saddle markers from LV, a Stanley Yankee screwdriver, a North Bros Yankee hand Brace, two home made drift pins, bird cage awl, japanese nail set, Starrett Dividers, Starrett 6" & 12" squares, several marking gauges by LV. A couple of Mallets and one home made brass head hammer for my moulding planes. A set of card scrapers, and several home made boxes with a set of gimlets, Irwin Brace Bits, marking knives and a Millers a Falls Egg beater drill. There are two Auriou Rasps, and several LN Floats. There is more stuff but you get the idea.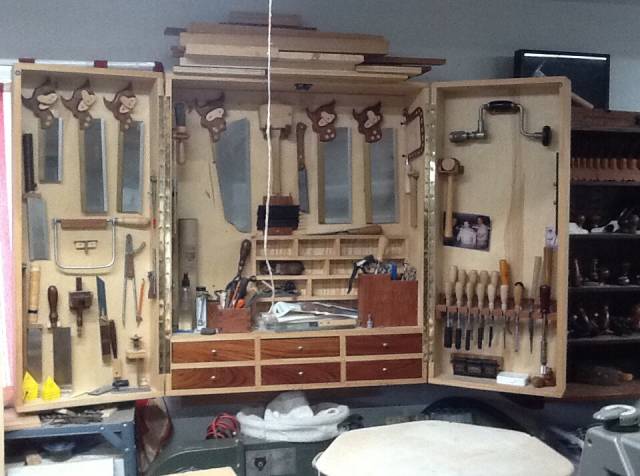 This next pic is the Hand Plane Wall Cabinet which holds the following going from the top to the bottom:
Top Shelf is an old Stanley Level
Next shelf down is a set of Hollows and Rounds from MSB, including a set of Snipes Bill Planes and two Rabbeting Planes.
Next shelf down has a LN #4 & #5, two old Stanley #4s, a Stanley #4 1/2, a LV Scrub Plane and a LV mini shoulder plane.
Next shelf down a Moving Fillister Plane, a LV Scraper Plane, a LV Router plane, a LV Apron Block Plane, a LV Small Block Plane, a Stanley Scraper, a Stanley Bullnose Plane, and a home made Krenov Style Smoothing Plane.
Next shelf down is two LV Spokeshaves, two LV Skew Rabbeting Planes, a LV Small Plow Plane, a LN #98 & #99 Planes, a LN Medium and Small Shoulder Planes and a LN #49 Plane.
Last Shelf is a LV Jointer (#7) Plane and a LN #8 Jointer Plane.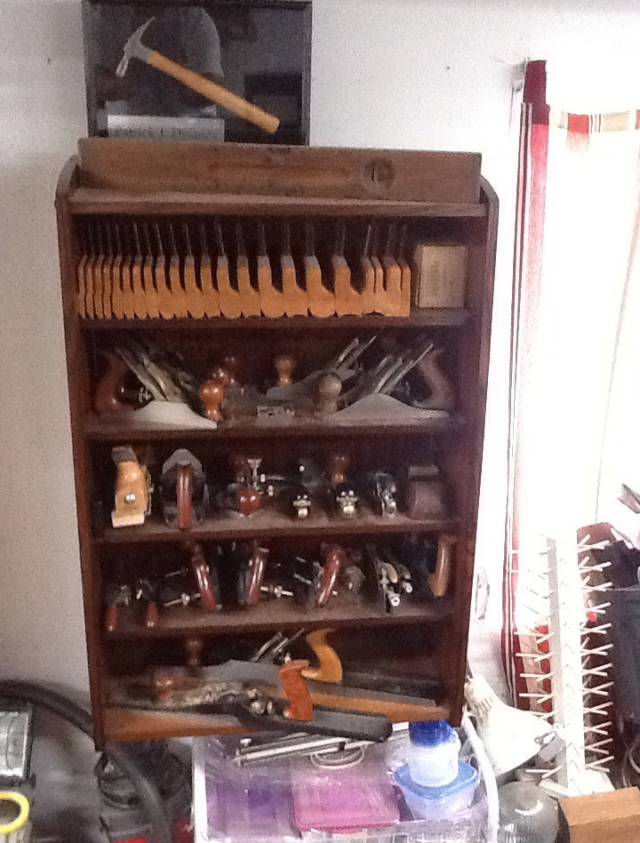 I hope you enjoyed the display.