The first thing I learned is to wipe the wood/project down with a very wet rag or sponge immediately prior to adding the milk paint. The water raises the wood grain and helps the milk paint adhere to the wood.
The second thing I learned is that making homemade milk paint with quark, is by far the most superior of the milk paints. The commercial stuff works, but is inferior IMO in that the commercial companies use powdered milk to make their milk paints.
Why is that an issue? — Because the fats in whole milk get in the way of adhesion. When making your own milk paint, you should be using "fat free" milk, or "2%" at the most. The commercial milk paints work, however they bleed off and "stain" for weeks longer than homemade and that makes it a PITA when trying to age the piece in your home without messing up the paint job, IMO.
You make quark by adding vinegar to your 1/2 gallon of "warm" fatfree milk, to help make it curdle quicker. DO NOT over stir the vinegar into the milk! Pour in one cup of vinegar and make ONE SINGLE swirl with a spoon and STOP! Too much stirring and you will cause the curds to be too small and weak. That will result in a weaker paint mixture. The quark should be ready in about 48-72 hours or so.
WARNING — cold milk makes small curds and that weakens the paint.
You then pour off the whey (clear stuff) by pouring the mixture through a cheese cloth to catch the quark/curds. You may have to ball up and slightly squeeze the cheese cloth, but NOT too much.
You will end up with a clump of quark that you put in a mixing bowl and add a small amount (<1/4-cup)of garden "lime". The adding of lime will turn this mass into the paint you desire, though you need to mix with the blender completely.
Try NOT to add water, as it is way too easy to end up with a too thin paint, called a wash. It will stick just as well but will be transparent with just a hint of color. You add the acrylic pigment color of choice now, by just squeezing the pigment tube. No added water. I used 4oz tube per 1/2 gal of milk paint mix. This makes a bit over a quart of paint.
On the plus side, commercial milk paints flow and mix smoother than homemade paints. There are usually no curds present/visible and the finished product look very much like a latex paint (NOT good if you are going for a more natural finish).
Homemade milk paint will have many small white curds present, regardless of the coloring/pigment you choose to color it with. It helps to use a powered mixer to blend your paint, though that will not eliminate the curds completely.
The bottom line is feel free to experiment with making milk paint. The garden lime is cheap at HD for ~$5-8 for a 3-5lb bag(lifetime supply), and you can buy milk by the gallon and save. I bought my acrylic pigments at Hobby Lobby.
Do be careful about making a mess, as it is hard to clean up and you HAVE TO clean up before it dries. Never let you mixing tool/utensils get dry either as this stuff stick permanently. Keep a large bowl of water handy to dip thing in.
Have fun!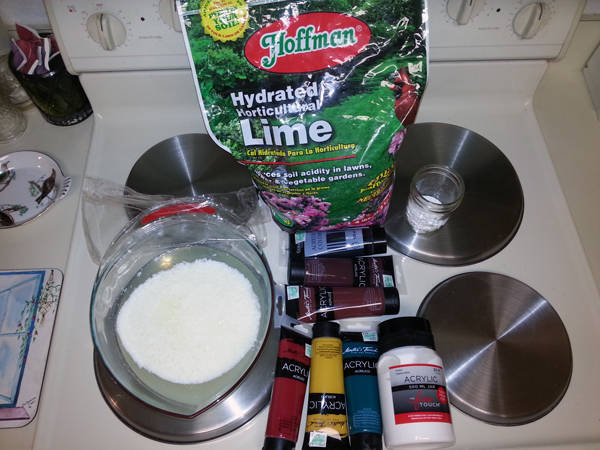 HorizontalMike