Well, I got the better half to help me wrestle this thing off of the WB this morning before she took off for work. Boy, this thing is heavy! And that is without the 1/2-sheet back and no facing on the front.
Found out quickly why having EIGHT wheels can be problematic, AND that storing your own Plywood for over a year (even vertically) can and does introduce warping in some degree or another. Just more things to work around ;-) Anyway, once on the wheels I could tell just how much the table warped from end to end. I have about 1/4" gap from one end's pair of wheels touching the floor. The other six all match/roll.
Adding weight/loading the ends does cause the table to flex, and thus far I am getting 7 of 8 wheels rolling (as you can see how I stacked the weights). I am hoping that by cutting the back piece nice and snug, while having the table flexed flat, that the back piece will help take some of that warp out of the finished product without the need for the added weight.
Long story short, I have about 250lb of weightlifting gear, plus another ~150lb of lead bullets (reloading supplies) that should more than take care of this relatively minor warp once stored in the bottom compartments.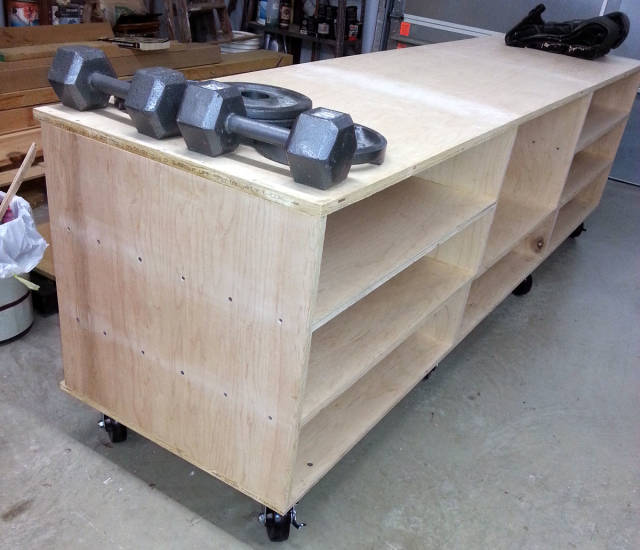 FWIW, I used #8 1-1/2in wood screws spaced ~4in apart in ALL joints, including dados. By the time I finish, I think I will have used about 150-160 wood screws in total. Plus, the inside joints are all glued, with only the bottom/floor and the two inner dado joints of the top piece not having glue. Wrestling with bowed plywood by oneself pretty much determined when I had to skip the gluing procedure. Clamps got in the way of quickly removing and reinstalling some pieces correctly without help.
Got other things planned for the weekend, so I will be taking a break for a few days. After I pick up the extra sheet and cut it to fit, I will then start resawing/milling some 12/4 Maple that I have and install the facing on the front, and maybe add a 4-6in skirt around the base (more torque prevention).
Much later, I will be designing and adding heavy duty drawers. Thinking about actually cutting hand holes in the side runners to aid in lifting the drawers once they are opened.
Anyway TBC'd…
HorizontalMike