Free Scroll Saw Patterns For Everyone #2 Why Pay?
Ever since the advent of the internet it has become easy to find 100% Free Scroll Saw Patterns.
Many articles have been written on this subject and I have to say that I agree.
Why pay for something you can get for free?
I encourage everyone to post their best sites for some of the latest free patterns they have found.
I personally own a Dewalt DW788 Scroll Saw.. Great machine.
I've also purchased a lazy mans scroll saw called a Laser..LOL
They are pretty amazing. All you do is take any pattern and convert it to vector.. I use Corel Draw for this.. like most people who use lasers. CorelDraw is pretty much the standard.
The beauty of a laser is once you have it programmed for a pattern you can repeat that pattern forever.
Even if your friends don't have a laser they can use the files by simply printing them out and cut the pattern on their scroll saw.
Recently my daughter who lives in Colorado wanted me to make a bunch of Fairy
Garden items for her to sell at a craft show.
So I designed some swing sets, bridges, Fairy doors etc and mailed them off to her. I also put them on my website for sale..
Here's a FREE Pattern for all of you…
If anyone wants a FREE pattern for my Porch Swing that I sell completed
for $24.95…just join my mailing list. My Mailing List
I will be sending this out to in a PDF file to the hundreds already on my list within the next few days.. It took me mega hours to design it.. and it sells really well. No glue needed it just all snaps together and it really swings.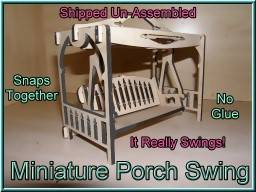 Another great site for 100% free patterns is: http://fssp-arpop.blogspot.ca/
-- David Bethune