Morris chair restoration
After completing my bathroom vanity and cabinet, I decided to work on a simple, quick project. Was I ever mistaken! What I thought would be just retying a few springs, replacing a spindle, regluing the carved additions to the chair feet, and reupholstering two cushions turned into a major project.
Had I known then what I know now, I may have simply discarded the chair . . . but it was my grandparents' chair and has sentimental ties so I pressed on through the long, tedious project. (I don't know the full history behind the chair but Dad, who is 102, doesn't remember a time when they didn't have it. I think it may have been old when my grandparents got it.)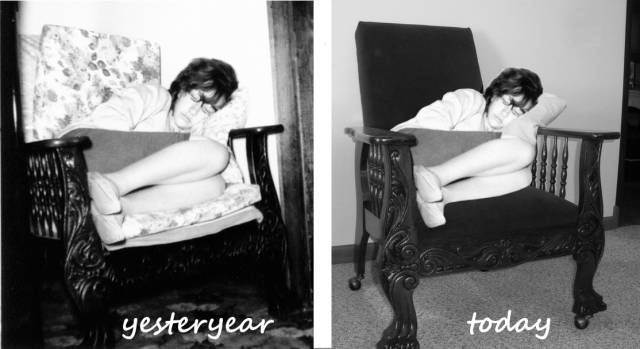 As you can see, I really haven't changed a lot over the years!
I am quite delighted with the final results, but couldn't afford to support myself with a project like this. It took me all summer to complete!
You can check progress photos on my blog.
-- "Those who would give up essential Liberty, to purchase a little temporary Safety, deserve neither Liberty nor Safety." Benjamin Franklin