Welcome to Tortuga Early Instruments Worldwide Headquarters!
My shop is my sacred space. When I cross the threshold into its confines, something changes within me. I move from a work-a-day wage slave to a creator. When I transform wood, it transforms me. Because I have to maintain a day job, I move at a turtle's pace, hence the name of my company: Tortuga Early Instruments. My motto is "Tardus et stabilis…" or "Slow and steady…"
I am currently working on two projects. The first is a single manual Flemish harpsichord I'm building from scratch; it's based on a 1640 instrument by Andreaus Ruckers.
The first stage of building such an instrument is to create the keyboard. I'm building the instrument in the Craftsman/Arts & Crafts style, which is non-traditional, but I'm keeping this one and I want it to match the rest of our home's furniture. Thus, I'm using African blackwood and quarter-sawn oak for the visible parts and pieces; the rest is made from poplar and non-knotty pine.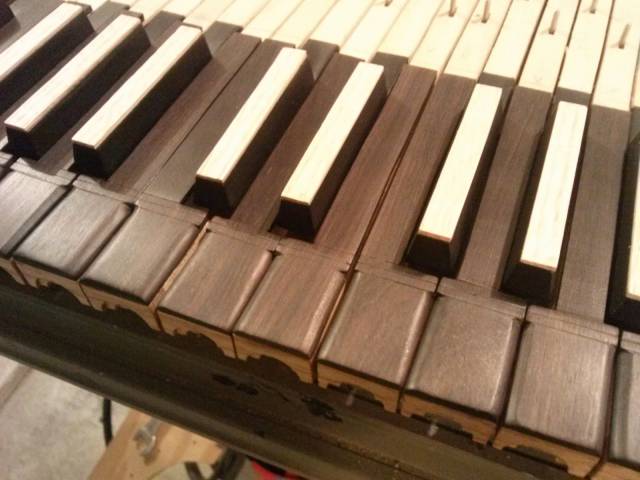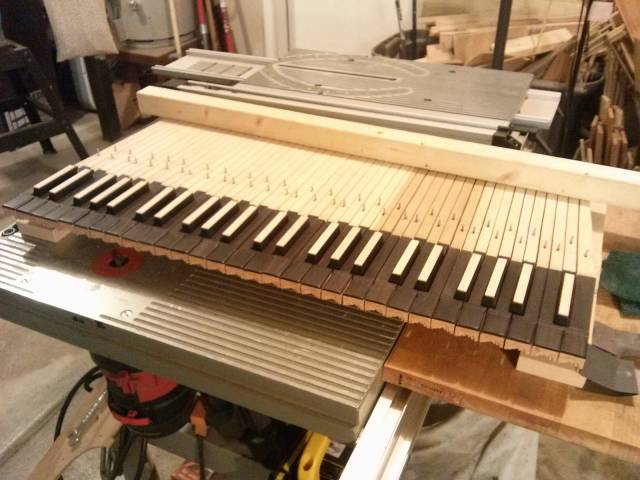 I'm also working on an electric cello for my youngest son's birthday in April. I don't have much time, so I'm sourcing some of the parts from the Interwebs.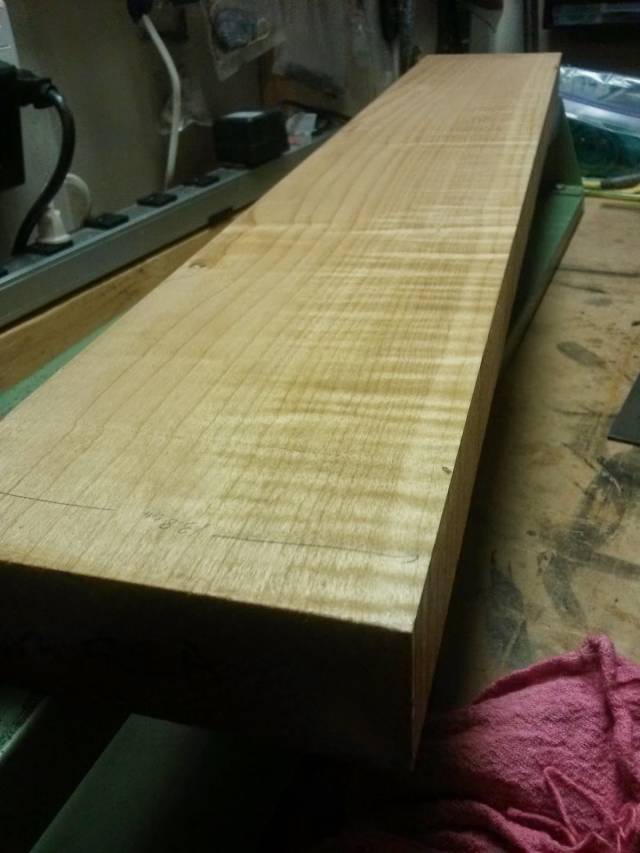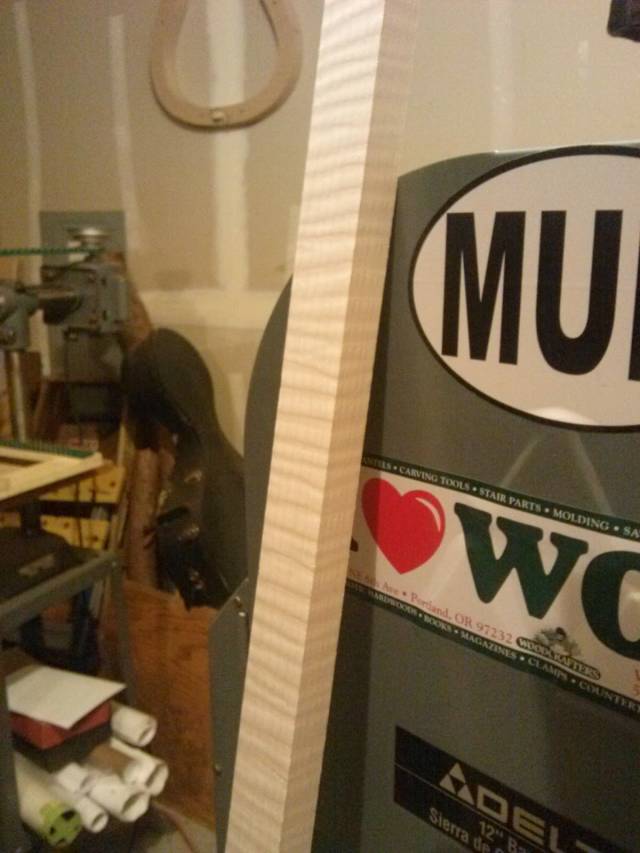 I will be shaping and bending these maple pieces into something resembling the skeleton of a traditional cello. So far, I have the body blank, the faux body strip, and the bridge, bow, and pre-amp. The best is yet to come – the next project will be a Baroque guitar!
In my little shop, which is really just a two-car garage, I have the following:
Foremost 18" Band Saw (Big Bertha) – hosts a 1" Timberwolf blade for resawing
Delta 12" Band Saw (Little Buddy) – for detail work
Riyobi BT3000 Table Saw – completely refurbished with new tilt gear and various other parts
Grizzly 6" Jointer (Smooth Operator) – has a 48" bed for jointing some of the larger harpsichord parts
HSC 40"/14" Lathe – for turning tuning pegs, case and bench legs, etc.
Chicago Electric 12" Compound Sliding Miter Saw – yeah, it's HF, but I put a Freud 80-tooth blade on it and it works great
Rockwell 18" Drill Press (The Terminator) – this allows me to freely drill keyboard balance rail holes based on its enormous throat depth
Ridgid Oscillating Spindle Sander – an amazing tool that provides the ultimate sanding flexibility
Central Machinery 12" Planer – another HF product and arguably my favorite machine
Central Machinery 4″ × 36″ Stationary Belt Sander – love it
Delta 18" Scroll Saw – use this for stuff too small for the 12" band saw
Workbench – mounted to the shop wall
Various gouges, chisels, hand planes, etc.
The only machine in this list I purchased new was the Central Machinery 4″ × 36″ sander because I needed it pronto. The rest all came from Craigslist. I've stripped, refurbished, fixed and repainted many of them and they're all now close friends. Of course, I didn't start out with this group; they came to me over time and I'm glad they're here.
Here they are as they take their respective places in the shop: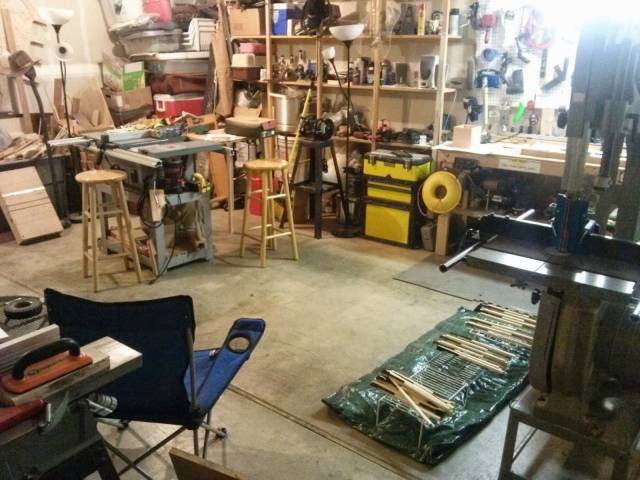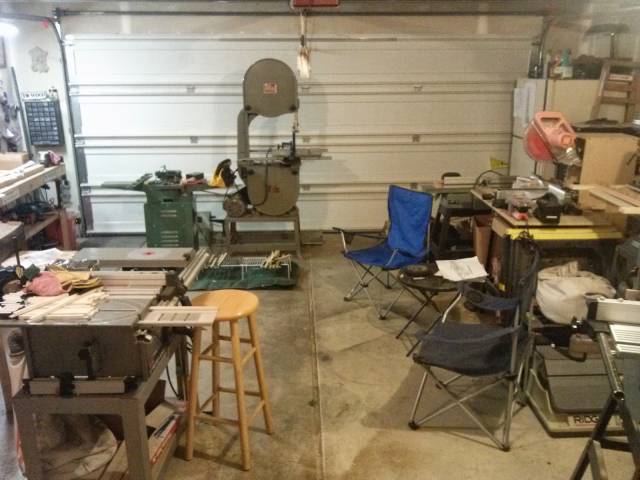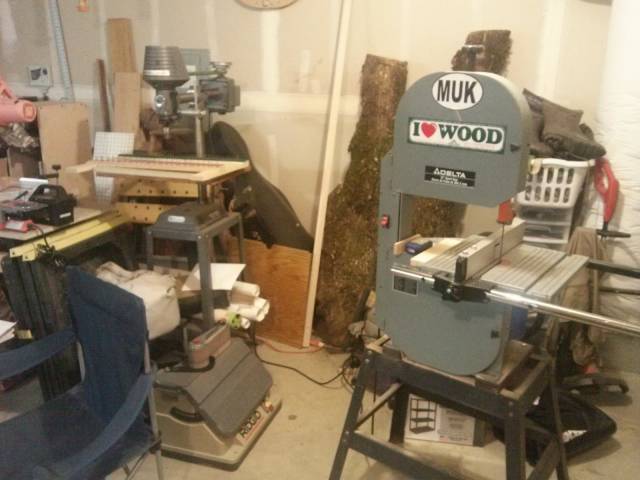 I hope you enjoyed this tour of my sacred space.
Onward! Darin
-- Darin R. Molnar