Ramblings from a South Central Texas Wood Butcher #18: Back in the "Saddle" (Shop)
Howdy Everybody!
Hope all, who celebrate it, had a great Thanksgiving. We did. Traveled the week before to celebrate with the kids and the in laws. Very nice get together. Selena and I spent the real TG, at home, along with the cat, Chunkster. Ate some awesome food and enjoyed the peace and quiet.
South Central Texas has finally cooled down, and I've gotten enough strength back in my shoulder, that I can safely work at the table saw. I won't say comfortably, but at least safely. I've got some Christmas presents to do, so it's back to work.
My Daughter in Law commissioned me to make a "Joe's Place" arrow sign for there stair well, pointing up to his "Man Cave," the loft. She wanted a vintage/weathered look, so I dug out a an old board that I salvaged form my Aunt's house, and did some quick cutting with the sabre saw.
A bit of Font research on the Inter-Web scored me some decent fonts, so in the computer they went and the Silhouette cutter made, semi, quick work in cutting my stencils. Laid them out, shot with some spray bombs, quick dry and some "weathering," with some sand paper. The Daughter in Law's please, I'm pleased and Mama likes it, so there's one gift done.
Next on the agenda, two key/coin trays for the Son and Son in Law. I don't know how to verbalize them, but I'll be shooting photos. I got the frames and "bottom" inserts rough cut a bit ago, but the Kerosene heater ran out of fuel, and I ran out of steam; so I'm done for the day.
I've got a picture frame to do for Mama, to match the Oak shadow boxes I did earlier. She came up with the idea and I'm excited to jump into it. Gotta pick up some more Oak, though.
Well, it's time to scope out the Creations and see what others have been doing.
Until next time, Happy Wooding!!
Shin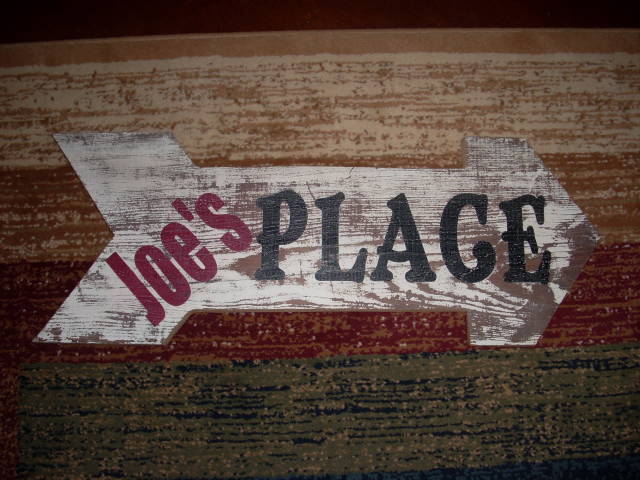 -- Keith "Shin" Schindler
View all parts of Ramblings from a South Central Texas Wood Butcher »