Builder to Woodworker in a Phone Call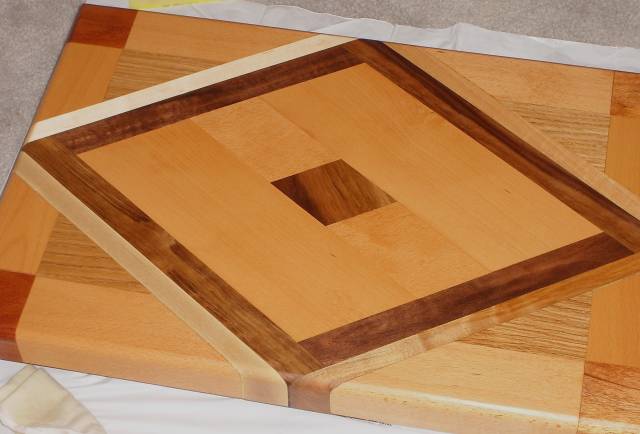 What a horrible picture! I'm sure that's the first thought as you start this blog. I'm sure it was followed by things like: did he use a flip phone or is he blind? While I'm certain I'm not blind I'm a little uncertain as to what this picture was taken by. It's not great I know and for that I apologise. It's just a cutting board, one in vast sea of chopping blocks. It may not be much to you, and I wouldn't expect it to be so. To me, it represents a turning point. A point in my construction career where I became (or at the time, wanted to become) a woodworker.
It was 2006 I believe when I got the call from my brother. My brother had always been into the culinary arts, not professionally but my stomach told me he probably could have been if he wanted. He called me that day asking for a cutting board. He'd seen my work and had faith that I could easily put something like that together fairly simply. It sounded easy enough and I told him I would definitely do it. I'd built a lot of things up to this point in my life but somehow this seemed different. It seemed as though it needed to have a finer quality to it for some reason. I had never really thought about different woods outside of construction grade lumber and some of your other basic hardwoods ie. red oak, poplar, and maple until this project had come into my life. Why was this project so different feeling than the others? As easy as it sounded, I wasn't sure where to start.
I went to the wood store as my son so calls it these days. It's not that I had never been to a lumber yard, I had just never been to one that had as many choices of wood species as this one. Amazed. That's it. Absolutely amazed is the only thing I can say about the first time I walked over to the lumber racks to see all the different species of wood. I had heard about many of them but to see it was just insane to me. I must have walked around those aisles for hours just looking at each type, studying it, checking out the different grain patterns. I finally settled on a few different pieces. As you can see it was walnut, beech, white oak, and mahogany (the maple I had in the shop already).
I put everything into that cutting board. It was my baby, the first piece I made for someone that I fully designed and built. I did all my homework, I learned as much as I could about that piece. How it needed to be taken care of, why wood was a good product for cutting boards, what finishes it needed to be safe to even use. It's not that I had never done quality work before, but that moment somehow changed my thinking. I had done some pretty amazing things along side of my partner and others. It was the first time I was able to design something and I wanted more. To me that is part of what sets a woodworker aside from others. Not just the ability to put something together, there's lots of people who can do that and it's growing everyday with the big box stores. Being able to look at a piece of wood and design a product even as small as a cutting board to make with that wood. It's also knowing how wood works. How it's going to respond in certain conditions, the best form of joining the wood together so there is a perfect balance of strength and beauty to the piece. Hammering a nail is great, I did it for years and I loved it, but it's just not the same as pegging that first mortise and tenon joint.
It's just a simple cutting board, one in a million, but it set me down a path I will forever be on. I've since made hundreds of cutting boards and will probably make hundreds more in the future. Every now and then I ask my brother if he still uses that one just to make sure it's still around. He always says yes and in my mind there's a little version of me jumping around knowing that all my hard work is still paying off. While it's a crummy picture, it's still one of my favorites to come across. So get into the shop and make something you never know where it might lead you.
-John Cobb
Unique Concepts Building & Design LLC