Curved Lid Treasure Box
I made this project using the plans titled Curved Lid Treasure Box from Woodsmith Magazine (link below). Although I deviated some from the plans, I took advantage of their full size template for the lid as seen in the picture below. In the picture, the portion that I have in my hand was cut on the table saw removing most of the waste. The side opposite was shaped to match the curve of the template with a low angle block plane.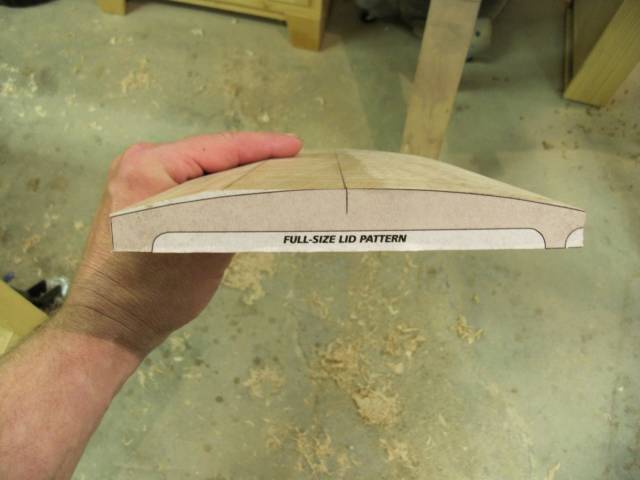 I deviated from their version when I made the ends. I chose to use walnut for the ends. In the plans maple was used. I chose to use a dark walnut lacquer toner, carefully applying light coats until I got a rich dark brown color. I managed to get it dark enough but not too dark obscuring the grain. In the plans, they ebonized the maple with India ink. I changed the shape of the ends by using a large ½" roundover and a ¾" cove to create the profile. In the plans, they chamfered the top edge at the table saw and used a 1" cove to create the profile.
I deviated from their version in the maple finish. I chose to use Transtint Vintage Maple Dye. In the plans they used Transtint Orange and Reddish Brown. My goal was a light golden brown to contrast the dark brown ends, so I needed a relatively weak dye concentration. Mine a much weaker concentration of dye and distilled water than the cherry dye that was used in the plans.
The last deviation was the hinges. I chose to use Brusso Stop Hinges. In the plans, they used Precision Box Hinges from Horton Brasses. This is my first time using these Brusso's, only because they are pricey. My experience from using them for the first time is a good one and will use them again in the future.
I used similar or if the not the same self-adhesive felt for the bottom of the box. I adhered an oversized piece of felt to an oversized piece of poster board. I then cut a piece of ¼" hardboard to fit inside the box, and used it to trace around with a razor blade cutting the felt to size.
I applied several coats of gloss lacquer to the entire box. I rubbed it out starting with 600 grit wet/dry and working to 2000 grit wet/dry. I then used Maguire's rubbing compound, followed by Maguire's polishing compound to regain that high gloss.
This was a 2013 Christmas present for my mother to add to her collection of lacquered boxes.
Materials used
4/4 Walnut
4/4 Curly maple
Transtint Vintage Maple and distilled water
Behlens Dark Walnut Lacquer Toner
Behlens Gloss Lacquer
Brusso JB103 Stop Hinges
Self-adhesive black felt and poster board
http://www.woodsmithshop.com/download/502/curved-lid-box.pdf
-- Measure "at least" twice and cut once