Follow
Glass Ball Coffee Table # 1
Woodbridge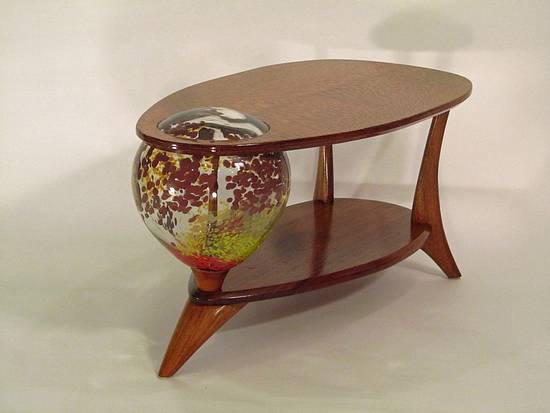 1116 views, 4 comments and 0 faves in
This is the first of my glass ball coffee tables. For few years now, my brother has taken a glass blowing course at his local community/arts centre.
He's made a many great glass pieces, a number of which we have in our home. One evening he showed me a large glass ball (about 12 inches in diameter) that he made and uses as a decoration in his garden.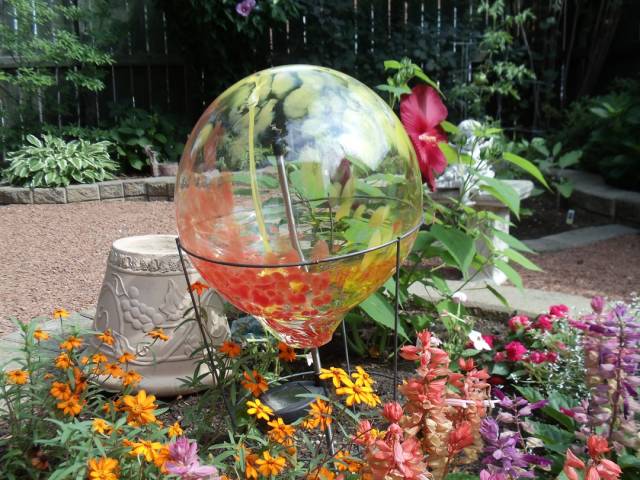 When I saw it I began to think how I might include this type of glass ball in a furniture project and asked if he would make one for me. There is a wonderful coffee table in Design Book Eight made by Seth Roland. "The Tsubo Coffee Table is made from a natural beach stone held in a carved mahogany base. The stone coming through the top gives it the feel of a landscape or Japanese rock garden."
So I decided to try and incorporate the glass ball into a coffee table. I came up with a number of different sketches, most with the glass ball incorporated into the centre of table in one fashion on another. I settled on an asymmetrical three leg table design with a bit of a mid-century modern look. (If you have seen my chair projects you know I am partial to three legged furniture)
The table top is lacewood. I choose lacewood to match the brown speckled colouring in the glass ball. The lower shelf and legs are made from mahogany. The table is about 34 inches long by 18 inches wide. (The overall dimensions were determined by the size of the lacewood board I had on hand.)
The 11 inch diameter glass ball protrudes through the top of the table and also supports the front f the table top. The three legs were shaped with a spoke shave. To raise it up a bit it sits on a small turned pedestal. The bottom shelf and legs were coloured with an antique cherry analine dye to better match the colour of the lacewood top, then finished with a number of coats of shellac. The lacewood top was finished with a number of coats of gloss ploy for more durability.
I was thrilled that this table has been included in Popular Woodworking's Nov 2014 edition as part of the Woodworking Excellence Awards article.
All

projects
More projects from Woodbridge