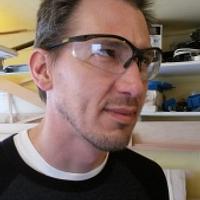 Brian
asked 3 months ago
Q&A: Any ideas on a super durable finish that will take a beating?
Wife wants a dining table. I'm sketching it out. We discussed finishes. She wants an epoxy finish because she thinks it's durable. I'm not sold on that 100%. First of all, I plan to bevel the underside edges and I'm not sure how to "wrap" the epoxy around the edge. Secondly, I'm not crazy about the look. I also don't think she understands what the look will actually be.
Losing fingers since 1969
Right there with you Jim … epoxy would not be my first choice. I just recently made a desktop for a customer and used Arm-R-Seal for the first time. It appears to be holding up quite well for him.
Brian, I guess the big question is does your wife truly want an "epoxy" gloss finish?
If she does… there's a product out there called, "liquid glass". It's used on bar tops and the like.
When people ask for a hard finish I go with post catalyzed Krystal Conversion varnish. It's my go to these days. I've sprayed it on commercial and residential bars etc. Quite durable. On furniture I often wet sand it with 1200g-1500g after and it gives it a beautiful silky texture (and takes the sheen down some)
Angellos
Brian: What about using floor varnish for the the top. That is pretty durable.
—Madts.
Tor and Odin are the greatest of gods.