Surf Fishing Plugs #5: Jack Frech replicas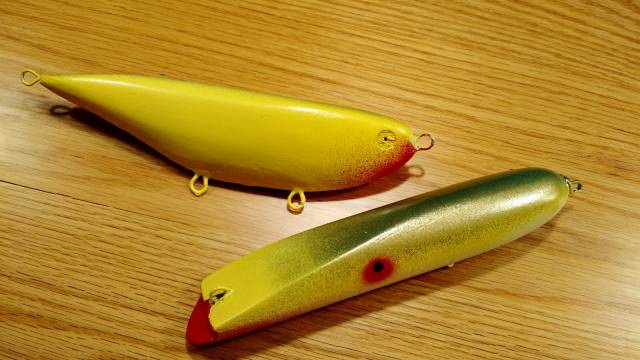 Jack Frech was a legendary Long Island surf fisher and plug builder. In the 70s, he wrote a series of articles for a fishing magazine that included plans. I found these on a fishing website and went to work over the weekend.
The top one is called a banana plug. It weighs over 4 oz and is shaped like the below surface view of a menhaden that is swimming with it's back out of the water. It's about 7-1/2" long and made from a piece of long dried out, 60 year old tubafor that came from my house during one of my little renovations. It was so dry and lightweight that I figured it had to be super buoyant. Frech used pine for extra buoyancy. It's filled with lead to make it float properly. Getting this shape to float right side up and level isn't easy, but fortunately Frech did all the trial and error work for me. I float tested it and it floats exactly as the instructions describe.Win one for following instructions. I carved it using my Japanese pull saw and Shinto saw. It's an odd shape and difficult to hold in a vise because the material is so soft. I made a jig to hold the dowels but this triangular shape didn't work as well. I ended up using a vise for the entire rough shaping anyway, then just hand held it while smoothing.
The bottom one is Frech's extra large Montauk darter. It's also about 7-1/2" long and weighs over 4 oz. It's made from a 1-3/8 poplar dowel. The instructions called for 1-1/4" birch dowel, but I used what I had. After floating it and seeing that it floats as described in the instructions (diving plane just above and parallel with the water), I'm pretty confident it will swim correctly. Win two for mostly following instructions.
Both of these will be rigged with 4/0 trebles, which are rather large hooks for (hopefully) rather large fish. :-)
Neither of these plugs are made commercially. They're rod breakers because they're so heavy. I'm a little concerned about that myself as my rod has a 4-1/2 oz rating. I'm cutting it very close and I don't want to buy a new one. I'll be gentle until I figure out if the rod can take casting these beasts.
-- Losing fingers since 1969
View all parts of Surf Fishing Plugs »