Gazebo build #2: Roof framing
To have a double roof, you need a double header. The math is the same as before, but you have to decide how big you want the upper roof to be. This is the header for the upper roof support: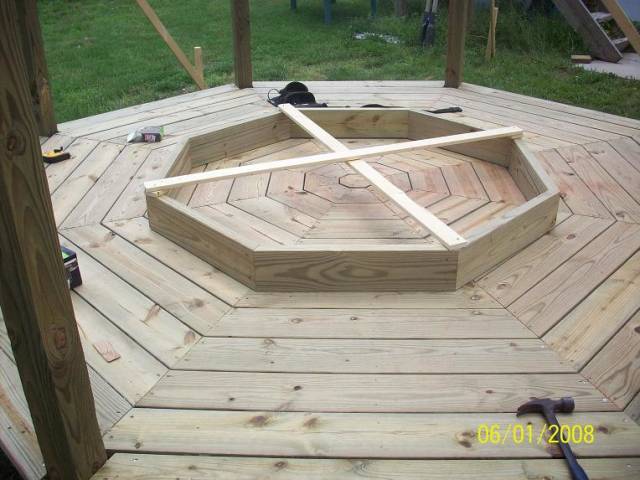 I used rafter hangers on the corners. On the sides, it's just a matter of nailing the rafters on. The angle of the cut is determined by how high you want the upper roof to be from the main roof. Simple Pythagoras's theorem does the rest. Yes, there is some geometry involved in building a gazebo ;)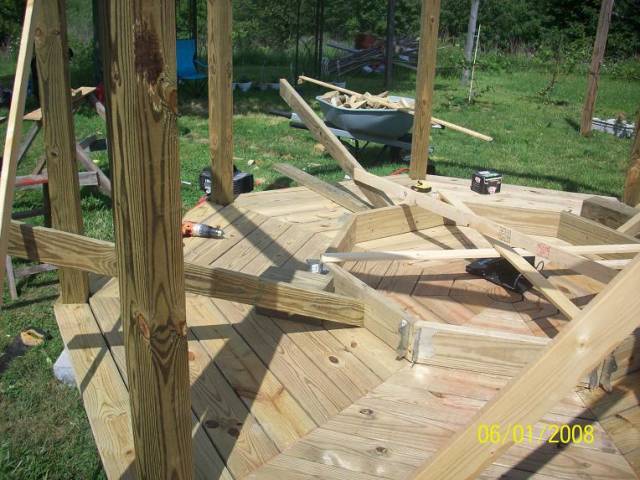 I used hurricane ties to attach the side rafters to the lower header. To get the assembly up there, I had the wife and one of my daughters hand it to me while I stood on the ladder in the center. It took a bit of work, but wasn't bad. Just be sure to have some bracing ready because the rafters will want to spread until they are nailed in.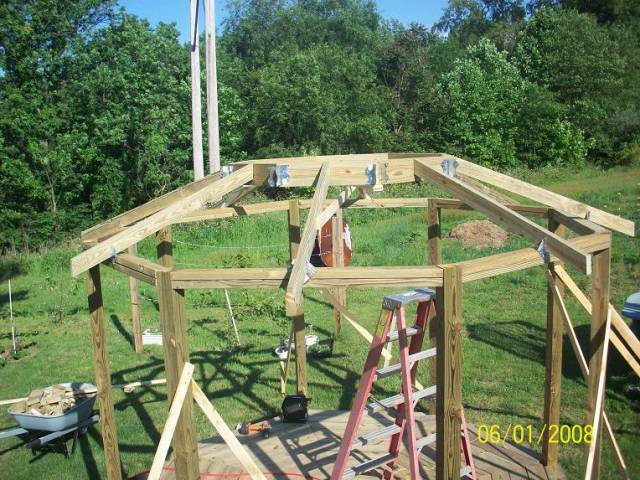 The rafters that sit on the posts were cut in a birds mouth. They are also 2×6 instead of 2×4 like the other rafters. You have to use 2×6 in this instance to make up for the loss in height when you cut the birds mouth. After all, you want all of the rafters at the same angle and height when you're done. Brian, you mentioned compound angles in the roof. There are none. I did use a speed square to square the rafter tails though.
And never mind those empty beer containers sitting around ;)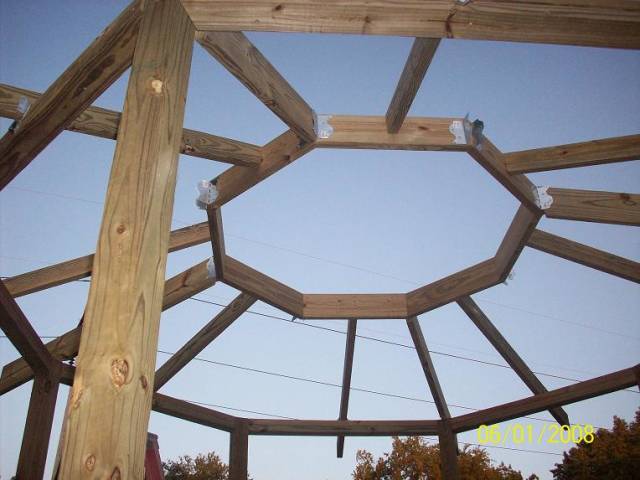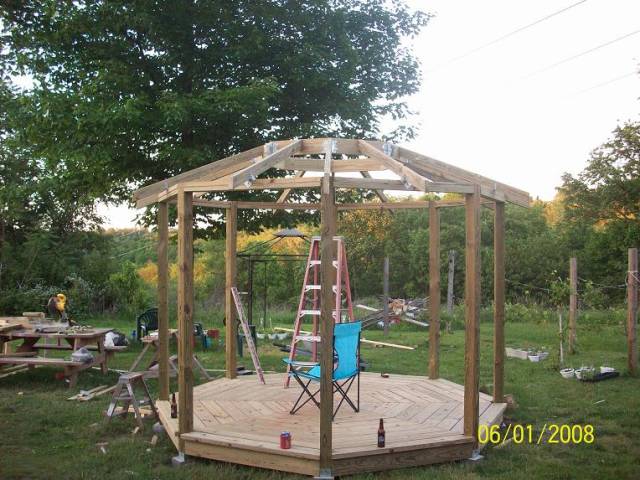 Next comes the frieze. For you purists out there, yes, I know it's not a true frieze, but what would you call it? In any event, it holds up the upper roof. I made it by routing dados in 2×2 stock then building eight separate baluster sections, which I then mitered to match the upper header. In order to give the upper rafters more foot room, I added cleats.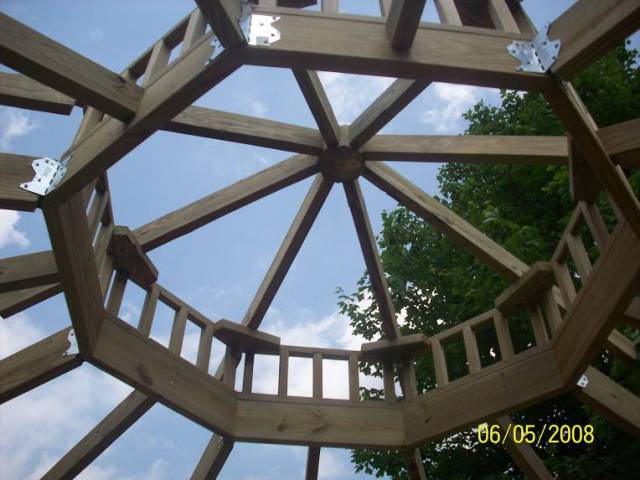 If you look at the pics above and below you will notice the most important part of this roof. It's called a kingpost. If it's wrong, you have a problem. Take your time to make sure you lay it out correctly. It must be an octagon. Every upper rafter nails directly to the kingpost. If this fails, so does most of your roof. I cut mine out with a chain saw.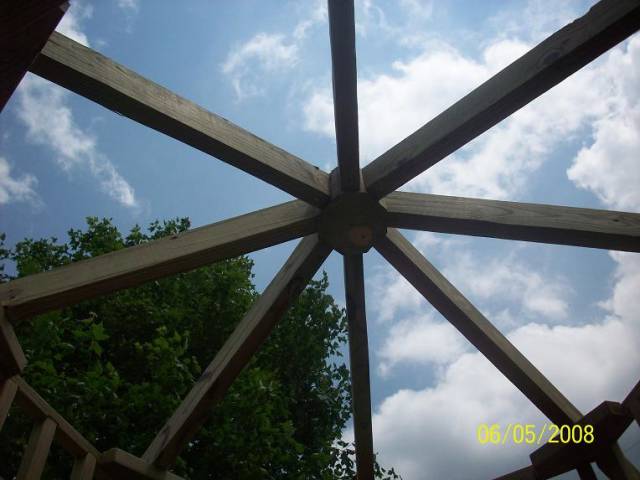 If you have been following along, you should have a roof that looks similar to this: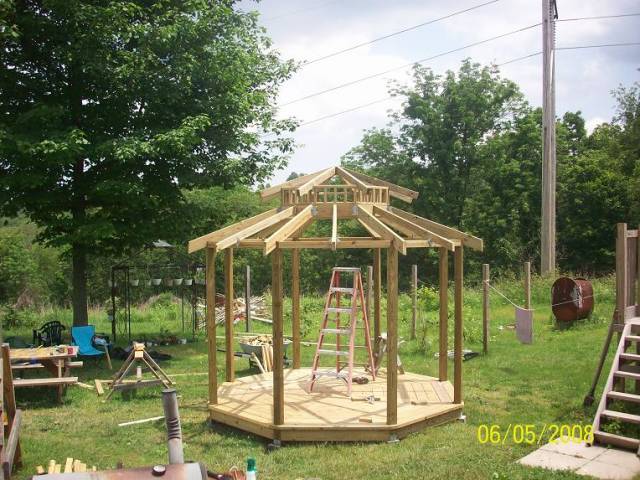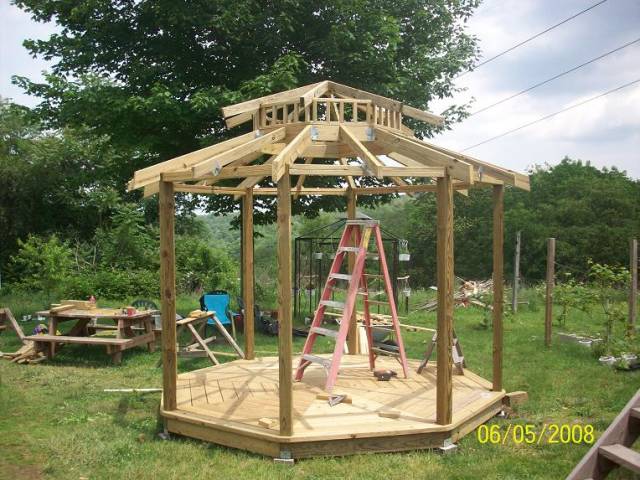 Next up, sheathing and shingles.
-- Where are the band-aids?---Pro Libertate!
View all parts of Gazebo build »