mesa boogie amp head #1: risky business
So I have a good friend that came to me with a project. He has a mesa boogie combo amp and he wants to remove the amp and build a box to make it a stand alone head so he can use it with a larger speaker cabinet. I told him a few weeks ago I was getting my hands on this ekki or whatever it is and we decided to use this.
This stuff is incredibly heavy. So Friday night I resawed one board and planed the 2 pieces smooth. Originally it's about 1-1/4 thick. After resawing, the 2 pieces yielded 7/16 thickness. That's a little on the light side to make a cabinet for a heavy and fragile tube amp.
The rough boards are about 5-1/2 inches wide and to make this box we need two 8' boards. When my buddy came over yesterday we looked at the resawed boards and figured they were on the light side, as I thought before, so we took 2 new boards and planed them smooth to about 1" thick.
Then I asked my buddy to place them on the bench out of the way so I could so something. When he lifted all 50 lbs of this material he had second thoughts about using it. Did I mention this stuff is incredibly heavy? It is beautiful, though.
So we went back to the thin stuff. It's very, very stiff. I think it will be OK once it's joined together. We'll see. This is the risk: broken amp or broken back. LOL. My real issue with this thin lumber is that there are a few cracks that may or may not cause any problems after construction. The stuff is reclaimed and the cracks are around the bolt holes (24" O.C.). We cut out the holes, so if no cracks present themselves during construction, maybe there won't be an issue.
Here is the board after resawing.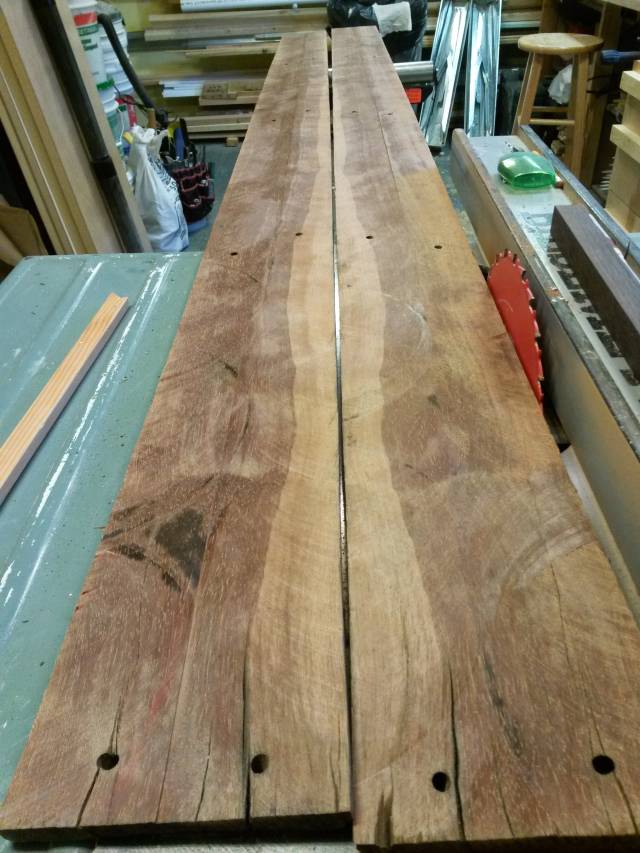 And after planing down to 7/16 thickness – which was the least I could remove and have it smooth.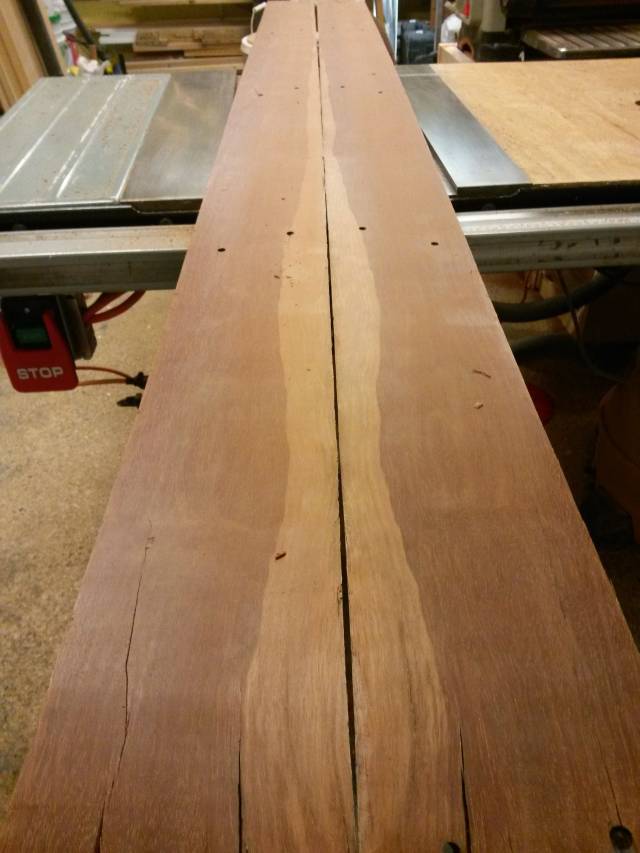 It has some sapwood that we're going to put on the front and back edges on the top and sides of the box. Also, to add a couple of inches depth to the box and to make it purdy, I'm adding strips of maple, which was a beautiful combination on the mallet I made last week.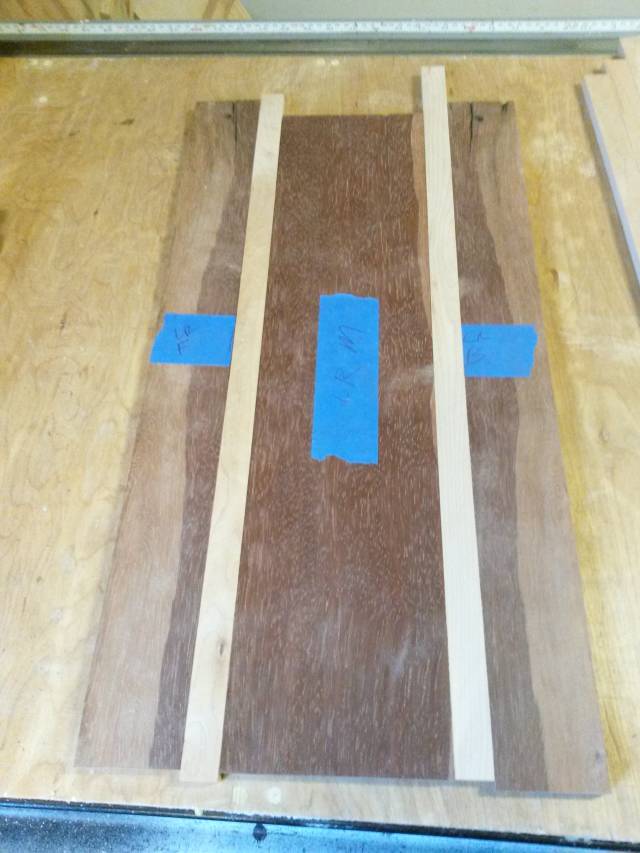 Nothing is glued yet. I read on the wood database that this stuff doesn't like traditional (PVA) glue because of the oil content so I'm gluing it with gorilla polyurethane glue and biscuits. The box will be constructed using finger joints.
I'm not sure how this is going to work out. It could be a complete failure. I never used gorilla glue before. I never constructed box/finger joints before, although I did make a jig for it, and the material is very thin for the weight it will be carrying. Lots of things up in the air at the moment. Cross your fingers!
-- Losing fingers since 1969
View all parts of mesa boogie amp head »