Swivel Clamp Rack
Swivel Clamp Rack
Wall space is always at a premium in even the largest shops so the less room you have to occupy to accomplish your clamp storage issues the better.
This clamp rack is meant to be wall mounted, high enough to accommodate your longest bar or pipe clamp. The rack will hold 31 bar and pipe clamps and there is room on the end for an assortment of smaller clamps. The lower center cross brace could be used for even more storage. Of course all of the dimensions are variable to suit your needs. The design as shown would require approximately four feet of wall space to allow it to swivel for easy access, however since it is a double sided design it will hold twice as many clamps in the same space. The angled brace is a must have, like a fence gate you have to distribute the weight and support the load. In this design I used a 1 ½" pipe as the swivel for strength but I'm sure a smaller diameter of pipe would work just fine. The unit would have to be lag bolted to a wall stud as there will be considerable weight when it is loaded to capacity.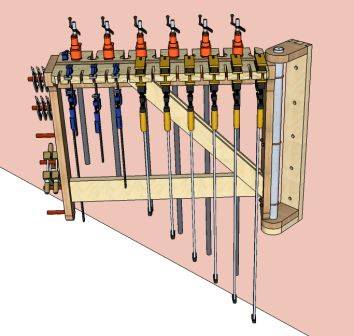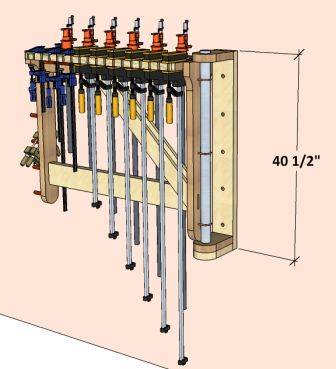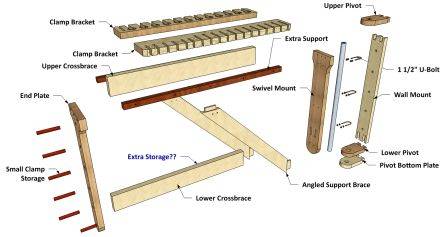 A set of working construction plans can easily be produce. I have included an exploded view to give you some idea of the construction methods. The majority of the construction material to be used is regular "2 by" boards for cost and convenience.
This was fun to draw and now I'm going to have to build to test my theory, plus I need more clamp storage  Happy Woodworking!
Bruce Beatty (Woodchuck)
-- WC (Bruce)