I enjoy designing and creating unique, one of a kind contemporary furniture pieces. My furniture and wood art are featured in books and magazines and have won awards both in furniture and art shows. The unique, studio furniture which I design and create can be seen at http://www.pirollodesign.com. I also enjoy writing about woodworking in the form of books and developing online woodworking course and classes at http://www.woodskills.com
A selection of books and magazines where my furniture, work methods and philosophy have been featured in:
HackSpace Magazine: Feature article Make With Wood April 2020
Woodworking: From Design To Making
Woodworking With Hand Tools (Taunton Press)
WOODSKILLS Issue 01
WOODSKILLS Issue 02
Can. Woodworking magazine Jan. 2015
NICHE Magazine Winter 2013
Fine Woodworking magazine
Woodwork magazine
Wood Art Today 2 (Schiffer Books)
500 Cabinets (Lark Books)
Studio Furniture: Today's Leading Woodworkers (Schiffer Books)
Fine Woodworking Shopmade Jigs 2009
-- Norman Pirollo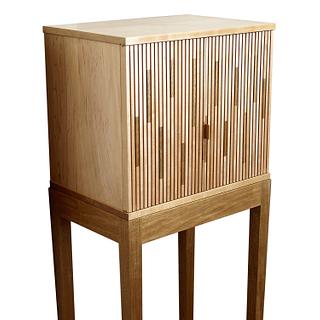 This Krenov-inspired cabinet on stand incorporates elements of tambour. The tambour elements were...
This Krenov-inspired cabinet on stand has been in a state of evolution. It began as a Spalted...