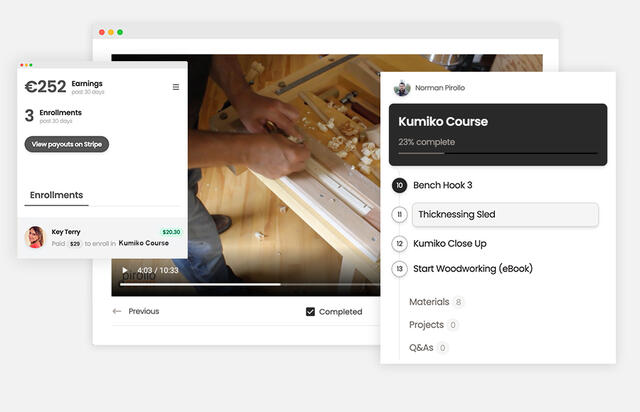 Start selling your courses on Craftisian
Exciting times…
Craftisian is inviting all aspiring as well as thriving craft course creators to start selling their courses directly on Craftisian.com
It's never been easier to create, promote and sell full-featured craft courses online. Let's see what's included.
What's included?
Instructor Dashboard with the Course management, enrollments feed and students overview
Streamlined payments – set up your payments once and receive automated payouts to your bank account (secured by Stripe.com)
Bleeding-edge Course Landing Page with permanent link, course overview and hassle-free card payments
Price your courses in USD or EUR
Sell your courses globally and in any language
Unlimited Courses
Unlimited Video Lessons per Course
Unlimited Students
Unmatched Projects section for each course (for you and your students to share course-related projects)
Q&As section for your students to ask questions and get answers
Course Materials to host unlimited number of course-related PDF documents – great for workbooks, assignments etc.
Integration of the Courses and Lesson completions into Craftisian activity feeds – leveraging the power of your and your students' followings to promote your courses automatically
Courses promoted in the new Craftisian Academy section
Courses featured on our Craftisian FB page with 25k followers
Coming soon…
Course reviews and instructor ratings
Communication with students through the Craftisian platform
Coupon codes / discounts
Course certificates
Mini-courses
Standalone websites for the instructors
and more…
In summary, Craftisian is the best platform to host your pre-recorded craft courses and turn your passion into income.
There are ZERO monthly commitments, ZERO upfront payments.*
You set the price of your courses and keep 70% of each sale. (More tiers will be introduced based on the sales volumes).
Start building your first Craftisian course today.