Mahogany Writing Desk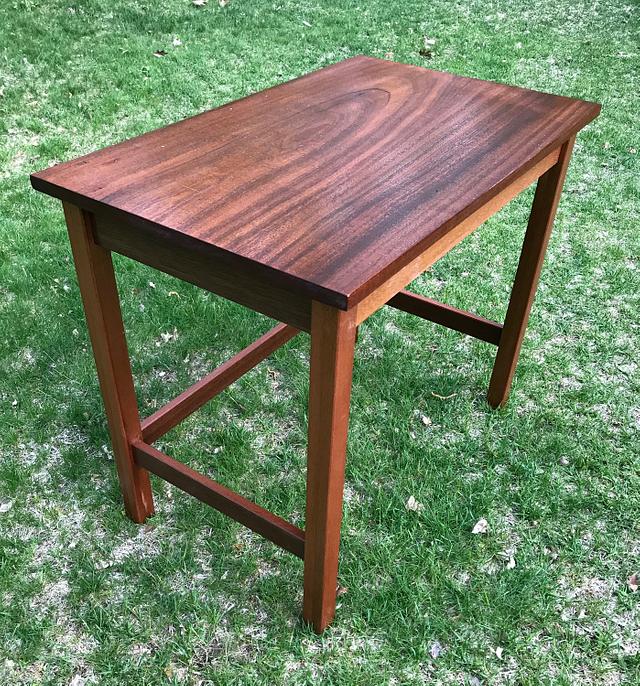 We really needed another work space, and in light of all the working/schooling from home of late, making something for the master bedroom seemed the most appropriate.
After rummaging through the shop, looking for something to glue up into a usable top – still with no design in mind – I found this old piece of mahogany that I had stashed away. My grandfather (or more likely, an older brother) salvaged it from their childhood home. The house was destroyed by a hurricane in the 30s, so it has been sitting around for nearly a century waiting for a new purpose. I inherited this after one of his many shop clean ups – as I was getting into woodworking, and he was getting deeper and deeper into retirement. Needless to say this big slab was "too good to waste" – which, for me, is usually a recipe for doing nothing with it. (apart from moving it from address to address for decades, before eventually passing it down to the next generation – if it's still worth keeping at all.)
The slab was (I think) the lid to a built in window seat. And was painted. Can you believe it? A nearly 2' by 4' slab of gorgeous mahogany, under a layer of green paint?
Anyhow, fast forward to April 2020, I needed a desk (my daughter kept hogging the computer desk for "homework" and on-line school), and I rediscovered this slab I didn't remember I had. Time working on a glue up saved!.. I proceeded to sand the top, plane (with my router sled) the rough milling marks off the underside so I could choose which side to use for the top, and cut the slab down to final dimensions.
Being a desk for the master bedroom (and will likely double as my night stand) I figured I should err on the smaller side, so I looked up appropriate dimensions and settled on 22" deep by 36" across. This allowed me to cut off the edges with hinge mortises, as well as the nails left over from some long lost trim detail.
The bottom was just as pretty as the top, but in the end, I opted to keep the original top – scars and all – on the show side. Primarily to reflect and honor the history of the piece – and encourage me to actually USE the desk, and not worry about scratches, dings, etc… since there are still a few nail holes and scratches still evident in the top face, left by my grandfather and his siblings, or perhaps several prior generations.
The legs are glue up from salvaged mahogany left over from some recent projects, one or two of them have homemade veneer faces to keep quartersawn grain all the way around. The aprons are left over pieces (of another type of mahogany) from my in-laws deck that my dad built 15 or so years ago.
I was toying with the idea of adding drawers, but they'd have been so shallow to be barely useful – but to that end, I used pocket screws to attach the front panel in case I decide to add them later on. The rest of the base is glued together, and I made my own wooden fasteners to attach the top. (I was short on those "Z clips" from Rockler).
In lieu of drawers, I'll be adding some over the desk shelving for notebooks and such, and making a tablet stand and custom matching pen holders… but those are projects for another time. This one only took a month of Saturdays and random pockets of time to go from concept to complete. I was slowed down a bit by pre-finishing the pieces, but in the end, I think that saved me a ton of time and frustration.
There are lots of generations in this desk, and I hope it lasts at least that many more.