G0513X2 17" BANDSAW 2HP W/CAST IRON TRUNNION
I wanted to share my thoughts experience with the G0513X2 17 bandsaw that I have now for over a year. Tis is not a formal review and I am not going to bore you with all the specs.
Prior to the Grizzly I had the Powermatic 14 PWBS-14CS bandsaw with 6 resaw capacity. It was a great bandsaw but I quickly outgrew it even with the addition of a riser block.
I also disliked the split cast iron table where adjustment was not the easiest.
I want to start by saying that I like the Grizzly much more than Powermatic; I realize that they are a different beasts.
I can now resaw much more, a little under 12.
I can resaw a 11.5 high hard maple without much fuss. I give credit to the diamond sterling blade I bought from Hall Taylor.
The table is a single 17 piece of cast iron.
I don't have to think to much about where I need to start my cuts so not to hit the frame of the bandsaw.
Also setting the table at an angle is now much easier
Dust collection is pretty good.
One draw back It's heavy. Since I have everything on roller or mobile base, this one is no exception. It is heavy to move around.
My Grizzly came in an open frame crate and setup was a breeze. While inspecting it I notice the upper wheel had a small crack on one of the spokes. I am sure it was not due to shipping since there was paint in the crack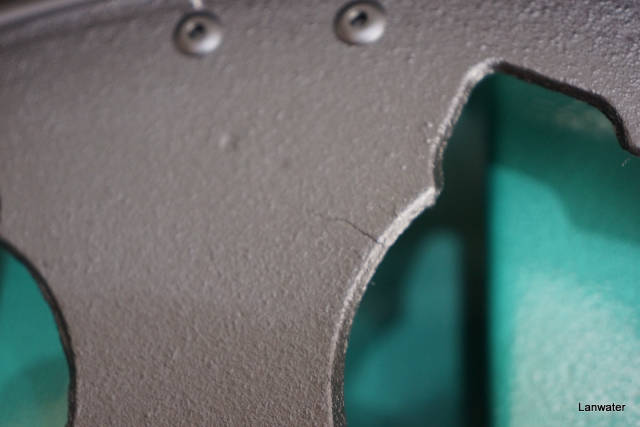 After several emails with tech support another one was on the way. Two weeks later I was in business.
Some tuning and the coin video test!
-- Abbas, Castro Valley, CA