Work Bench Build #7: Onward and Forward
I found some hardwood at a local lumber middleman, none of our mills have any type right now and might not until spring. I even had to order this birch from off island at an outlandish price. Four boards for over $200 and the condition is atrocious.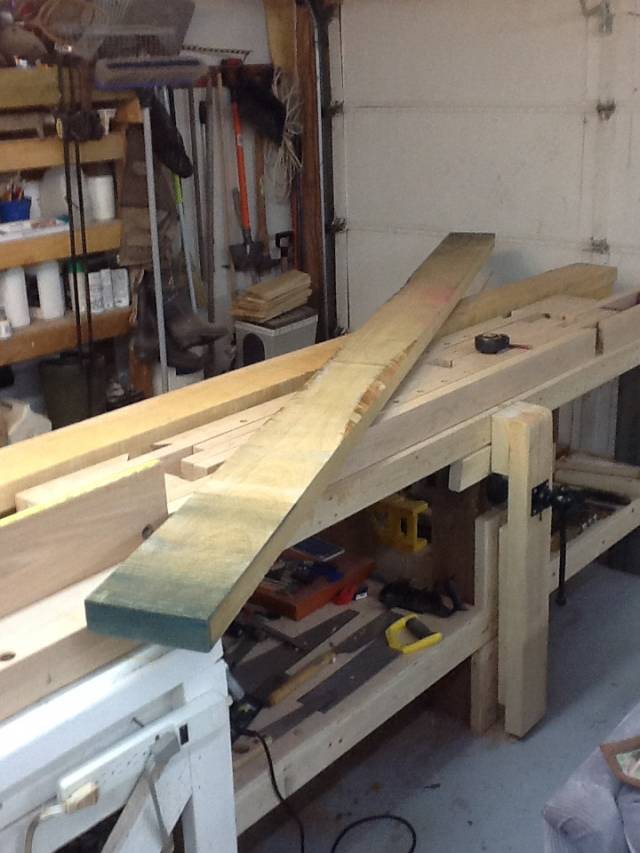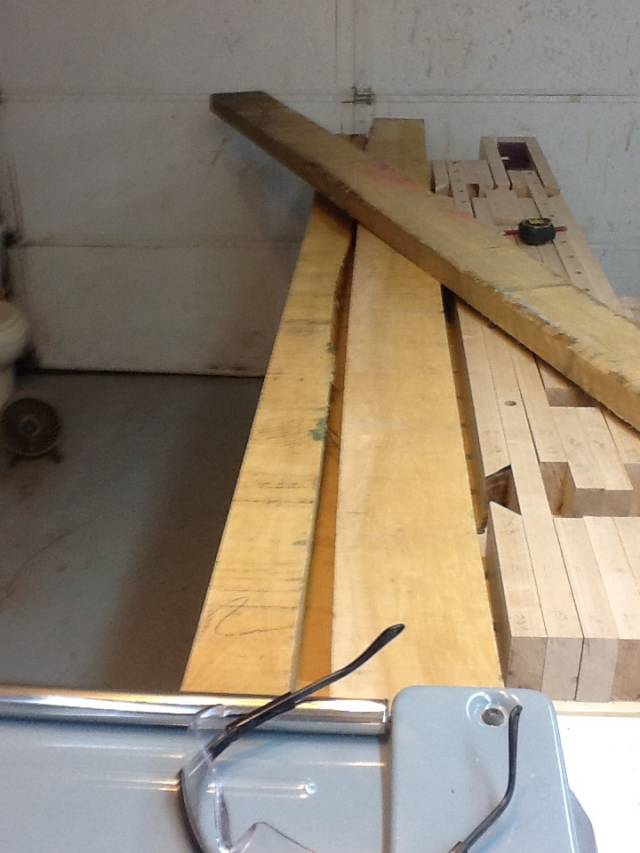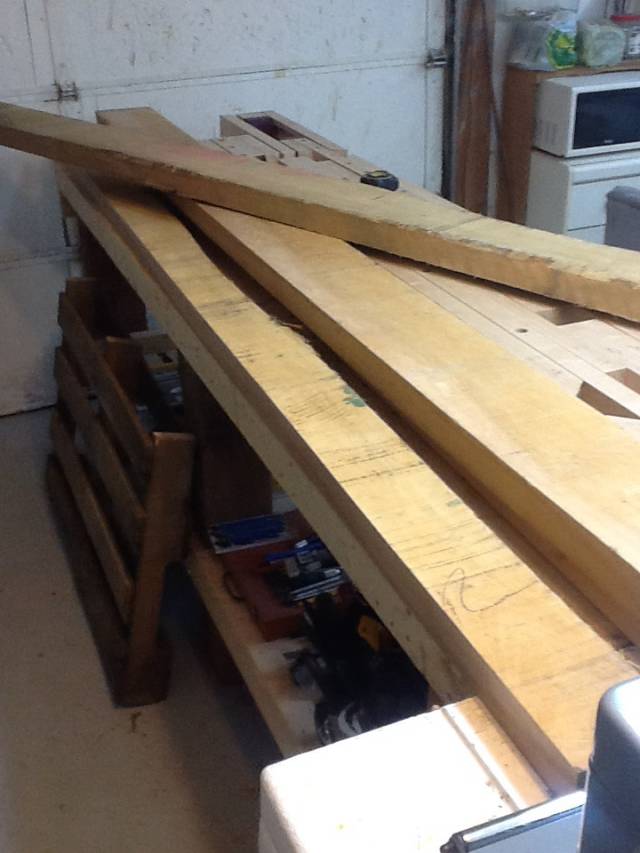 It took 5 days to get here as well. I need the stretcher though and can't complete the build without them. It is going to take a bit of planer work to get them into usable shape.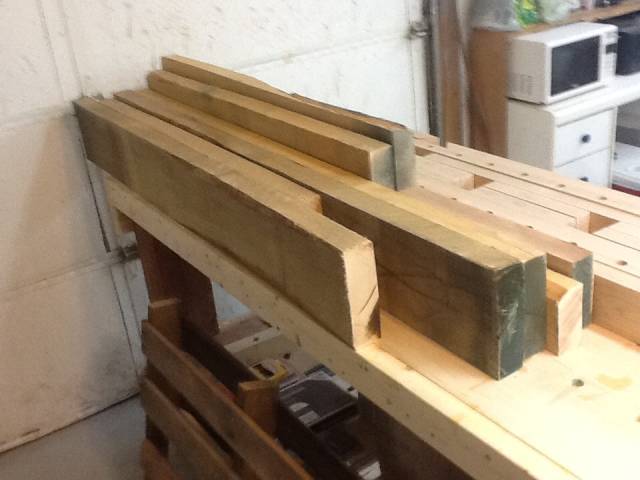 I was able to plane them down to 1 3/4" so they will make up in weight for the trimmed legs!
But, when picking up those I scored a pallet that has oak, maple, and looks like mohagany in it. In the mean time while I am waiting for a hand to run the planer I decided to tidy up a few loose ends. Building small items shows some immediate results.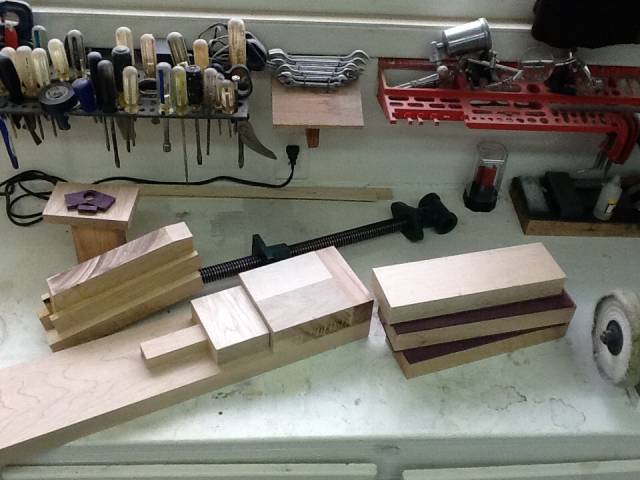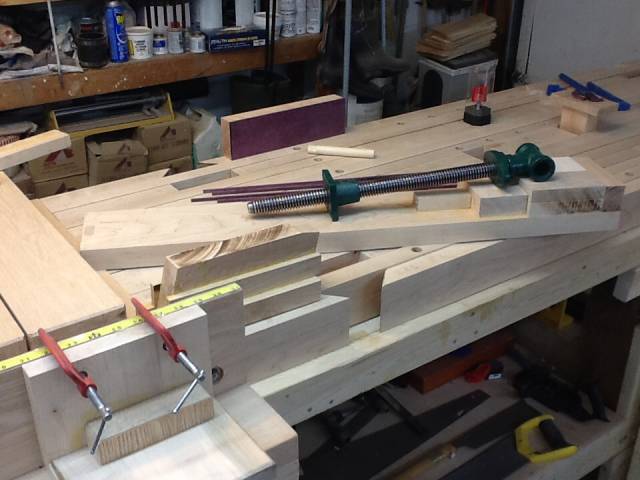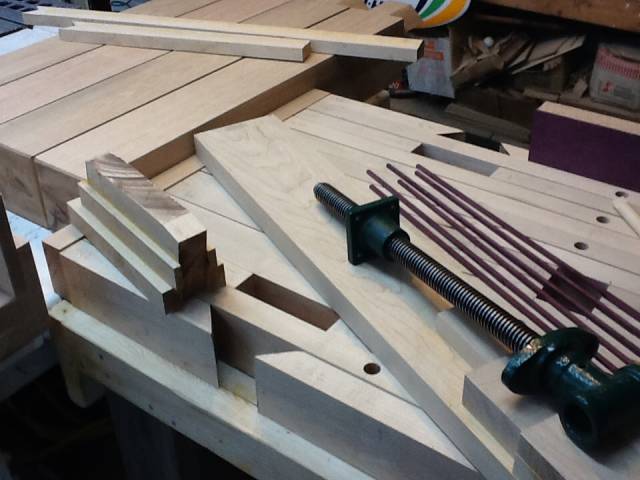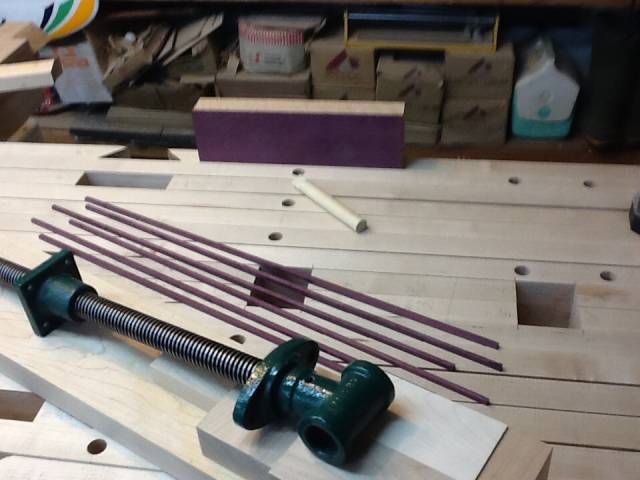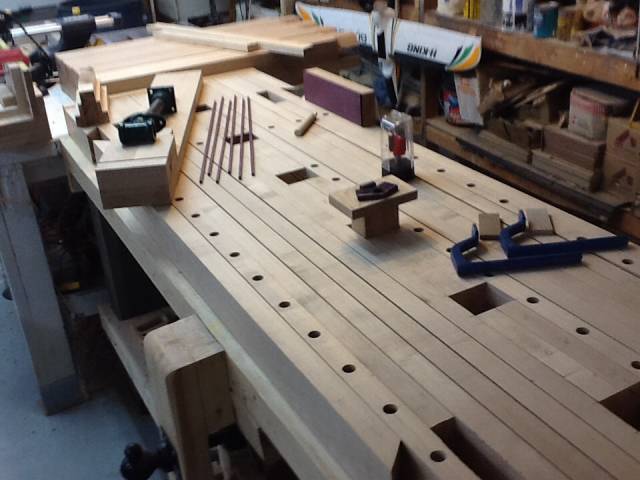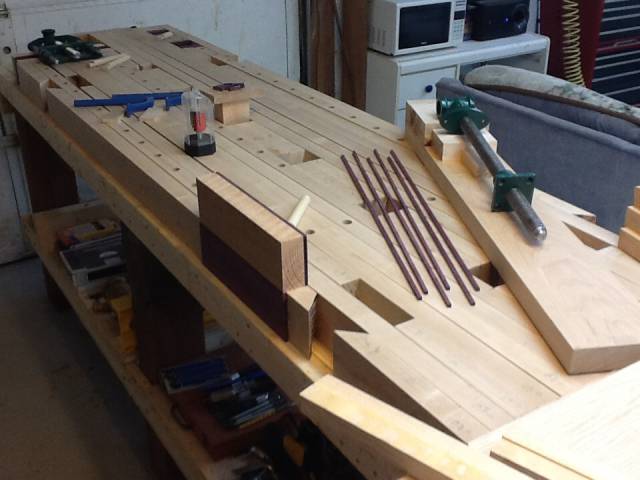 The plane block stop is creative if nothing else. The obscure shape of the crochet is throwing people off, but once it is carved out it will be self explanatory. The leg Vise chop has some rough lumber added too as well as the screw temp installed. All of the Vise chops now have their decorative Purple Heart faces. The inlay pieces are cut up for the plane block stop holes decoration. I even made a couple of batten sticks. I finally purchased the cabinetmakers vise, it's lighter green than the other vise colours, but it's at least green.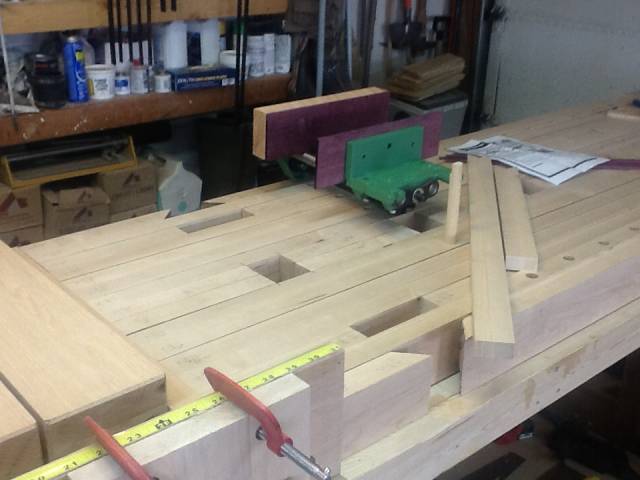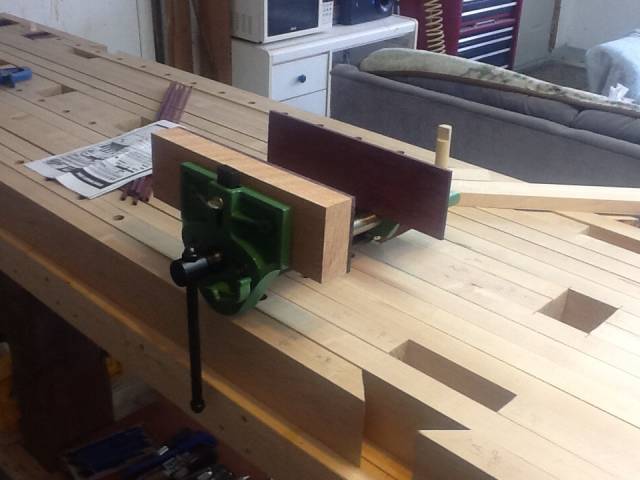 I have started laying out the first two table top glue ups and took the plunge starting to laminate the top. I glued up the four straightest boards from each side of the bench top.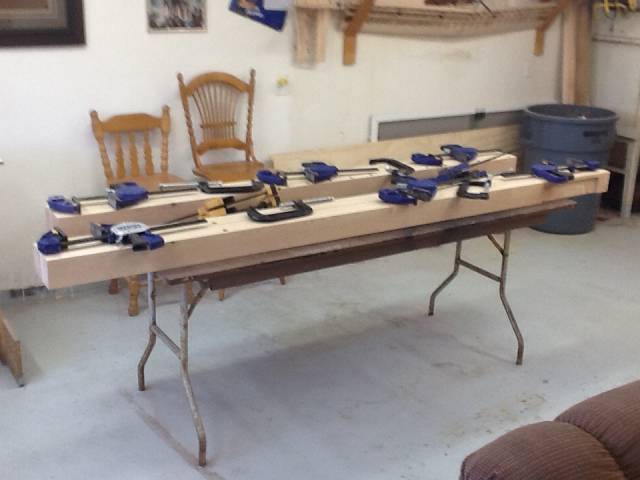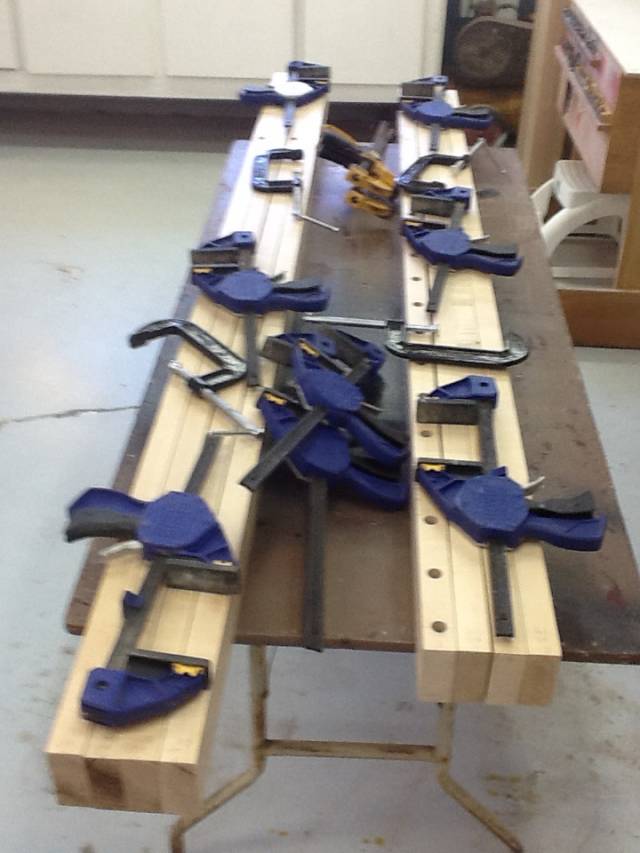 That way it will have a straight base to glue the rest of the halves of the top together. I am now starting to glue up the centre section taking advantage of how straight the halves turned out. I had planed to run them thru the planer once each half reached 12" wide, however the difference in height in any place on them is less than a sixty fourth, so it seems pointless, so I will just be doing a final routering with rails and a sled once it's all completed. This will make it easier for me as I would have had to get four people to feed them through the planer. Around here if you invite people over to do work for you while the NFL Sunday is on you are expected to supply the chilli and beers.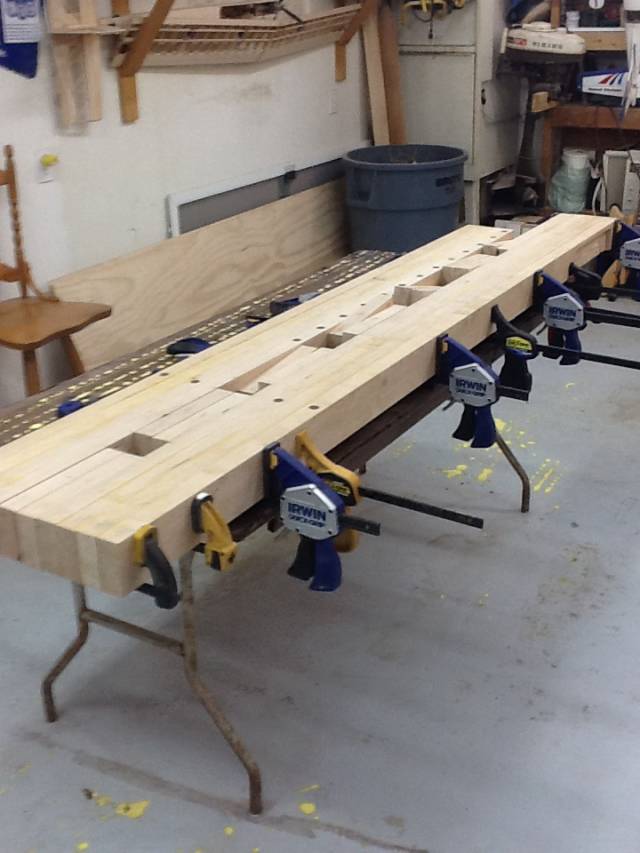 The next day or so will be finishing gluing up the benchtop. As always, if you have any questions or suggestions fire away.
-- CHRIS, Charlottetown PEI Canada. Anytime you can repurpose, reuse, or recycle, everyone wins!
View all parts of Work Bench Build »