Interior door making #4: First paint
Today I caught a break. My wife had to go to the doctor so she was home to take care of the baby when I got home. That gave me a much needed extra hour which enabled me to stay on schedule.
I cut the hinge mortises and latchset holes on the door and the hinge mortises on the frame. Then I did a couple of last minute touch ups before starting to paint. I used Ready Patch tonight for a couple of dents I made while trimming the door last night.
One thing about this project is the size and weight. I had to move it several times including flipping it and rotating it. My shop is tiny and even the ceiling is only 7' high. The neighbors must have thought I was crazy bringing the door outside and twirling it around several times including over my head. That probably looked a little funny.
Anyway, I set up for painting. The door sat on saw horses and the frame and stops on my table saw covered with paper. I primed everything with BIN primer, then caulked the panels. I primed all 6 sides of everything. Then I rolled on 2 coats of semi gloss white. I picked a finish side for the frame and stops. They are now done with 2 coats. I could only do one side on the door. Tomorrow I'll do the other side. Not many pictures. What's to see anyway with rolling on paint?
Here is the door primed.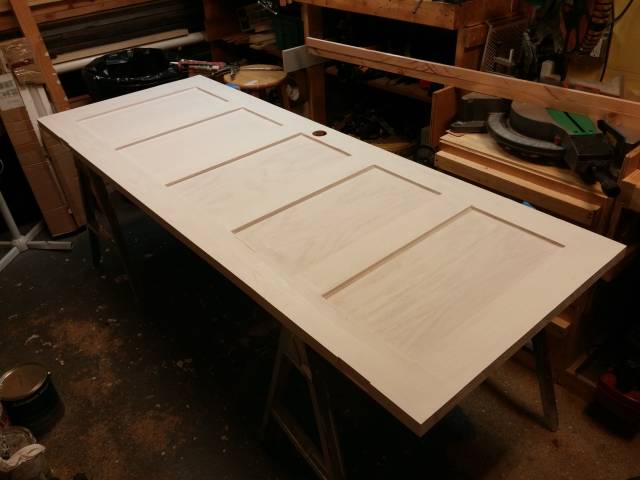 Here is the painted everything right before I turned off the lights.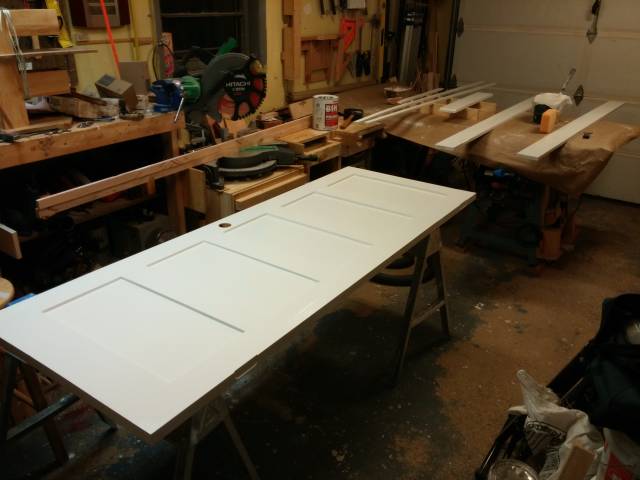 I was worried I would not finish by tomorrow but now I'm back on schedule for Saturday install. 2 more coats on the other side of the door tomorrow. Sunday will hopefully be very busy making 3 more at once.
-- Losing fingers since 1969
View all parts of Interior door making »