Ramblings from a South Central Texas Wood Butcher #19: In the Works
Great to be back to a little wood working. Shoulder isn't what it used to be, but I can use it, and I didn't have to have surgery. Yay! Any way, I'm back to making saw dust and shavings, which can be mental therapy, as many of you know.
Currently in the works, another sign. I know there's not much wood working involved, but I got another request, so . . . This one is for a young couple that got married in early November. The young lady, Kristina, married a young man named Anthony Fish, thus phrase in the sign.
Instead of framing this sign, I routed and edge and sprayed it to match the lettering. Turned out okay, I think. Kristina says they love it. I hope to clear coat it today/tomorrow, so I can deliver it this weekend.
I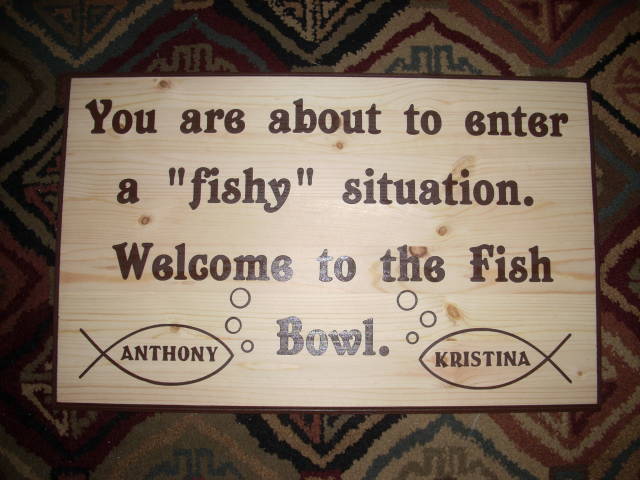 Earlier this year, I did a set of three miniature Bluebird house ornaments, which were a hit at the Texas Bluebird Society, pulling in $46. I'm a board member now, and board members donate door prizes. My donation is a set of 6 of those little bird houses. I've got them built, but need to paint the logos and install the eye hooks. I glue and brad them, which was a pain with a full size hammer, so I went out and bought a tack hammer. Nothing like a good reason to buy a new tool, huh? (Smiley Face Here)
The photo below, is of the ornaments for the Spring event, minus the logos on the front. Scrap Cedar, some brads, glue and paint, with a little time. Who'd of "Thunk" that they'd be so popular.

Well, it's time to finish my coffee, and head out to the "Wood Shop." Got some work to do.
Until next time, Happy Wooding!
Shin
-- Keith "Shin" Schindler
View all parts of Ramblings from a South Central Texas Wood Butcher »