Before getting into building my major projects for 2015 I've been trying to clean up my to do list of little shop projects. I the last few weeks I've built a new rolling tool cabinet, bottle jack veneer press and a portable workbench.
One other item on my list is this Parquetry Guillotine.
In 2013 I built a veneered box with a basket weave pattern on the top. The basket weave was produced during a Lee Valley parquetry seminar. People seem to like this box and I want to build a couple more.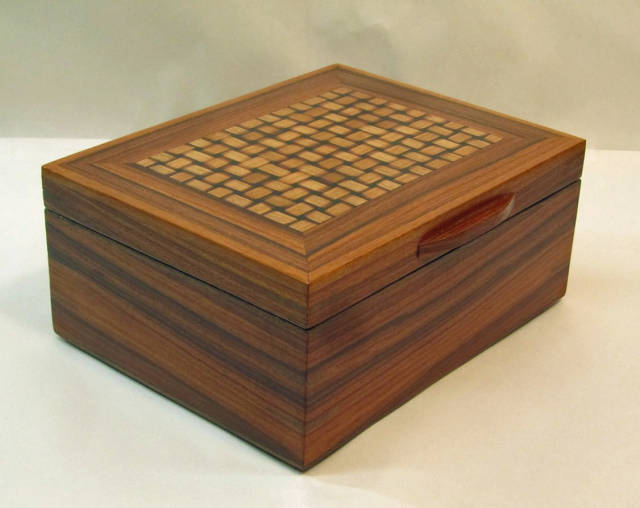 The basket weave pattern is amzingly simple to do. You just need to be able to cut a whole bunch of tiny little veneer rectangles and squares. The instructors had a couple of home made chopping devices which made this task relatively quick. Theirs where made from metal.
I decided to try and make something similar.
The guillotine is made from scrap MDF, oak and other woods. It is a bit pretty rough looking but it works. The mechanism is a spring loaded door stop (I think I bought it at Home Depot). The blade and cap lever are from an old spoke shave.
I'll probably use it with a self healing mat and add some type of scale to makes setting the stop a bit easier.
I managed to get the blade pretty sharp as the bandaged finger on the last picture will prove.
I've added some old school animation to this post. If you toggle between the last two pictures you can see the guillotine in action.