Is it too late for curves?
I got inspired by Ianwater's curved leg picnic table. My wife wants a table outside the entrance for Amazon packages. The roof extends over the entrance so I'm not to concerned about the weather. I bought some oil based enamel to paint it. It should hold up pretty well.
Anyway, I made the top already and explained that sort of in a forum post about biscuits. Now it's time to make the legs. I never did this before but I understand the basics of it from Ian's post. I started by ripping some cutoffs from making doors. Knotty old Douglas fir. The cutoffs were 1-3/8 thick and I ripped a bunch of strips 1/8 × 1-3/8.
I bent a couple of strips as far as they would go until they broke and I figured an 8" radius would be ok. So I planned out the leg design and started making the form. First I drew the design onto some 1/2" plywood. Then I cut the big curve on my router circle jig.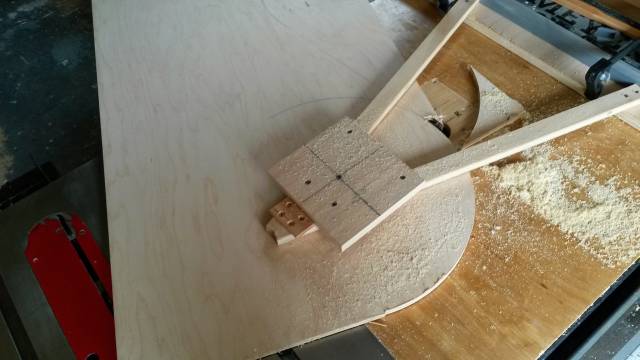 Then I cut the rest on the bandsaw.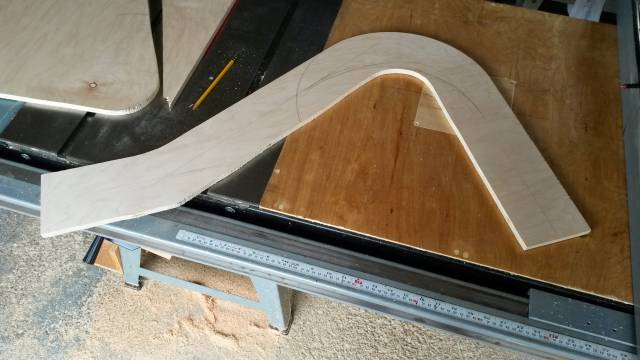 Then I glued some blocks from 1/2" plywood to lift it off the table and help to center the strips.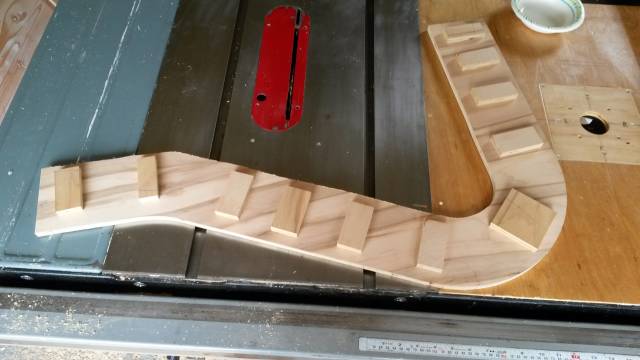 Last but not least, the glue up. I brought a paper bowl from the kitchen and poured some titebond 3 into it and grabbed a chip brush out of a bag of a bunch of them I picked up cheap specifically so I could make them one time use brushes for various things. I started slopping the glue on with the brush and stacking the strips. I stacked 8 together so it should be a little note than an inch thick. Then I started clamping.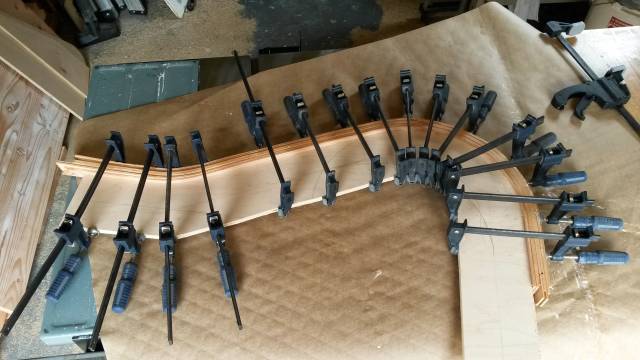 They started off pretty well but by the time I got to the end the pics were sticking out. I'm not sure what I'm going to end up with after I trim then. Maybe less than an inch wide. This is definitely a two man job. I wish I had a second pair of hands to help keep everything together while I was clamping them.
At one of the knots the outside strip broke as I was clamping. I'll try to be more careful next time. I guess I can patch it with bondo or maybe even Spackle. It's getting painted so a patch won't matter.
All in all I'm pleased with the outcome. I took the clamps off after about 2 hours and it's very study. More than I imagined it would be. And the first one is always the hardest. Now I have done experience to apply to the other 3 legs. Hopefully I get them done by tomorrow at lunch so I can start assembling them to the table top. I still have to prime and paint it. I'm not sure if I'll make the deadline for the curves project but maybe I'll get an honorable mention for trying. LOL
-- Losing fingers since 1969