New mitre sled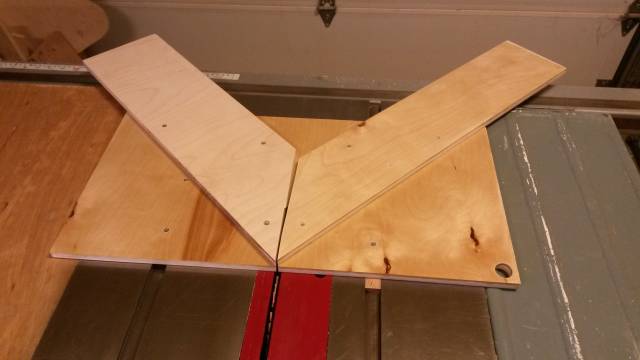 Today I made a new mitre sled. I made one a while back and used it this morning. To my great disappointment, the small triangles I cut were not perfect right triangles. I've used this sled to make nice picture frames with good, tight mitres, so the 2 sides of the old sled seem to have been 90° to each other, but not 45° to the blade. So I decided to start from scratch and make a new one. The purpose of this blog is to go through the steps and maybe someone has a better way of building a sled like this.
First I cut the runners from some oak scraps. Then I picked out a piece of scrap 1/2 plywood. This piece was a cutoff from a shelf I built and it was finished with shellac. That forced me to reconsider using glue. It also slides nicely on the saw table. I decided to use no glue at all, which means adjustments can be made just by backing out screws and slapping it into position.
Next I squared up the plywood. I trimmed one side to make sure it was parallel. Then I squared it using a large triangle sled I made. Then I trimmed the opposite side to make every corner square.
Then I laid the runners into the mitre tracks and set the plywood overtop. Then I used my saw fence to line up the plywood squarely over the runners. This also ensured the front of the sled is perpendicular to the blade. Then I drilled countersink holes and screwed the runners to the plywood.
Next I picked out some more scraps for the mitre fences. I rough cut them using a mitre guage at something a little more than 45° which allowed me to swing the fences a little during adjustment.
Next I attached the fences to the sled with one screw near the front of the sled. Then I used a speed square to align the fence, then clamped it to the sled and put 2 more screws to hold it permanently. Then I did the same with the other fence.
That's it. It's the best way I could think of and the results are pretty darned good but not perfect. I checked a cut against the speed square, a 12" one, and it's out maybe 1/64 over 12". I think I am incapable of getting it any closer, and that's why I'm asking if anyone has a better way to make perfection. Perfection is always the goal.
-- Losing fingers since 1969