mesa boogie amp head #6: Assembly and sanding
Got a little progress on this thing. My time had been taken up a lot with the baby and projects for my wife, so this is going pretty slow but you gotta do what you gotta do.
Here's a pic after assembly and sanding. I washed it with mineral spirits to show the color. It's pretty rich.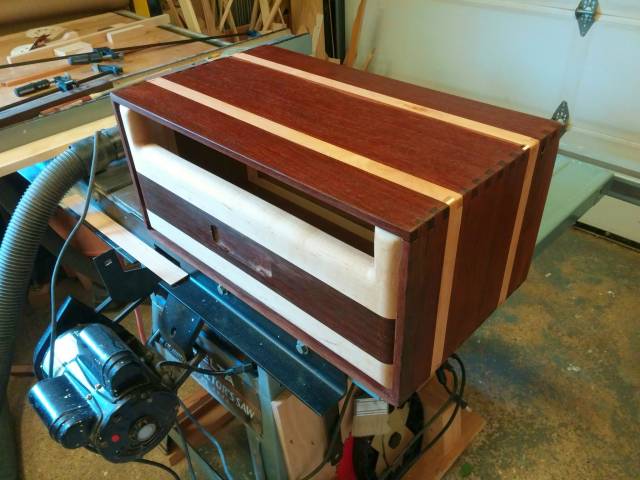 I started by beefing up the face for a better glue joint. It curled a little since it's been laying around so long. I put lots of screws like I always do. I always overdo it, but better safe than sorry. The screws and blocking pulled it back straight. They're glued on also.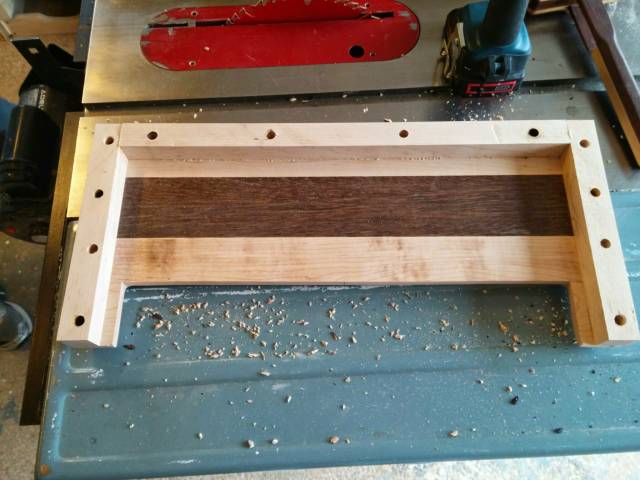 Next I dry fitted it one last time and then glued it up. Every piece was a little curled. That's partially because of the way I cleaned them up after gluing the panel pieces. They're already so thin -less than 1/2" – so I did not want to run it through the planer again. Instead I used a chisel to scrape the surface clean, then later card scrapers. The result was uneven thickness. That caused a problem when gluing because the pieces weren't flat. They also curled a little on their own from sitting around. I kept adding clamp after clamp to try to close the gaps in the finger joints. I ran out of clamps.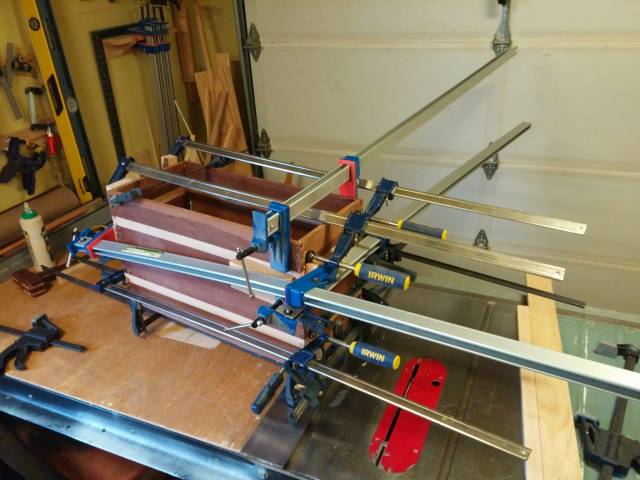 Them I sanded. I used 40 grit on my ROS to knock off the protruding fingers in the finger joints. This ekki is next to impossible to shape with a sander. I could have used diamond 5 grit and just about had the same amount of work. Tough stuff.
Them I moved to 120 grit. I still plan to do 220 when I have time. It's pretty smooth as is. I sanded the face to 220 before installing and it's baby butt smooth.
Here's where I'm at so far.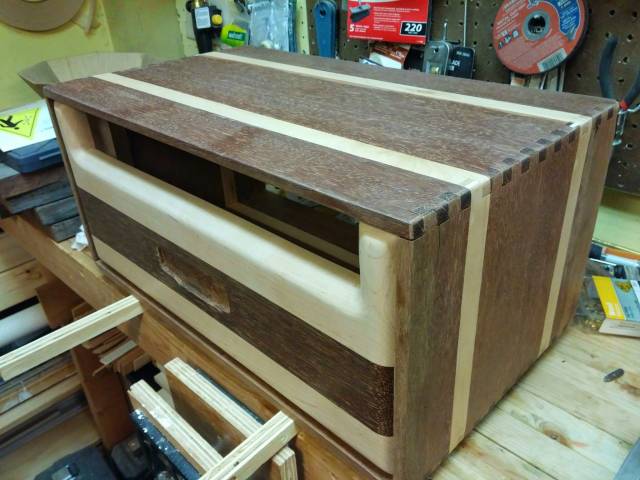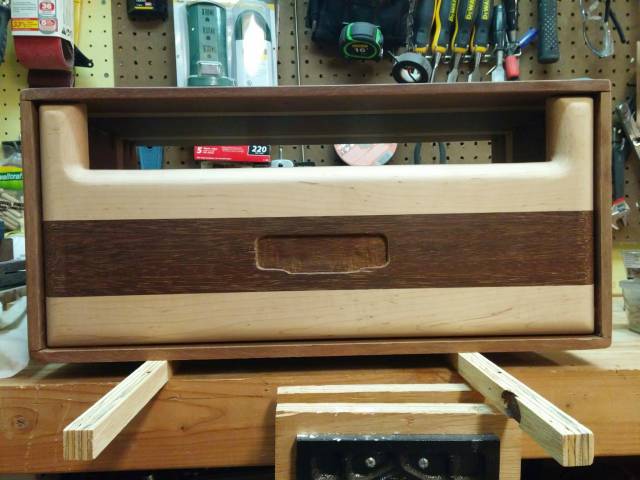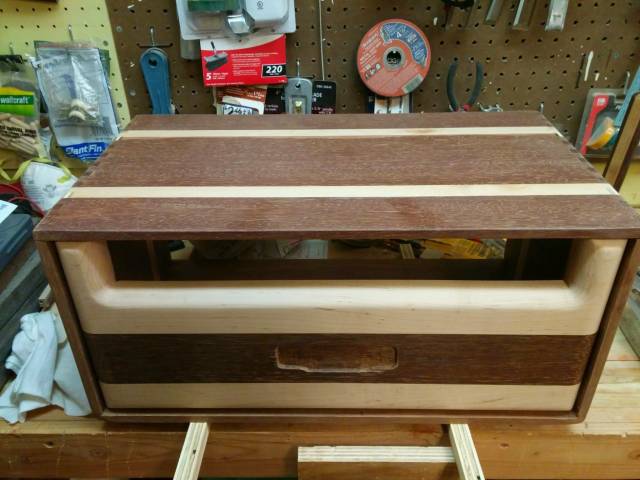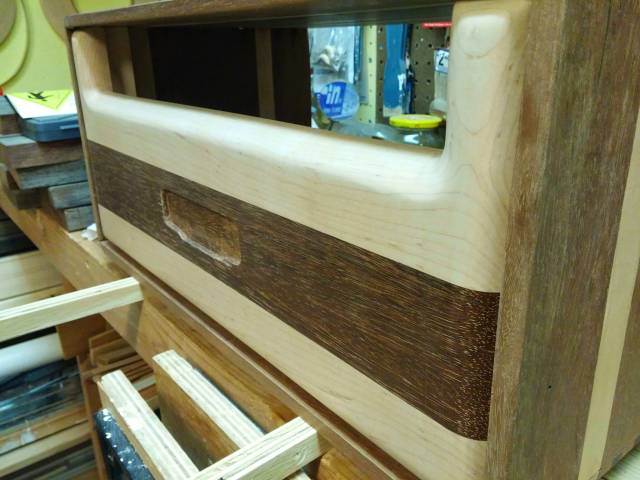 I'm pretty satisfied overall. The 2 things driving me crazy are the gaps in the finger joints and some exposed biscuits.
Here's a close up of the gaps.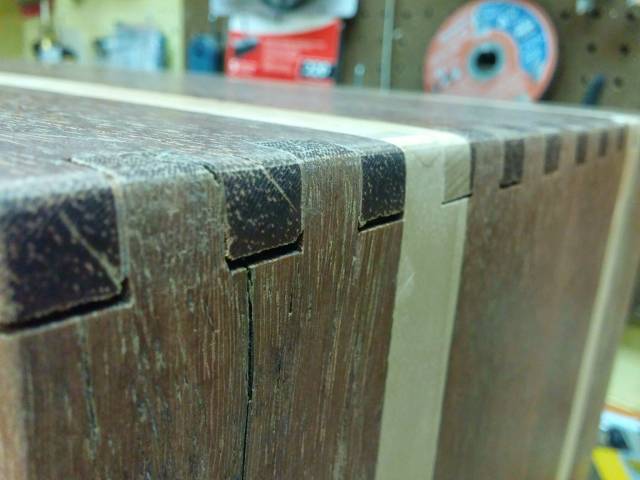 I'm sure I can fill them with wax. I've used minwax wax pencils in the past and I've learned to make screw holes completely disappear. I don't have a problem with using it and I expect the results to be good.
I don't know what to do about the biscuits. I'm thinking maybe a black magic marker, then sealing it and then using furniture markers. This will take some experimentation. I made a few test pieces today.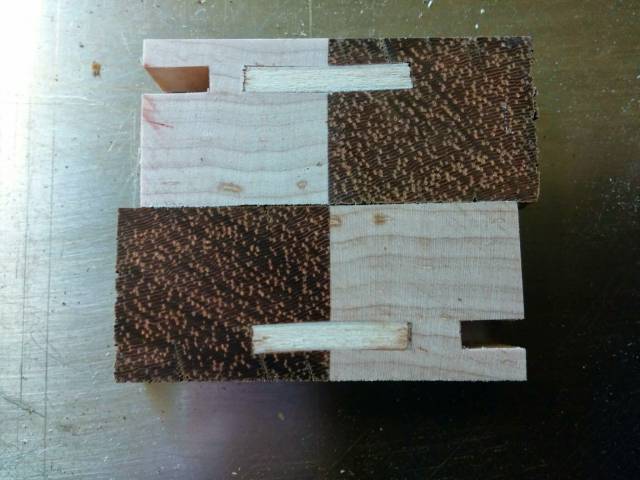 This material would make a nice cutting board.
Well that's it for now. As far as assembly goes I still have some small pieces to fit inside to support a removable back. There is also some decorative hardware going on. Then of course the amp, carry handle and feet. In going to finish with Danish oil and wipe on poly.
-- Losing fingers since 1969
View all parts of mesa boogie amp head »