To collect or not collect... There are no question! handtoolscollection
Hi there.
I have a small problem, I promised my self never to become a collector, but…
My rules are;
I can only have one of each.
I need to use it, or have the intention to use it at some point.
It's also fair if it's a really beautiful tool.
Or a really interesting tool.
Or made of a special material.
Or from a different culture.
Or….
Ok, I guess I have to admit it; I do collect tools and love it.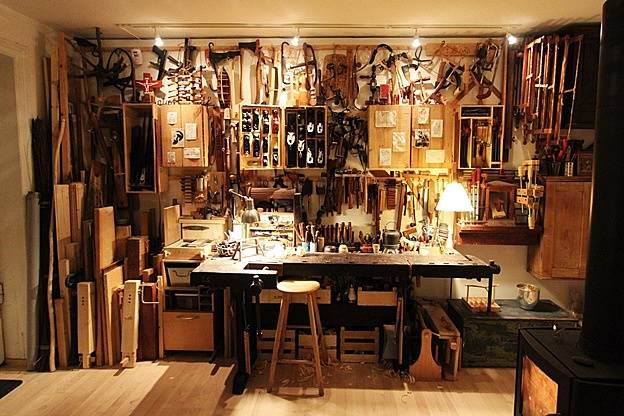 So here are my hand tool wall in the shop.
As you can see I can't post pictures of it all, I also have cabinets, chests, drawers and even a few in the basement, so I will just give a small peak into my little part of paradise on earth, or my workshop of joy production as I like to call it.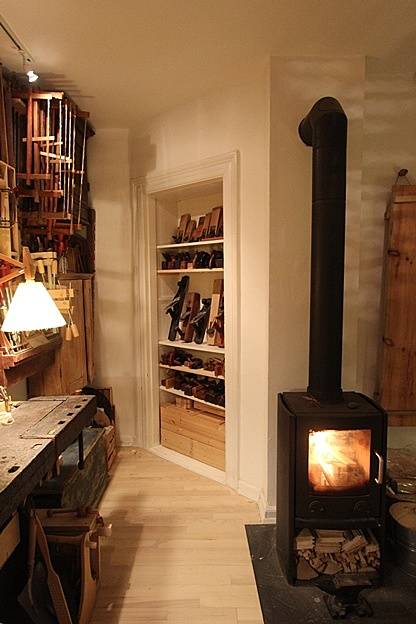 In the corner I have a old blinded door this functions as one of the plane storage places.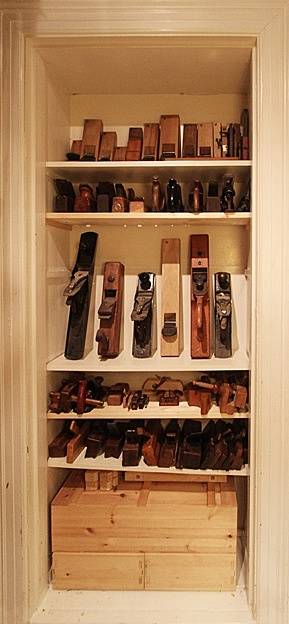 Top shelf are Japanese planes.
Second shelf; French, English, Canadian, German and one of mine.
Third are the long guys one from Russia, England, Japan…
Fourth, small planes most my own builds but also South African and a few others.
Fifth holds a mix of wooden planes, Danish, English, German.
Finally some tool boxes with Japanese tools, I do have a soft spot for these.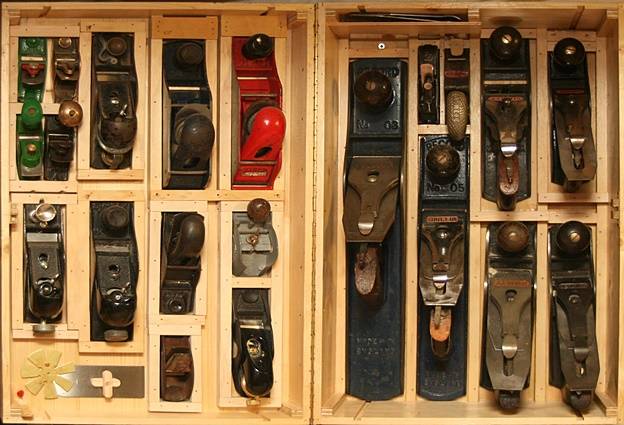 I made some plane cabinets from old wine boxes, this one holds mainly the Stanley type metal planes.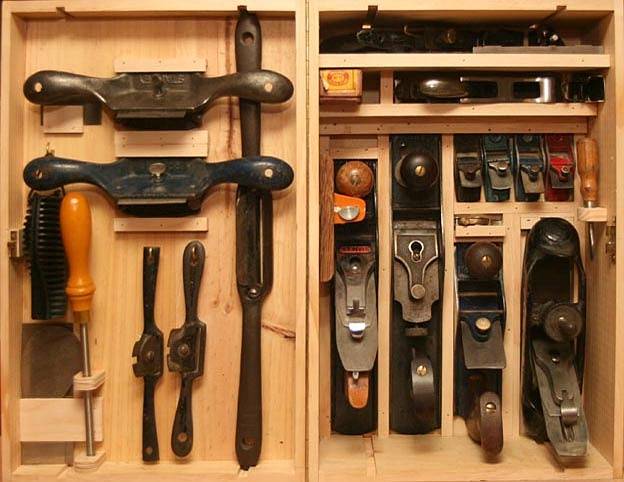 Here more a mix of spoke shaves, scrapers and special planes of the Stanley types.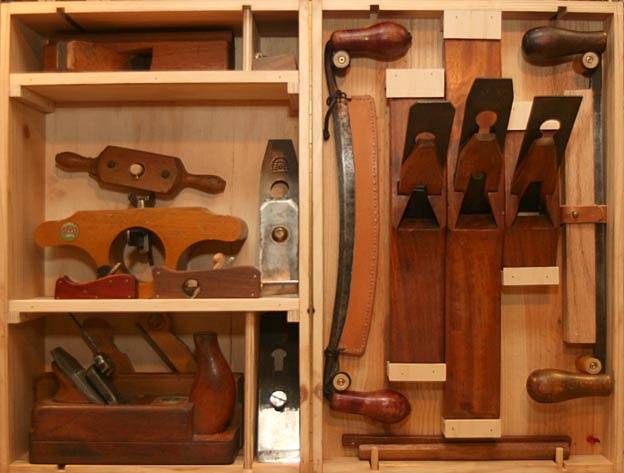 Wooden types, Denmark, China, France and a pair of draw knifes.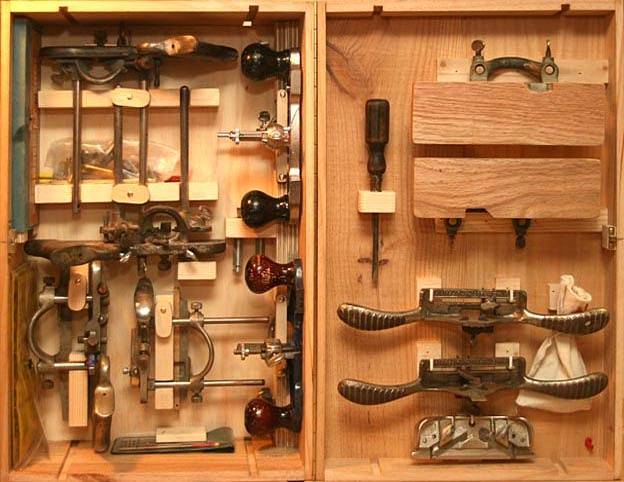 Combination, plough, router and bedding planes.
Ohh yes and a side rabbet plane from Stanley, that's a sweet one to clean up with.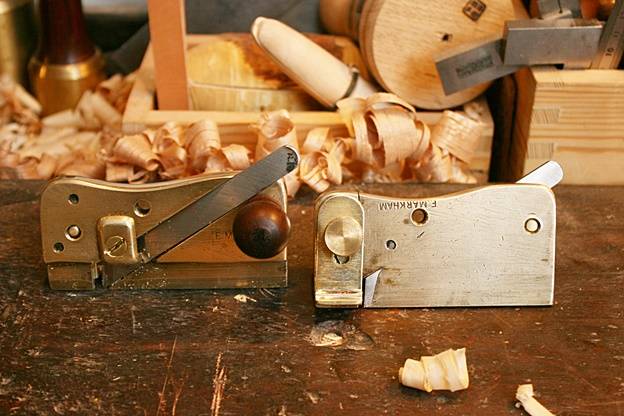 Reminds me I recently restored these, that I think are worth sharing, they are custom made planes I got from England and think I managed to get a fine life into, a real joy to use.
(Guess we can agree by now I do have more than one of each kind… but the other is a combination and these are brass… do you see where it is going?).


Saws, yes we need saws, as you can see on the picture from my wall I quite a wonderful bunch of frame saws, but here we have the rip, cross and the modern combination saw.
Honestly I do use my table saw most of the time, but do enjoy making dust or shaves with a good hand saw.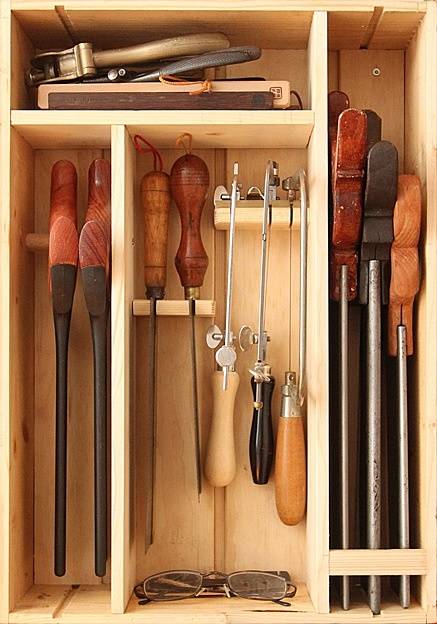 This leads us to the joinery saws, these I use a lot and have to admit I love the Veritas dovetail saws, these are just such a joy to use that I most of the time reach for these.
Here another essential tool are situated, reading glasses… Hmmm getting close to fifty years now.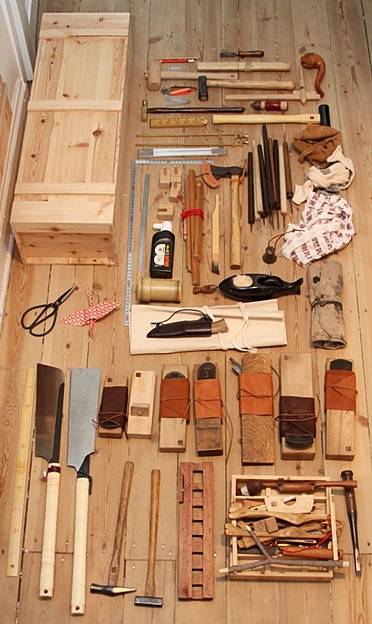 Some of all the Japanese tools out of the box here.
I have made quite a lot my self and do have a really soft heart for this.
I have my nerves messed up in the neck, so using tools on the pull instead of the push are a big difference, but yes as an architect the design and simplicity also talks to my heart.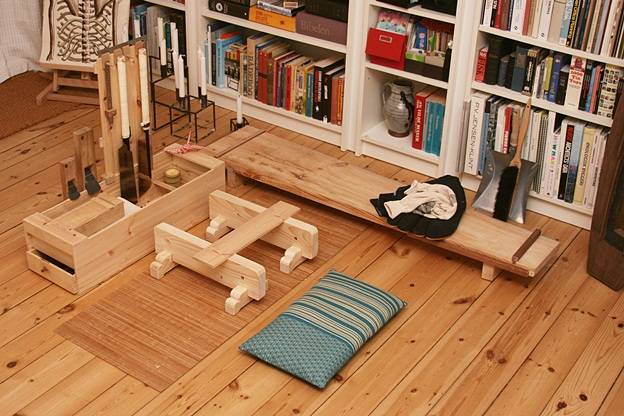 Here the setup when working seriously with Japanese tools and ways.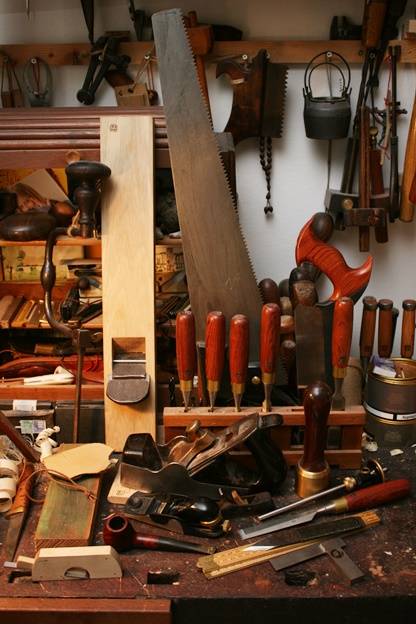 Hmmmmmm do we need all those tools… No.
Here I have gathered my most used tools, the favorites and I guess kind of the basics one need.
A rip saw – long, dovetail saw modern Veritas, jointer this one I made my self in Scotland with a antique Japanese blade, hand drill my favorite are this old fellow it makes me happy, set of chisels Asley Iles England trust me these are the most wonderful cabinetmakers chisels you can get, a good knife this one I made, sharpening stone natural, honing strop leather, shoulder plane low angel self made, smoother plane a gift from a wonderful friend Spiers of Ayr this is not only a beautiful tool it is a wonderful user, Veritas again the low angel apron plane just get one, pipe with a good tobacco needs no explanation, small Krenov style detail plane self made just for the joy of it, small brass mallet self made with help from an old friend, Marking Gauge again Veritas sorry I do have a soft spot for these guys I can see it's the fact they don't just copy the past but try to improve and yet make a wonderful quality, marling knife from old plane iron, ruler, a good quality square.
I think if I had to bring only a handful of tools and leave the rest, these would be the once following me.
Important, never to compromise of the quality of the tobacco.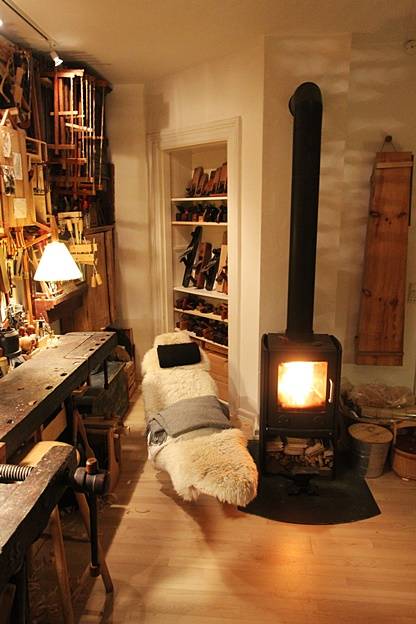 I probably forgot some and might have missed some that should have been shown, like my carving tools, sharpening station, green wood working tools, shaving horse and the pole lathe I'm working on, but this is what made it.
Hope it can be to some kind of inspiration or joy, to me it is a joy every day I enter the shop.
Best of my thoughts,
Mads
handtoolscollection
-- MaFe vintage architect and fanatical rhykenologist.