Thomas & The Wooden Spoon
Our first "Creation Challenge" is provided by Thomas (thank-you very much, Thomas).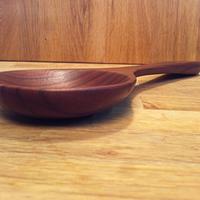 More About The Spoon
Why spoons?
Last winter I had injured my knee and was laid up for a few months, so I spent a lot of time on YouTube just watching anything to do with wood working. I really wanted to start creating boxes, I had seen so many different styles and designs, but then I came across a video of a craftsman carving a spoon, I watched it about a dozen times, and I was hooked, he had done it all with just a straight gouge and a spoke shave and since I had those tools I decided that once I got back into the shop I was going to take at shot at it.
What were your biggest challenge(s) with your very first spoon?
My very first spoon was just a copy of a wooden spoon I grabbed from the kitchen drawer, using a gouge and spoke shave I tried to duplicate it just to understand the process… I didn't do a very good job of it I have to confess, it was made out of a piece of cedar I had left over from another project, it was ugly at best. So I decided to take another crack at it, so I scooped a piece of firewood from my neighbors wood pile and tried again, and just started carving. After 3 spoons I figured I was ready for the big time and carved my wife a cherry serving spoon as an Easter gift. It had an offset bowl and a long thin handle, I smoothed the bowl with a curved card scraper, and sanded it until my fingers were numb, It turned out pretty good I though.
Today, what do you find to be the most challenging part of the process?
The most challenging part of the process for me is design and implementation, As you saw in my spoon tutorial I draw everything up first and then try get it to look like the picture in my head (not as easy as it sounds, it's scary up there. lol)
And which part is the most fun for you?
The most fun for me is carving the bowls, you really get a feel for the wood , the more difficult the wood is to work with, the more beautiful the spoon ends up being.
Decorative or practical spoons: your preference?
Well I would have to say practical as I have never really made a decorative spoon, doesn't mean I won't, I just don't have plans to make any at this time.
And, lastly, "What next?"… Next personal challenge re: spoon making.
It ends up that I love creating spoons and cooking utensils so much that I'm actually turning it into a small business. I have put together a small portfolio of products, concentrated on a specific look and design, and I want to produce a product that will last for generations, and with some mentoring from a seasoned veteran I have a better understanding of this industry.
.
.
And what is the challenge?
Well, following the tutorial provided by Thomas (click on image above), you create your own version. It's as simple as that. You can keep it exact to the instructions or add your own personal twist to your creation.
Then, post your creation tagged as spoons, and embed it here in the comments section.
How To Embed

-- Toxins Out, Nature In - body/mind/spirit