I've admired furniture makers from every era and almost every style, but I've always been fascinated with anything built with curves.
As I mentioned in my last blog, my passion for woodworking started in High School back in the 60's and even though I didn't do any woodworking for the next 15 years after I graduated, I never lost my interest.
Once I started back doing some woodworking, it didn't take long for the passion to take over and I started my own woodworking business.
Its one thing to cut a board straight and true, but to take a board and cut a graceful curve or bend it into a shape that's anything but straight has always intrigued me.
So even though most of my customers wanted something pretty conservative when it came to design, I did take it upon myself to try a few projects that required a little thinking "outside the box"!……….and over the years I even found some customers that allowed me to go a little wild with designs.
Here are a few examples of projects I did primarily because of the challenge and wanting to try something different.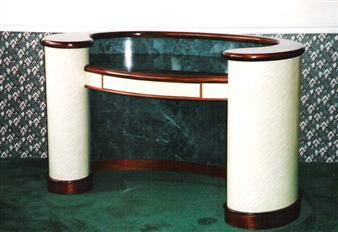 I guess you could say this desk was the result of a "brain burp" I had one day. Being a self taught woodworker, I decided it would be fun to figure out how to work with bendable plywood, how to build a form to wrap and shape the plywood, how to veneer large curved surfaces and make curved molding.
This is the only picture I ever took of this desk. (I never thought 15 years later I would want to share it with others).
Other than a rough sketch of my vision for this desk, the rest was figured out as I went along. The outer shell was shaped around ribs I cut to make the inner core so when I applied the first layer of bendable plywood it would give me the shape of the desk I wanted. The real challenge came when trying to figure out where to have seems that would not show since I wanted the desk to appear as a single piece.
The first layer of bendable plywood was screwed to the ribs of the inner core to form the basic shape. The next layer of bendable plywood was glued to the surface of the first layer.
The veneer that was used was a unique product I found that was actually manufactured using three different species of wood layered and then twisted and resliced as a veneer to create a very interesting grain pattern. That is the actual color of the veneer, all I did was apply a clear finish.
The wood used for the very top, all mouldings and trim was solid mahogany. Again, a challenge to make the curved baseboard and trim.
The actual desk top, privacy panel and backsplash was done with a laminate that had kind of a marble look to it.
The drawer front was curved to follow the lines of the curved front, (inset with a mahogany bead around the edges) and I used a drawer kicker so I didn't have to have a drawer pull.
This was not a commissioned piece or did I have an actual plan what I was going to do with it other than prove to myself I could make it. I displayed it in a few shows and was amazed at the response I got. Even people that didn't care for contemporary furniture thought it was kind of cool.
At the first show, I had a designer fall in love with the desk and wanted to buy it. It took her almost 3 years to talk me into selling it to her. She wanted it for her reception desk for her office. Even after 15 years, I wish I would have kept it. Don't know why, other than it makes a statement of who I was and what drove my passion for woodworking; always pushing my limits and always working with good materials.
If I had failed, yes I would have wasted a lot of money and time, but that's what makes me do my very best the first time. It's far from perfect, but it was the very best I could do at that time and I'm still proud of it.
Here's another "Brain burp".
While I was making this band saw box on day I thought; wonder if I could build a full size chest in that same style? How cool would that be? But more importantly, how the heck could I pull that off?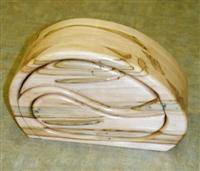 Well, here's my brain burp!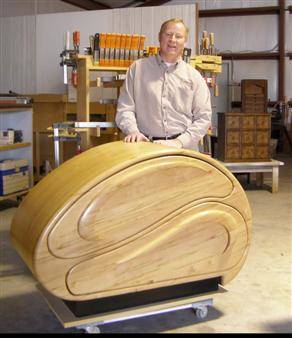 Yep, that's me, standing behind my "brainstorm" that came to me while standing at the band saw.
Since I had already worked with bendable plywood and making inner ribs to form to, that part was easy. The challenge was to make a inner shell that I could form my bendable plywood to, but not actually attach the bendable plywood to so I would be able to remove it and I would have the cavity for my drawers.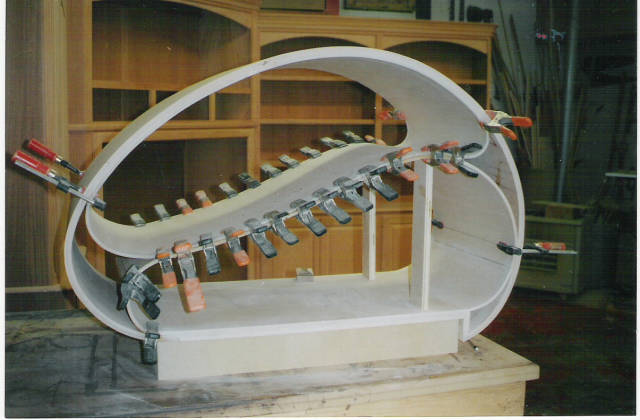 This picture was taken after the inner shell was removed and I was making the curved divider to form the drawer cavities.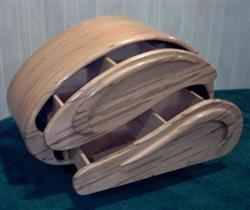 The smaller picture shows the drawers opened to show the drawers and drawer fronts.
The entire front was glued up with 5/4 solid Ambrosia Maple and the drawer fronts where cut from the solid slab so the grain would follow through the drawer fronts and face frame. Even though the handles where cut from a seperate board, I played around with the grain and picked each drawer pull so it looked like the grain flowed with the rest of the front.
The back was also glued up in a single 5/4 slab, applied, trimmed and flush trimmed to the shape of the shell
The shell itself was veneered with Ambrosia Maple.
The bottom was made from solid maple and painted black to make the base.
Two drawer fronts, yet there are 5 different sized drawers (3 in the top opening and 2 in the bottom opening) attached to the two drawer fronts. All the drawer boxes where made from 5/8" solid maple and dovetailed on all four corners.
The three top drawer boxes are different widths and heights, but fastened together as one, so when the top drawer is opened, you have three individual drawers to use. I used the Blum, full extension bottom mount slides.(before they had the soft close). The real challenge was to align the three drawers so they all fit in the opening level and one pair of slides would work in a curved surface.
Attaching the drawer fronts were another challenge. The bottom drawer was done the same, only with two drawer boxes instead of three.
The final challange was moving it. Not only is it heavy as the devil, but there is no good way to get a grip on it to pick it up. I finally decided to mount recessed heavy duty casters inside the base so we could roll it around.
Again, this was not a commissioned piece or did I have any plans for it once it was completed. This piece has been to many shows and this time I was smart enough to keep it!
My daughter has adopted it for her room and thinks it makes the perfect lingerie chest. The only problem with that is, I can show the piece of furniture to people, I'm just not allowed to open the drawers! LOL
As you've probably figured out by now, our home is full of furniture I've built over the years and nothing matches.
I have everything from very comtemporary to very traditional and everything in between.
Maple, Curly Maple, Birdseye Maple, Ambrosia Maple, Cherry, Curly Cherry, Walnut, figured Walnut, Butternut, Oak, Mahogany, and lots of exotic woods for smaller projects.
I've always considered my woodworking as average, and my real strength in my business was marketing and selling. That's why I try not to give much advice on the woodworking part of any business, but love to help other woodworkers with the selling and marketing end.
Best to everyone and hope you can enjoy your woodworking as much as I do.