Murphy Bed Wall Unit #1: The Scope of the Build
I got a commission to build a desk/closet/Murphy bed.
Here is the SK drawing of the build. The right hand side will house the Murphy Bed.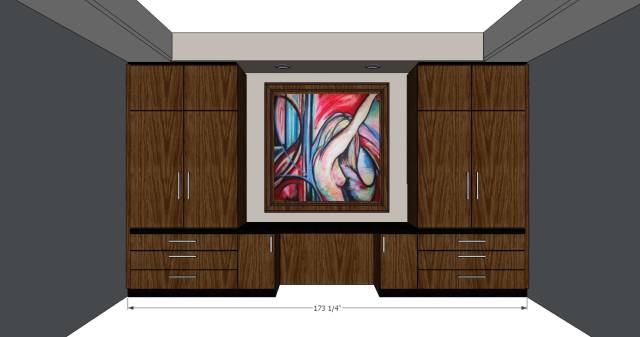 The unit will be Walnut with Black accents being the CounterTop and Base at the bottom along with the small scribe at the top. The contractor has to do some soffit build outs and some other construction before I can finalize my measurements and start. There could be some small changes along the way. I may add a pencil drawer to the desk area.
I will try to take many pics along the way and post in a series of completed sections as they are finished. Should be a fun build. (first time doing a Murphy Bed)
Did I mention everything is going up an elevator to the 14th floor?
Hope you follow along and comment along the way.
Also in the commission is a media cabinet straight across from the unit and a floating vanity covered in macassar ebony for the powder room. Not going to blog those pcs though.
Stay tuned, next insert coming soon.
View all parts of Murphy Bed Wall Unit »