The Arts and Crafts Show Over the Weekend
For those of you who looked at my tea boxes last week, you know I was taking them and a bunch of other items to a show this past weekend. It was an outdoor show in a new venue for us. We set up on Friday night (tent, tables, etc) but didn't put out any wood until Saturday as we were concerned more about moisture than pilfering (there was security both Friday and Saturday nights). The show was in Harwich on Cape Cod. There are many tourists there at this time of year.
Here are a couple of pictures of the booth: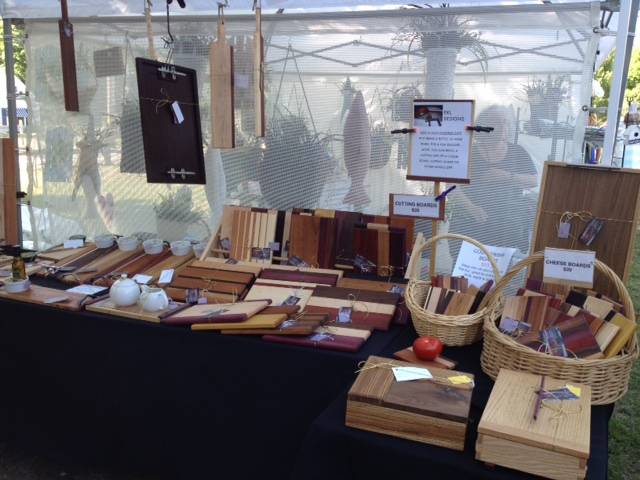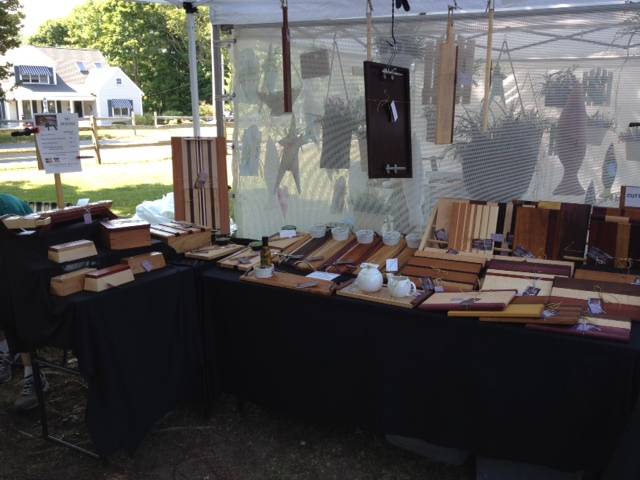 WE had the best show of just about any we have done over the last 5 years. The foot traffic was incredible and we were told that this was not the busiest show. It is always interesting to me to see what sells. In the beginning, I sold cutting boards by the dozen… not one sold at this show! Our prices are very reasonable (someone told me to double the prices to double the number of items sold but that's not in my nature) and everyone ooh-ed and ahh-ed and many bought. We were very pleased and look forward to the next show in August and the "big show" in September.
I'll never make a living doing this, but I just love the opportunity to do my woodworking, make enough to pay for the wood and some profit and enjoy retirement (since April Fool's Day, 2014).
-- Ellen