WoodworkingWeb Theme: Wooden TOYS
Hi everyone!
Most of you may already know me but for those who don't, my name is Debbie and although I don't do a lot of woodworking myself I love wood creations. I love the smell of the wood, the beauty of the grain, and the artistry, patience, and skill put into woodworking projects! I also love to write and I'll be your tour guide, now and then, highlighting creations and woodworkers in our new woodworking community.
As part of our new woodworking site, we are going to take a look at a different theme (or "tag") on a regular basis. This will highlight different projects and woodworking techniques, inspire and educate, and help create a great catalogue of tagged items.
To start us off, me being a "Grandmum" (as my grandson calls me), we are going to take a look at creations tagged as TOY. Toys are one of wonderful gifts of woodworking — gifts for the next generation as well as for our own, as they bring out the kid in all of us and bring an extra bit of joy into our lives.
As we start out our journey together here our TOY category is rather limited; ok – it is just one — but that is where all things begin. I'm sure it won't be long before we have many toys shared on our site and I'll be highlighting them once again.
But for now — (drum roll) here is our first TOY creation!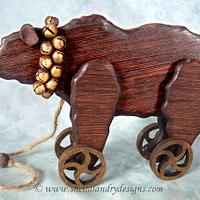 And now .. we'd love to see your TOY creations as well. Just tag your projects as TOY and they will show up here: http://woodworkingweb.com/creations/tagged/10-toy, and then EMBED THEM IN THE COMMENTS BELOW!
-- Toxins Out, Nature In - body/mind/spirit