workshop tour challenge
Throw me in for a chance at the $100. Not much to show here compared to some of the ones I've seen. My shop is about 10′ × 20′ with a 7' ceiling. Pretty small and I place a high priority on floor space to setup saw horses for this and that.
First is the heart of the place. My table saw. An old delta contractor series. I have a shop vac and homemade mini cyclone for dust collection. I made a plywood pyramid and put it under the saw with the vac hose at the bottom to catch the dust. It works great. I also wired an outlet to the saw switch and plug the vacuum into it so it comes on when I start the saw. That is very handy. I often unplug the saw motor and use that outlet/switch for all kinds of things.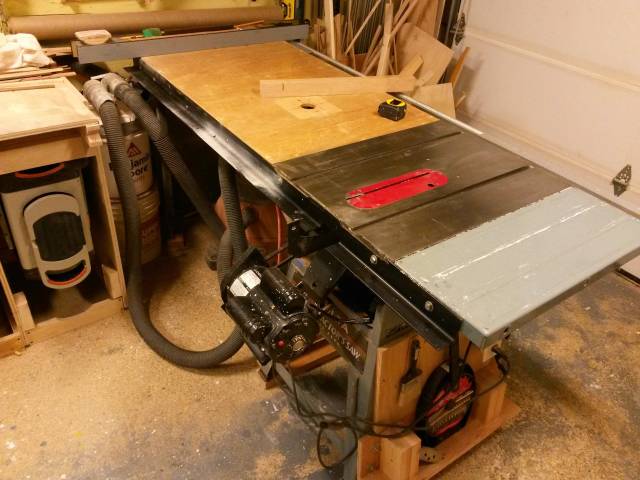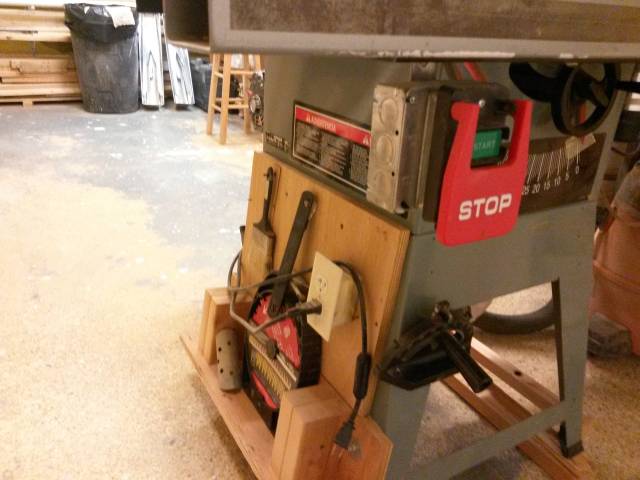 Next are a few things I've blogged about. My flip top planer, flip top drill press and a cabinet for my mitre saw. I've gained a ton of floor space from making these things. All the tables are the same height so as to serve as infeed and outfeed for each other. Even the planer, when in use, had the same table height.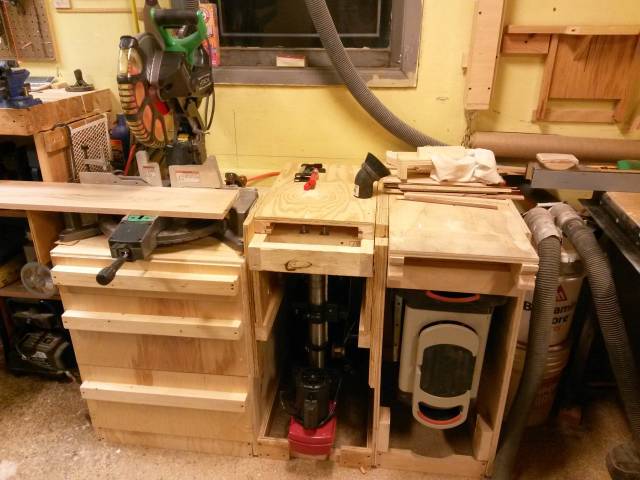 Next is my bench, which I'm planning to replace on a couple of months. This is one sturdy bench, but it lacks a lot of features, is too tall and not deep enough. It was made before I knew anything about anything. It sits on a reinforced bookcase that holds a bunch of power tools and other stuff. It's going to be replaced with a proper bench with drawers underneath and a couple of nice vices. For now I put up some blocking to hold up boards at the right height for cutting on the mitre saw. In the picture is a couple of oak boards glued up to make a door stop for a sliding door. The all-the-same-height tables came in handy last night when I hand planed the joined edges.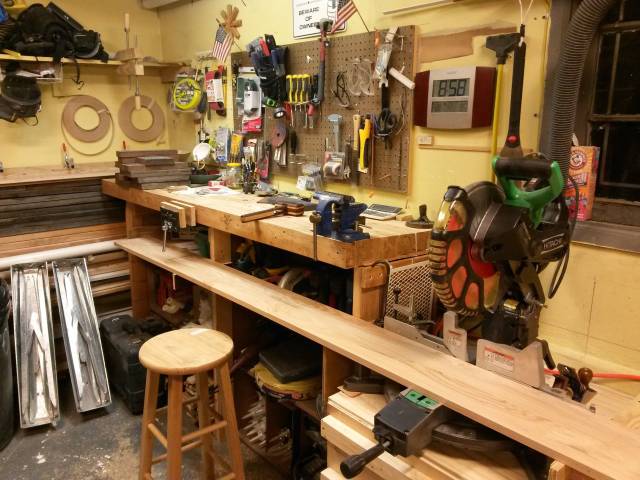 Next is my lumber rack. This is going to be replaced with a heavy duty rack when I get time. Right now it's just a few closet shelving supports and there is a lot of weight on them. This is a recipe for disaster. I may do this before the bench. The triangle on the shelf support takes up a lot of space too, so I should be able to gain some extra storage when I make the new one.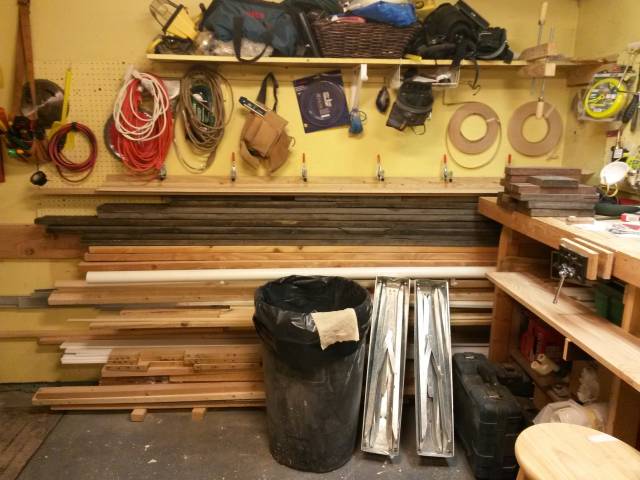 Against the other wall is plywood and all my jigs above. I'm thinking about making one of those carts. We'll see. Not shown on the same wall is some shelving for storage and the door to go inside, which I made. Maybe I should post a picture of that.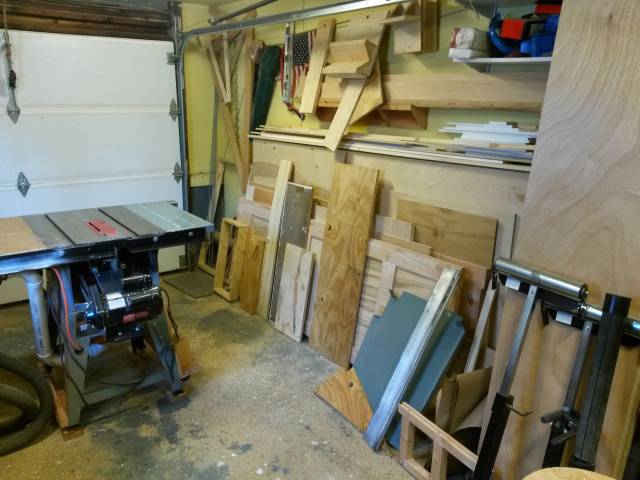 That's about it. Here are 2 pics front to back and back to front.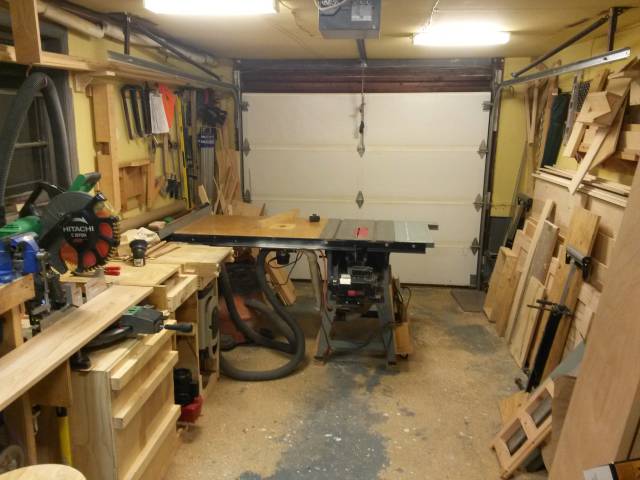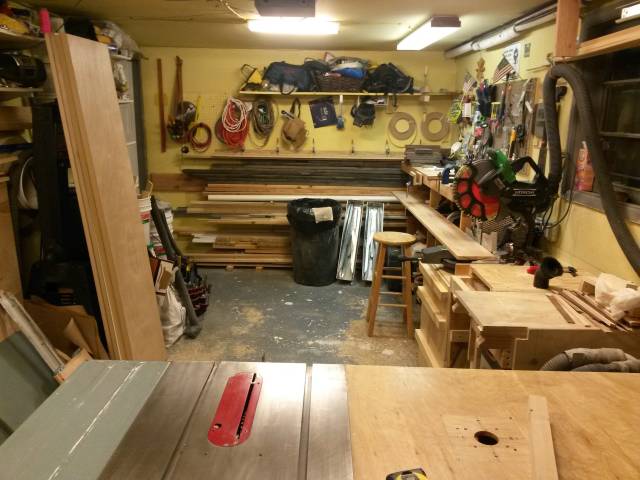 It seems to me that I've packed an awful lot of stuff into a tight space and I even have a little floor space left over. :-)
-- Losing fingers since 1969