Patio Table #1: an idea is born
Two years ago our glass patio table broke; last year, we did without a patio table; this year I want one again and so I started checking out the flyers.
Oh my … those prices make me want to build my own. (And by that I mean "help Rick build one").
We have made several benches that everyone loves – and they are so comfortable. I think I'd like to somehow put backs on them and then build a table.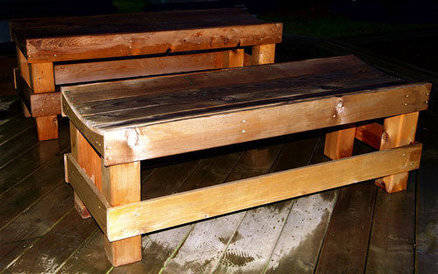 Not sure how we'd add a back to this .. or if we'd just pick a different style.
Anyway, the table. Now, I haven't mentioned this to Rick yet (he's at work, right now) but I'm sure that we will make one because he is a wonderful partner and lives by the "whatever you want" philosophy :D
My question to you is "Any tips, strategies, suggestions, warnings re: making a patio table?" *
-- Toxins Out, Nature In - body/mind/spirit
View all parts of Patio Table »