Interior door making #1: Some people say I'm nuts...
…for attempting this project. I decided to make all of my interior doors to replace the home despot special slabs that are currently here. I've blogged a little about this before and I kind of took a hiatus from the shop but now I'm back in business and also back to the doors, so I figured I may as well do a little blog about it. I'm about halfway done with this project. I've made 6 of the 12 I need.
Why am I nuts? I'm spending about $40-$50 in materials per door. Sounds great! Until you factor in the time. Then they become very expensive. I could buy pre-hung doors in the style I want for about $250 each and knock them all out in a couple of weekends. But they're MDF skinned and just not as "natural" as the home made ones. I'll get into that more later.
I've learned a lot by doing and, although I'm not any faster than when I started, I'm making fewer mistakes as I go along.
So this first entry is just a teaser, I guess. I started by going to Lowe's this morning and buying the lumber I need. I bought (4) 2×6s for the rails and stiles, and (3) 1×6s for the frame. This is just untreated Douglas fir construction grade lumber. The doors will be painted. Here is the lumber: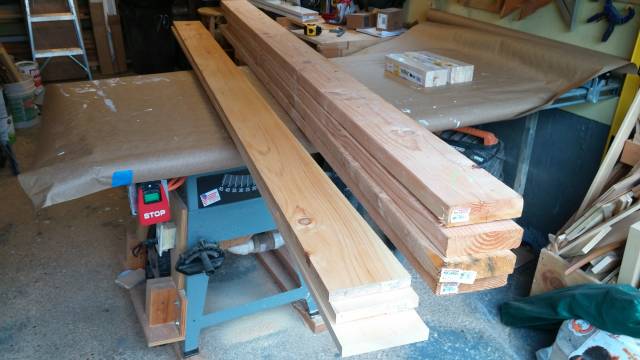 And here is one finished that will be hung today: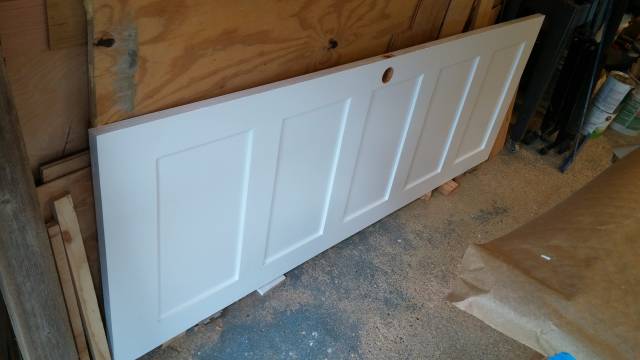 Tomorrow I'll start milling the lumber I bought today and hopefully have it assembled tomorrow night. Is important (yes – lesson learned the hard way) to assemble immediately after milling. There's a lot of moisture left in this stuff and all the planing and dadoing opens it right up to be released. Once I waited a week and I had to junk the whole thing. So, one at a time from now on unless they are the same width and I can clamp them together on top of each other.
One nice thing about making your own is you can custom size them. I built a small closet and to maximize the door width, I ended up making a 23" wide door. Where can you buy that? ;-)
-- Losing fingers since 1969
View all parts of Interior door making »