Interior door making #7: 8 done, 9,10 constructed
Number 8 of 12 is done. Painted and installed. This one is 18" and goes to the attic.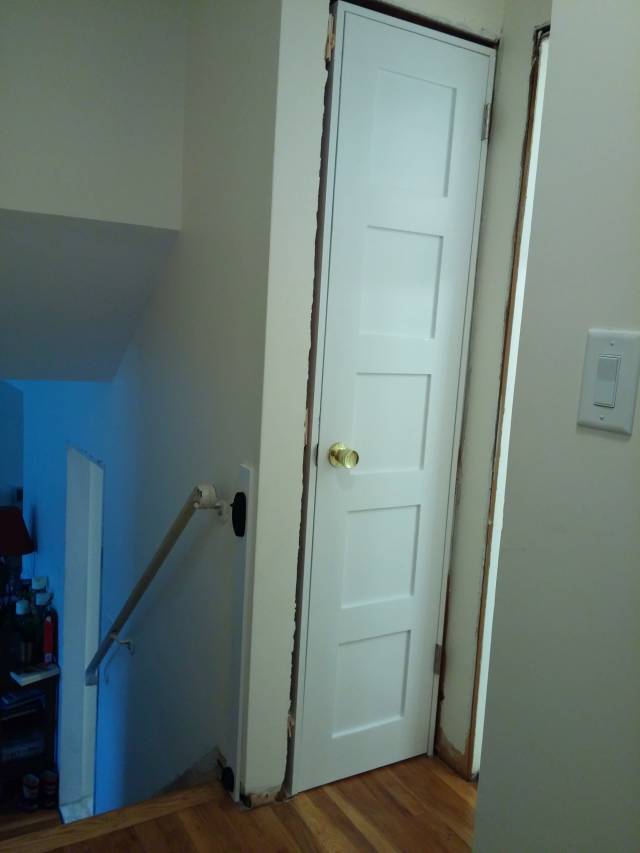 Picked up the lumber for 9 and 10 last night after trick or treating. I need a roof rack or something. My new car is a ford focus and it was all I could do to fit 8 2×6s and 5 1×6s in. All 8 footers touching glass front and back. I've been thinking about building a rack that can hold plywood but the dang crossbars are almost $400. I'll keep relying on my buddy with a suburban for now.
Numbers 9 and 10 are both 24" (11 and 12 are also 24"). I completely filled my 50 gallon separator barrel. I had to punch down the planer shavings at one point. At the end of the night I dumped it all into 2 trash barrels and I'll put it out on the curb on yard waste pickup day. I don't even have to waste a bag. They'll dump the contents right into the truck.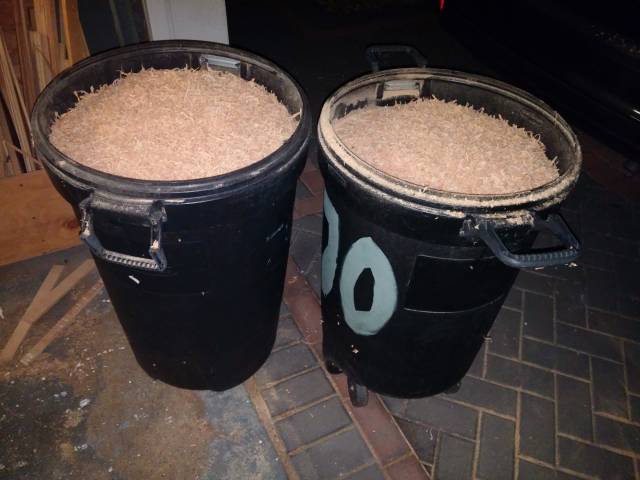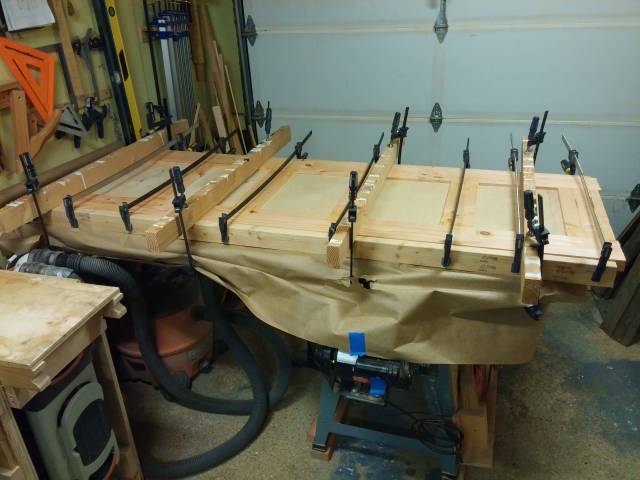 Not many pictures today. I started about 8:30. My neighbor was running his lawnmower so I figured I could run my planer with the garage door open. It's kind of early but whatever. With daylight savings just changed, it was really 9:30. LOL
Gluing up 2 of these guys at once is a challenge. I only have one table to clamp them to. It's important to clamp them to a flat surface or they will not be flat when you take the clamps off. So I stacked them on top of each other and put cauls on each edge so I could use one set of clamps for both doors. Then I clamped them to the table with cauls on top like usual.
Lots and lots of cleaning today thanks to a barrel worth of sawdust. I finished around 9pm after cleaning up and putting my tools away. Getting close to the finish line on this project.
-- Losing fingers since 1969
View all parts of Interior door making »