Walnut Dining Table #1: Early planning
I'm planning to build a dining table in walnut. I found a really fancy one at some store in Soho. Very ritzy place. Here is a picture of the table.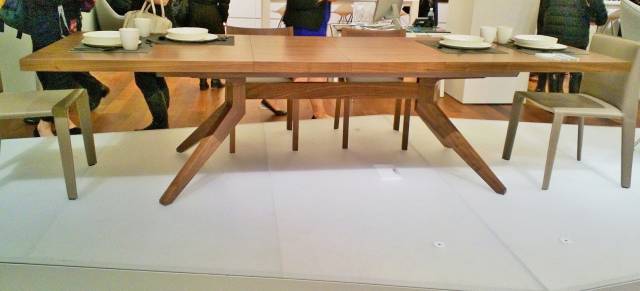 I got very excited when I saw this beautiful thing. I have no idea how to build it but I'm not afraid of diving in head first.
So the first issue is acquiring the lumber. That is a problem in itself. Have you seen the price of walnut lately? I think the material cost would be somewhere north of $500. That's not good.
I grew up on a farm in upstate NY and I live in long island now. We have a few black walnut trees on the farm so I thought it would be far less expensive to have a tree sawn and deal with the 300 mile logistical issues than to buy it from a local lumber store. I happen to be upstate for the long weekend so I went out to find a tree. This is the one I've selected.
It's maybe 20" diameter and 60 or 70 feet tall. All the lumber in front is just firewood. There is a second tree that might be suitable too if it makes sense to cut all that lumber. I wouldn't be able to use it all, however I would like to make chairs someday as well.
I have never done anything like this before. I found a local Mennonite saw mill that charges 20 cents per foot (linear? board? Not sure) which seems cheap even though I'd have to borrow a trailer and haul it to the mill. That could take several trips. That's several trips worth of gas, etc.
My plan is to enlist my cousin to go in with me and pay for some or all of the costs. In return, he will get the prototype table. That's another 300 mile expense to consider.
It looks like my plan is a winner, and I could take pride in the fact that the lumber came from the farm I grew up on. But like I said I have never done anything this ambitious before and I don't know what I don't know – if you know what I mean. So any advice on tree selection, drying and anything else would be greatly appreciated. You guys can hold your construction advice until I get further down the path with this project. :-) I'm not even close to that part yet but I will gladly take advice when I get there.
-- Losing fingers since 1969
View all parts of Walnut Dining Table »