WoodworkingWeb Interview: Billp
This interview, with Billp, is from July 2016.
1. What is your "inspiration story" — where did your interest in woodworking all begin?
I first got interested in wood working through my father in law. He drew up the plans for my kitchen cabinets and I made them. I had no experience but just learned as I progressed. Then, when we moved into our current home I decided to put a wood shop in the basement.
Most of my learning is from reading. I must have a couple hundred books on all phases of woodworking. I learn a lot from looking at videos. I also have learned a lot from asking question of the talented people on woodworking websites.
I never seem to make the same thing twice, I love the challenge of doing something I have no idea of how to do it. Then figure it out as I go.
I had a stroke in 98 and my memory really stinks since then. So I look at furniture that I have made and can't remember how the heck I made it. So, now, often I have to re-learn some of the methods.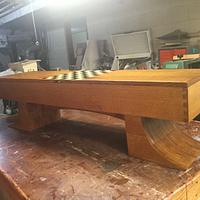 2. Power or hand tools? … and why
My tools are, table saw, bandsaw, jointer,chop saw, jig saw, homemade router table, I made my veneer press and a torsion box work table.
I have several sanders. I also have a Fuji HVLP sprayer. I built my spray booth that is in the basement and vents outside. I have a home made drum sander.
I have a neat dust collection system I made that uses two semi truck filters and a baffle system in the bag. It is connected to a top hat on top of a garbage can. I have never had to empty the bag on my dust collector ever since I installed it and that's been over 4 yrs ago. Just have to empty the garbage can.
3. What are your "words of wisdom" that you want to pass on to others, especially to beginners?
My tip is when using a chisel always use two hands on the tool. Learned that one the hard way.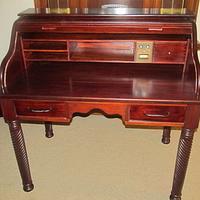 Anything else you'd like to share?
My favorite wood to work with is genuine mahogany. When I have a project going I can't wait to get down stairs. I love woodworking.
-- Toxins Out, Nature In - body/mind/spirit