50 years old, and still hanging around. Not me; one of my projects!
I'm glad Martin said it was OK to post some of our "older" projects. Here's one I did when I was in high school 50 years ago.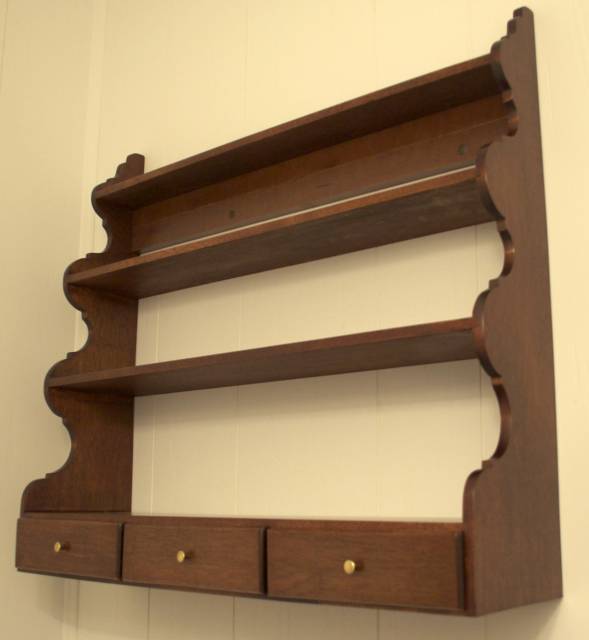 Two reasons I wanted to share this with you;
First; this is where my passion for woodworking started (9th grade in high school). I look back and realize my philosophy towards woodworking has never changed.
I always like to pick projects that push my limits (this was my first real woodworking project) and I've never been afraid to use "good" wood to build with in the first place. I've always felt that if I built something out of cheap wood the first time, I created two problems;
1: I felt it automatically gave me an excuse to fail or make mistakes.
2: If it turned out really good, I would kick my butt for not building it with good wood in the first place.
_The little shelving unit is 30" wide x 28" tall x 8" deep (bottom shelf and drawers).
We had a choice of three woods to build our project from; Pine, Poplar or Obeece (looks a lot like Mahogany). At that time, I didn't really know the difference between the woods, but I really liked the looks of Obeece, so I chose that to work with and of course I found out it was quite a bit more expensive than the other two woods. Oh well, I'm sure glad I decided to use it.
The finish was stain (can't remember what it was at the time) and a paste wax finish. I was really surprised it held up as well as it did all those years._
My second reason for posting this project; my mother proudly displayed this piece in her home for the past fifty years. When my mother passed away, the little shelf was returned to me. I have since applied a fresh coat of stain and shellac to bring back some luster, but left all the imperfections from my early woodworking craftsmanship in tack.
I'm now wondering who I can pawn it off on that will keep it for another 50 years!
It's a great reminder of where I started in woodworking and how supportive my mother has been in my love for woodworking. She also kept the projects I built in 10th, 11th and 12th grades also. They have been passed down to other family members now and I'm trying to get some pictures of those projects too.
I hope others will share some of their early woodworking projects too.
-- John @The Hufford Furniture Group