Work Bench Build #6: Taking Stock and planning
I have just finished drilling the pilot dog holes into the top boards that I have vises for. This will allow me to have a nice straight batch of dog holes started once the top is glued up by using the drill press when the top is still just a bunch of boards.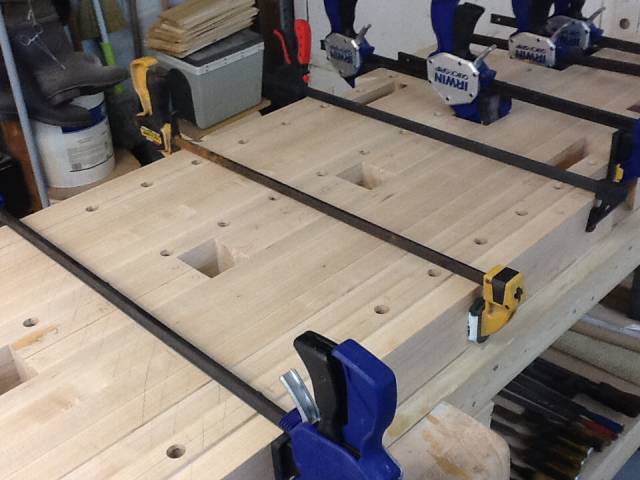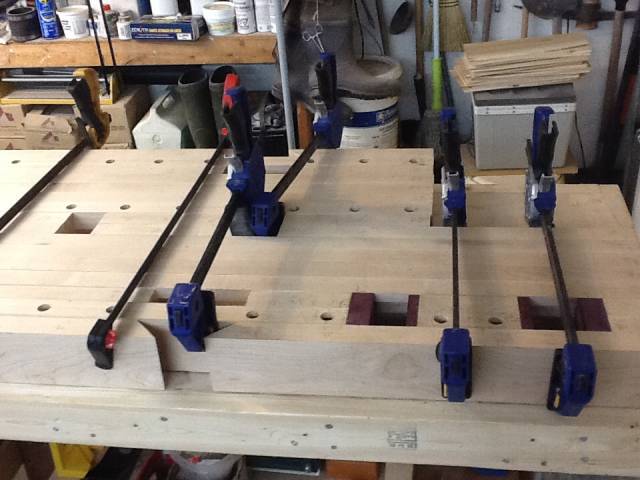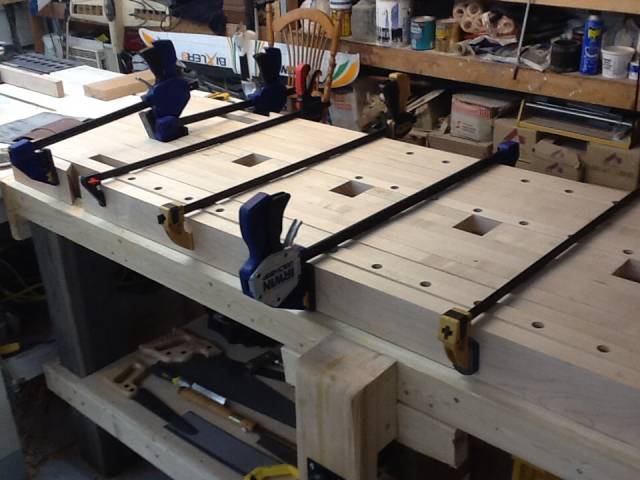 Well I have come to the point where I have to make a list of what needs to be done and when. Having only my own wits to go by as I am not following anyone else's build plan, I put my engineering and project manager skills to use. If anyone notices a flaw in the plan please let me know.
Sand legs
Sand wagon vise chop and adjust for free movement
Chamfer leg bottoms
Purchase Stretchers
Measure & cut stretchers
Mortise & tenon stretchers & legs
Rabbit stretchers for shelf thickness
Mock up stretchers & legs
Router top deadman mortise groove into bottom of left benchtop
Router bottom deadman v groove into bottom of left stretcher
Router top deadman mortise groove into bottom of right benchtop
Router bottom deadman v groove into bottom of right stretcher
Build leg vise chop
Purchase crisscross
Build/router veg vise crisscross mortise
Glue up legs and stretchers
Glue up left side benchtop boards
Glue up right side benchtop boards
Plane left side benchtop top using planer
Plane right side benchtop top using planer
Plane left side benchtop bottom using planer
Plane right side benchtop bottom using planer
Glue benchtop halves together maintain as much level as possible
Install Purple Heart accents in square plane block holes
Purchase carpenters vise
Build carpenters vise chop
Drill pilot dog holes for carpenters Vise in benchtop
Install carpenters vise from bottom
Build face vise chop & install dog holes in chop
Install face vise from bottom
Install and glue legs & stretchers together
Install and glue bottom assembly to benchtop in final shop location (major assembly)
Plane benchtop side face boards flush with leg faces
Install tail vise chop retainer under benchtop
Install leg vise chop and crisscross
Purchase plywood to match stretchers
Build bottom shelf laminating plywood
Trim & install bottom shelf onto stretchers
Dovetail tail vise board ends
Dovetail face vise board ends
Dovetail wide end of benchtop board ends
Purchase brass bench 2 dogs for tail vise
Purchase 2 holdfasts for bench dog holes
Drill all bench dog holes the rest of the way thru the top
Router or inlay any decorative accents
Router top surface flat and level using sled and rail system
Install dowel bench dogs
Build deadman seat
Build deadman
Install deadman
Install seat
Build batten for bench dog holes
Apply finish
Enjoy years of woodworking
As always thank you for following along. Any suggestions or questions are welcome.
-- CHRIS, Charlottetown PEI Canada. Anytime you can repurpose, reuse, or recycle, everyone wins!
View all parts of Work Bench Build »