Coffe Table #1: Sketchup Template
Intro:
I have seen the work of Enrico Konig and l like several of his pieces.
I particularly like this coffee table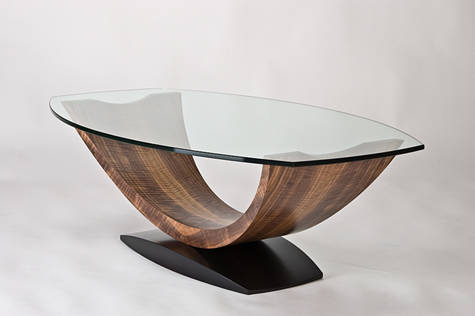 I had thought about it a bit. I also asked for help and and gotten some sound ideas in this post:
I originally wanted to proceed like Enrico with a form and bent plywood; but Bentley's idea was much easier:
A rib cage construction: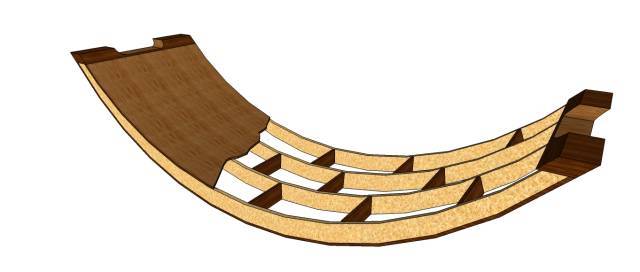 Thanks Bently!
The first step was to make a rib template to help cut all the ribs and pattern route them.
I have cut my template and finished the bare rib assembly Already.
Since all the ribs are from 3/4 plywood I am going to need to veneer it. Veneer hammering will be used.
I have not done veneering before starting this project. Paul (Shipwright) is helping me in the learning process. Without his sound advice I would not know where to start.
Thanks Paul!
Today I decided to open sketchup and, with the very little I know about sketchup, draw the template.
The template in the drawing is 18" by 36", good enough to give you the basic idea about the template construction that I will be covering in the next installment of the blog.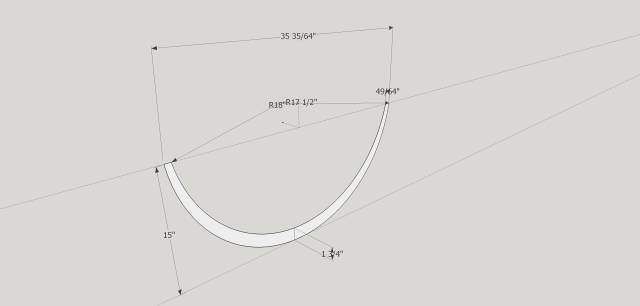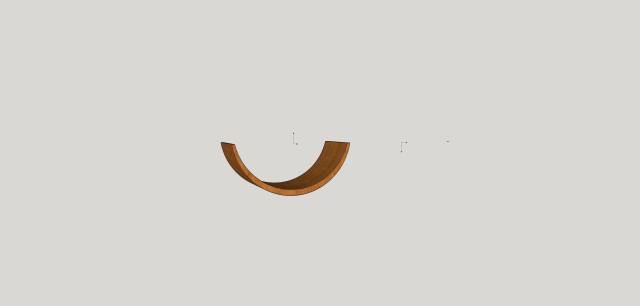 As you can see, the template is nothing more than 2 excentric circles cut into a crescent moon with the height of 15".
with a 2.5-3" base the table will have a height of 18".
To get this kid of shape, it is important the 2 circle have their centers on the same line but offset. this will be shown in the next blog.
I will probable make two of them depending on the outcome of the first one :)
The first one will go to my living room. it will have the following dimensions:
width: 28-30"
Length: 48"
Height: 18"
That's the one I will be blogging about.
The Glass top is a truncated ellipse. I will have to cut a template for the glass shop. I am planing a 1/2 inch thick top.
I have never bought a custom cut glass so I don't know the process yet.
As for the finish, I will ask for help once we get there:)
Some of you have you noticed that I have been kind of slow in learning veneer hammering. So the project might take a little longer than expected. However, it will be completed one way or another.
Of course, as always, advise and criticism is always welcome.
-- Abbas, Castro Valley, CA
View all parts of Coffe Table »