Coffe Table #5: Covering the rib cage with 1/4 " plywood
In my last blog on the coffee table, I had the rib cage all glued up.
Right after that was done I moved to install the 1/4 inch plywood. This blog is about that (1 month late)
I used titebond III (the bottle is an empty re-filled) and 1" staples in the nail gun.
The plan was to install 1/8 ply on top of it to receive the veneer.
I did not have any local source for bendy ply at the time so I went ahead any used 1/4 inch ply.
I thought the bending radius is big enough to bend 1/4 ply without much ado.
That assumption proved wrong as you will see below.
The first trial piece snapped on my half way through. I experimented with narrower strips and that seemed to work
First I gathered some scrape with the same inside radius as the cage rib and improvised a block sander to hit a couple of spots. I also positioned some C clamps in the middle to use when needed.
The strategy was to go from the outside to the middle where clamping would be a problem (20" wide).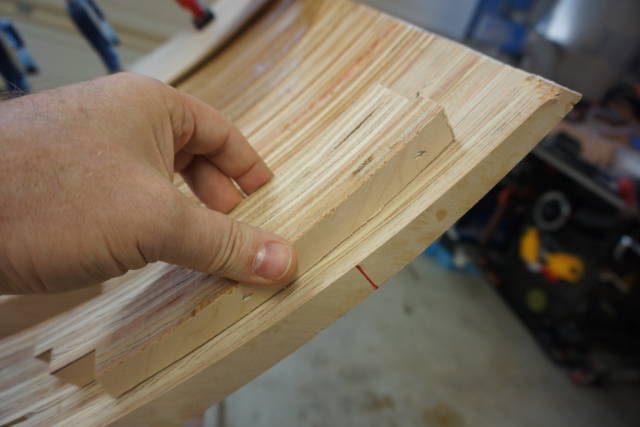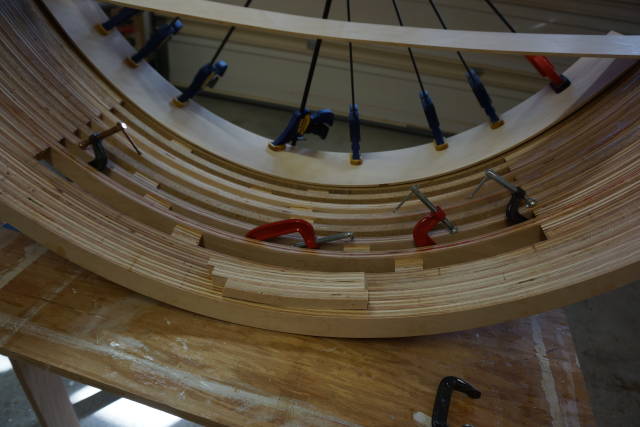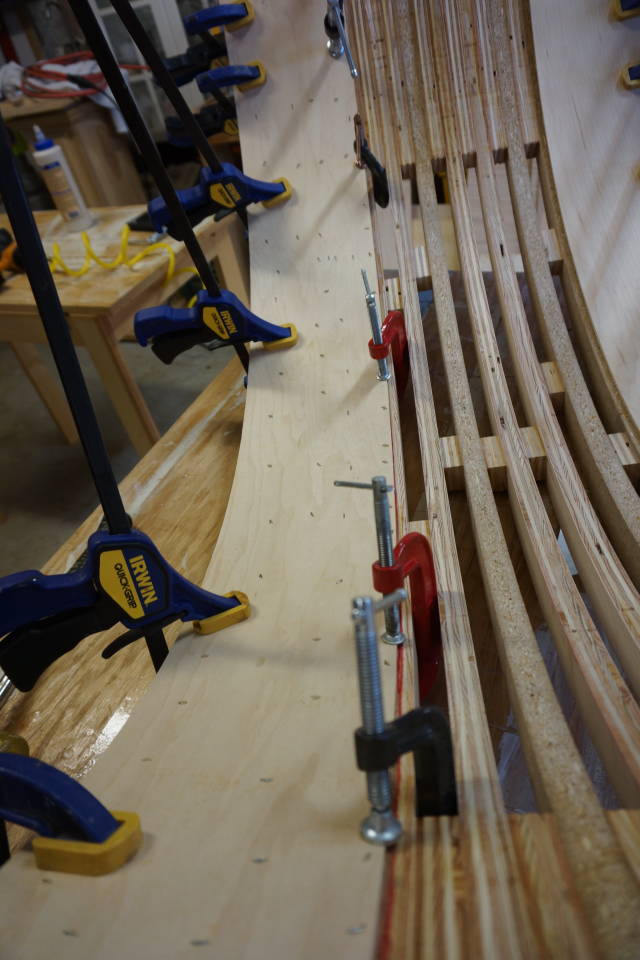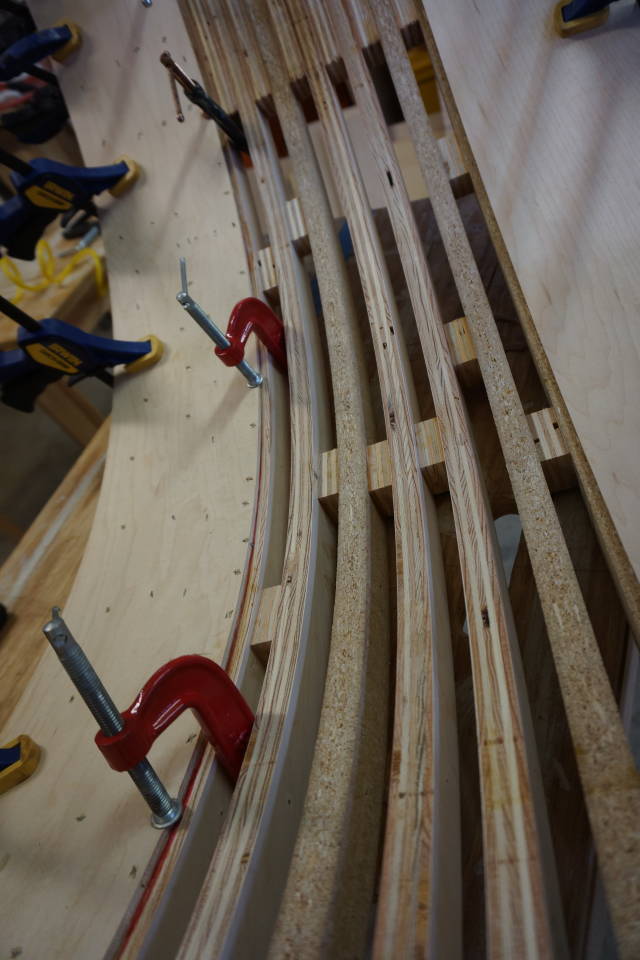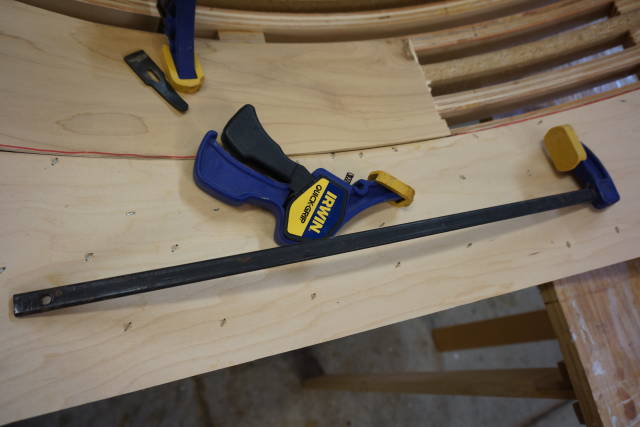 Even a narrower strip of 1/4 inch ply snapped as well…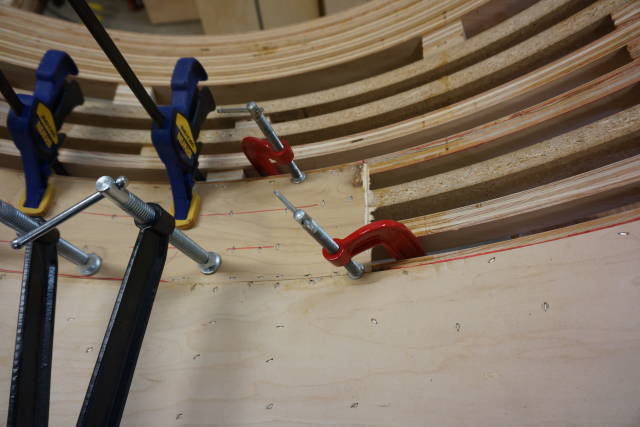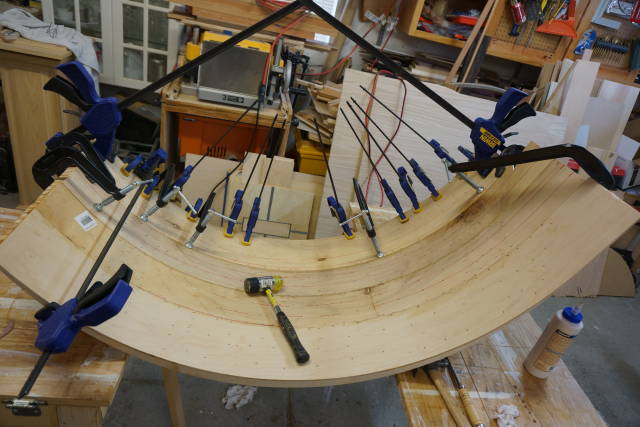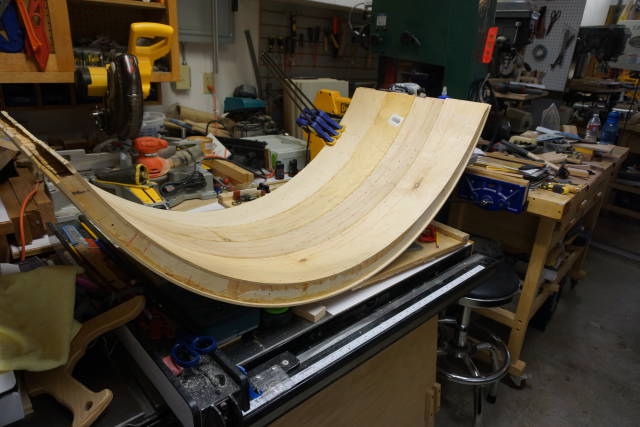 Some thoughts:
1-From many feed back I received. It became apparent that 1/4 inch ply was not needed. the 1/8 ply which I will post about shortly would have been sufficient.
2- in the heat of glue up, while fighting with the sprig back, I totally forgot about my 5" no nail margins on both side where I will be cutting a profile… We will see how that goes on the blades.
3- My inexperience with cage rib construction ( against both Bently's and Paul's advice) I went for more ribs than really needed I thought it should be stronger :). I is very heavy for sure.
Next installment is the 1/8 ply and cleanup.
-- Abbas, Castro Valley, CA
View all parts of Coffe Table »