Clamp Storage
This is the system I came up with to store my clamps many years ago and I still find it quite convenient. It is cheap, quick and easy to make from scrap with a drill and bandsaw and it is compact enough to be space saving, especially for the shorter clamps. Another advantage is that you can make these in different widths to suit your clamp sizes. In the photo below there are 3 different sizes. You can also make them long or short with more or less notches depending on how many clamps you have.
You can carpet tape the two sides together, drill the holes for all the notches and then cut in to the hole with your bandsaw. Add a bottom and top rail and then hang it on the wall and you're ready to go. You can make one in about 15-20 minutes.
Storage for the long clamps can be more efficient when hanged vertically, but if your wall space begins above bench height then my horizontal solution might be more practical.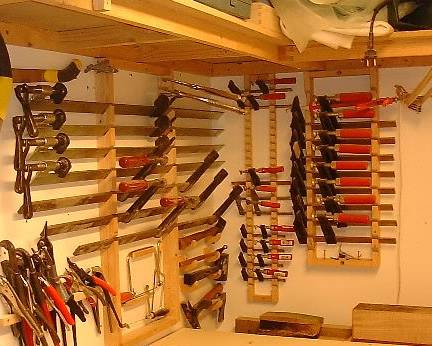 -- Mike, an American living in Norway