Gut Shop Reorganization #2: Planning layout
I finally sat down with a calculator and paper and figured out the layout I've been roughly organizing in my head. I also decided to permanently fix certain tools in place because I want a level work surface for all of them to share. My garage floor is pitched so putting everything on casters and expecting them to line up nicely after moving them even one time is pretty much a non starter. Even worse than having my floor pitched is having a fairly rough surface. So I will just say no to casters. And drugs. LOL
Here's the layout. I hope it's legible after I upload it.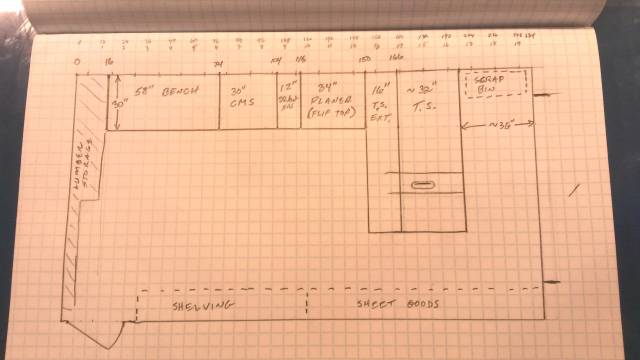 The table saw, bench and planer are roughly in the same location as where I use them now, although all the table heights are different. I like the table saw exactly where it is, partially because the ceiling is only 7' high and the emergency latch on the garage door hangs right over the saw table where I'm not prone to bumping my head on it. Also, I can open the garage door to rip long stock. One thing I've always wanted to do was build a table saw workstation but unfortunately I may not be able to do much with that because I need the room under the saw side table for my shop vac and mini cyclone collector. Since I won't get much storage out of it I may just do nothing other than lift and level what I have now. I have plenty of time to decide. I wish I could put dust collection in another room. Space is far too tight for that.
The planer is also located far enough from the inside wall to allow long stock to pass. I plan to make a flip top where the opposite side is simply a table that lines up with the rest of the work surface. I need it to stand about 15" from the wall to allow long stock to pass the garage door edge out into the open if need be.
My compound mitre saw will be roughly in the middle with almost 8' of table on the left (unlimited on the right when the garage door is open) so I think that should work for nearly anything I plan to cut with it. I rarely use it because it's a pain to set up. It sits on the floor most of the time, but every time I do use it I think how convenient it would be to have a permanent workstation for it. In fact this is one of the main things that is driving the whole project.
There is a 12" cabinet in between the mitre saw and planer. The purpose is simply to round out a full 5' in front of the table saw so I can crosscut a full sheet of plywood and to fit a large sheet squaring jig I made. I'll put drawers in it. There will also be drawers or doors under the mitre saw and bench. All of these storage ideas will be flushed out later as I begin to design the individual components.
This project will probably take over a year to complete as it's not the only thing I plan to work on. ;-)
-- Losing fingers since 1969
View all parts of Gut Shop Reorganization »