When I first started playing around with marquetry I built a little desk for my office. It featured some router marquetry representations of my sailboat. Then last year I re-made the doors using more advanced marquetry.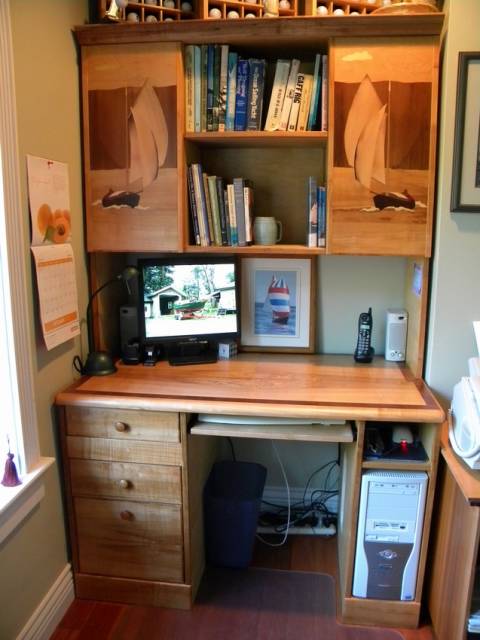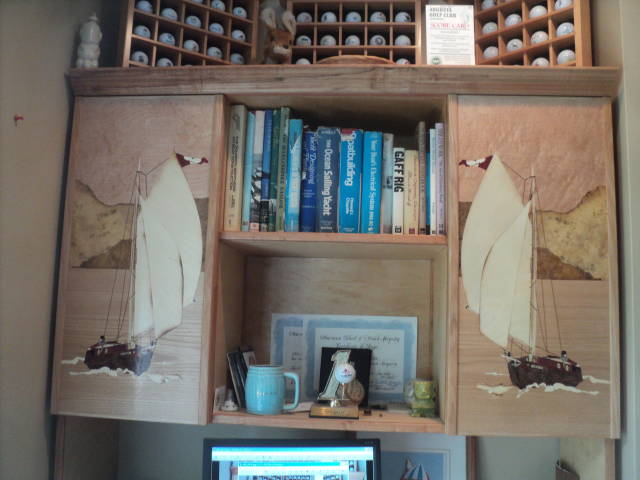 At that time there were some who were worried that I might throw out the old doors but I assured them that I would find a place for them. They have been sitting in the shop ever since.
Last year also saw the replacement of our old arborite (formica) counter-tops in the kitchen with some very nice granite and of course the old tops joined the old doors in the shop awaiting a project. This is that project.
It is a little marquetry bench/desk that will be a great place to sit and do small work, especially glueing, because the glue will clean up very easily off the arborite surface. The drawers on the left side include four marquetry shelves and three storage drawers for marquetry related paraphernalia. The drawer in the foot-well area is for small tools and drawing stuff.
The upper cabinet has two shelves behind the doors and one exposed expressly for keeping my veneer tape dispenser handy but not in the way. It sports a lovely finish of arborite on all outside surfaces to match the desk top.
Desk height is fitted to my shop stool, one of the best things I ever made for the shop.
Thanks for looking.
The early bird gets the worm but its the second mouse that gets the cheese.