FUN CHALLENGE #1: Here Comes The Sun
It's "FUN CHALLENGE" time!!
What is a "fun challenge"? Well, it's a "friendly competition" with no prizes other than the personal satisfaction of having met the challenge; it's an opportunity to perhaps fine-tune your skills, try something new, and/or take a little breather from whatever you are currently working on and make some little project. .. AND it's a little fun "something" for our community.
Also.. although I said "no prizes" you do get this wonderful little badge added to your contribution (creation entry).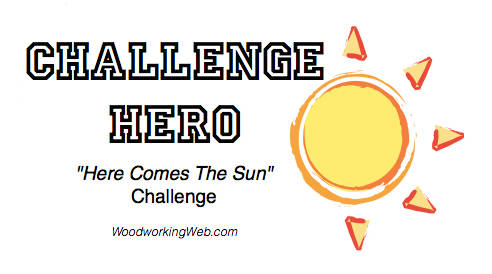 HERE COMES THE SUN CHALLENGE
create a coaster (for glasses/coffee cups, etc) and, using your skilled or never-before-tried marquetry skills, add a picture of the sun (sunrise, sunset, high noon, photo-style, comic-style.. anything goes).
post it as a "new creation"
tag it as wchallenge1 (.. and also "marquetry", "sun" and "coaster", if you'd like)
DEADLINE: post your challenge entry by August 23rd and the wonderful badge (above) will be added to your project!
Remember: this is just for fun so get creative, take some chances, experiment, be silly, be serious — just knit a sunny coaster!
-- Toxins Out, Nature In - body/mind/spirit