Hide Glue-First Encounter
Paul posted this blog about hide glue and answered a lot of my questions. Thanks Paul!
I needed to do a complex glue up where I could not use clamps beside finger pinching the pieces.
I decided it was just the right project to learn and practice to use hide glue.
The qualities of hide glue that were attractive to me for this glue up where:
- No clamping needed
- Fast setting
-Reversible
I can report that I used all the qualities listed above.
I ordered 5 pounds of 192 gm granulated HHG from Highland Woodworking.
I borrowed a digital thermometer from the kitchen.
old Glue brush
I also got a slow cooker and mixed my first batch.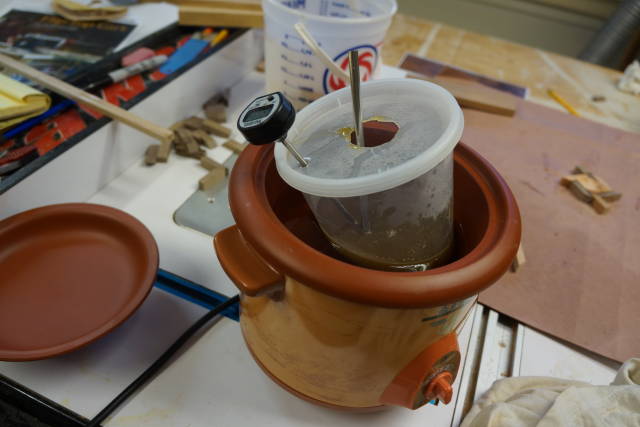 First try: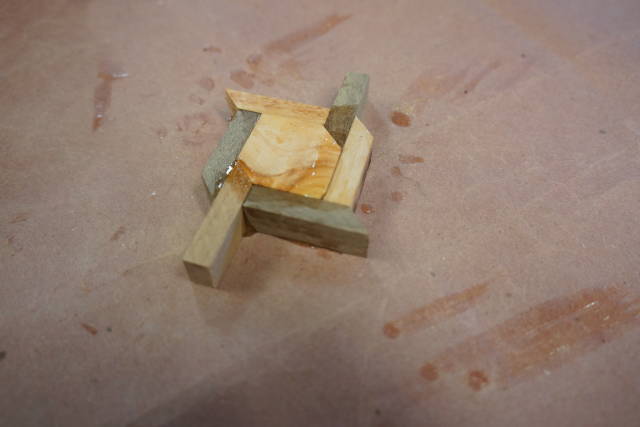 Not bad!
A couple things:
- The slow cooker had only 3 settings. So I never actually reached the right temperature 145 degree setting.
It was either too hot or too cold. This small glue up was done at about 136 degree. It was Gelling too fast.
The digital thermometer was a waste. It would shutdown very quickly.
The plastic container I used for the glue was always floating in the hot water and required to be weighted down
Yes, the smell reminded me of a barn and it did penetrate the nostrils. I dreamt I was breathing it at night. No foul odor for sure.
I glued up few more pieces and stopped there. I wanted to see if it holds up and I also was concerned about the temperature.
Most of all I wanted to make sure it held through the heat of a drum sander.
I am happy to report that the second day, The left over on the top that I did not wipe off (fear of water separation), was as hard as glass. And yes it came out fine from the drum sander after several passes ; sorry no picture here.
I spent $17 more and got the Rival hotpot express.
Now I could dial the right temperature.
Once I had it stable few minutes, I made a mark on the pot.
This time I borrowed the cooking thermometer and it worked like a charm.
I also used a small jar for the glue.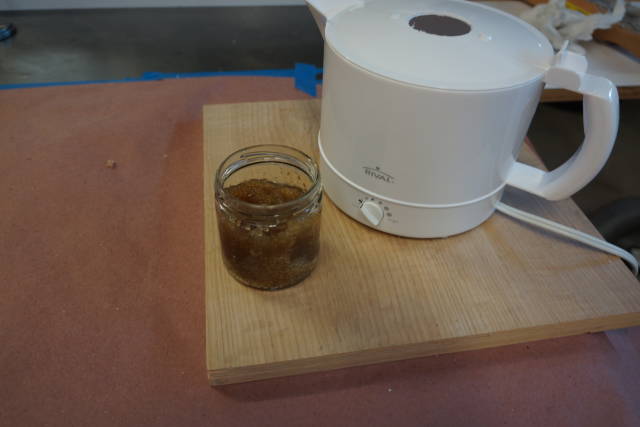 I glued up the rest of the pieces.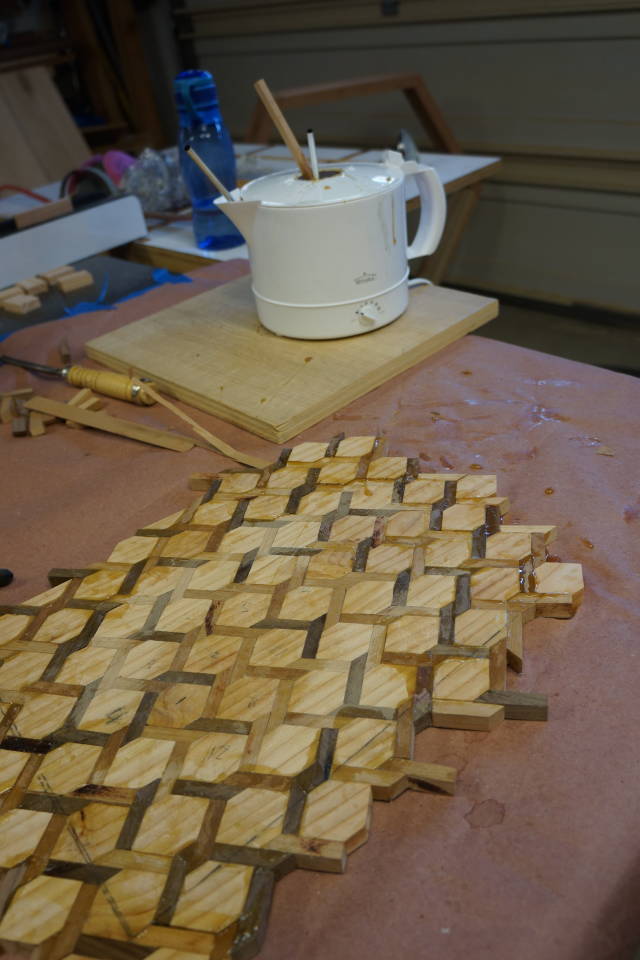 Then I discovered one piece that did not have the right orientation from the first glue up. I was not very happy but remembered "reversible"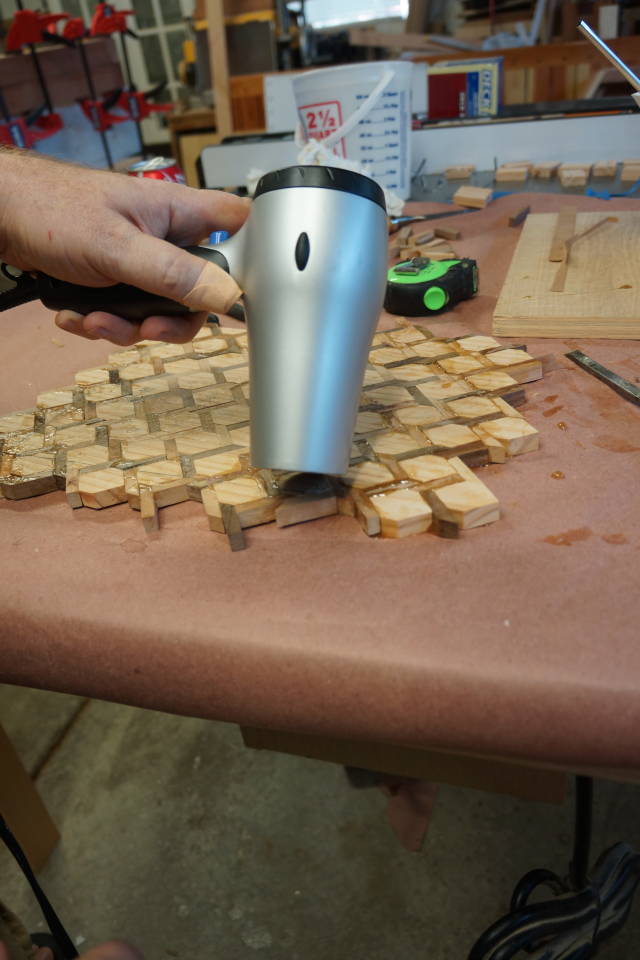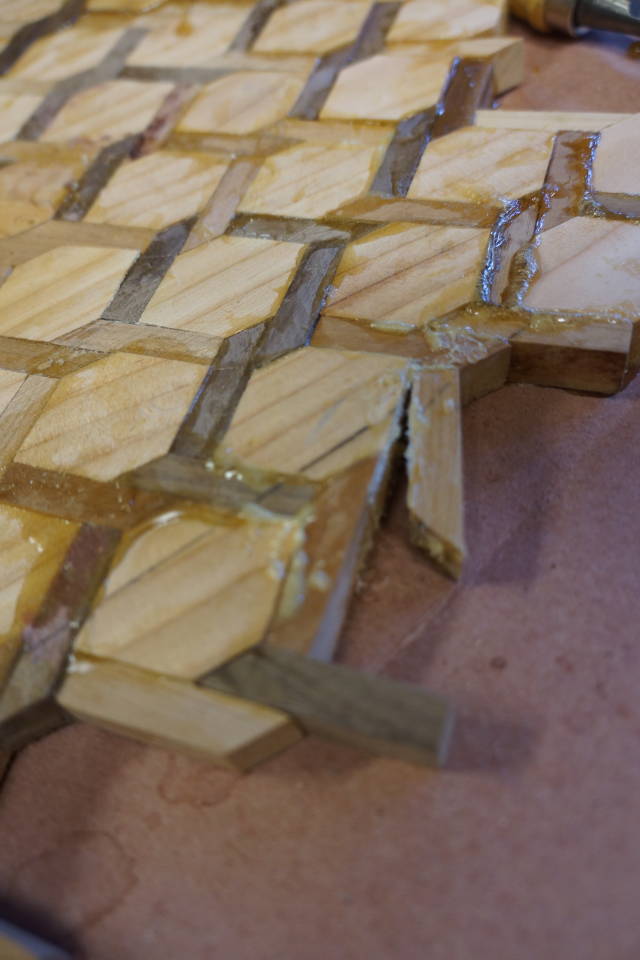 At the end of the day, the glass jar, with it's cover on is in the refrigerator until next weekend.
I like Hot Hide Glue. It was a little messy for me. I am sure it's because my inexperience with it.
I am equally sure I could not go through this glue up with titebond with tape and so on. CA glue would have been messy and not "reversible" which I used twice.
So I still have almost 5 pound of the stuff and plan to use it. Not exclusively but on most project that would not come in contact with water and lots of heat.
-- Abbas, Castro Valley, CA