My Take on a Small Budget/Space Shop #1: The Available Space and the Tools
When we bought a winter home in Green Valley AZ. in 2007 it didn't take me long to realize that I couldn't spend half of the year without a shop. The problems were that there wasn't any space for one except the semi-enclosed carport and it's hard to justify the price of "two of everything" good quality tools.
This blog is about the solution I arrived at. For starters here's the space I had to work with.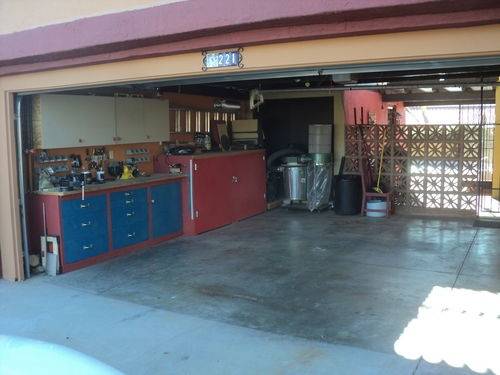 The bench is 26″ × 8′ and the cabinet behind it is 30″ × 8′. There is a 30" square area behind the cabinet that houses a mobile tool caddy. The DC takes up 30″ × 4′. Total is fifty-three square feet. The little building behind the cabinet and the DC is the laundry room.
The other side has a small lumber storage area and a couple of saw horses. They take up about 20 square feet. You can still park two cars in the carport.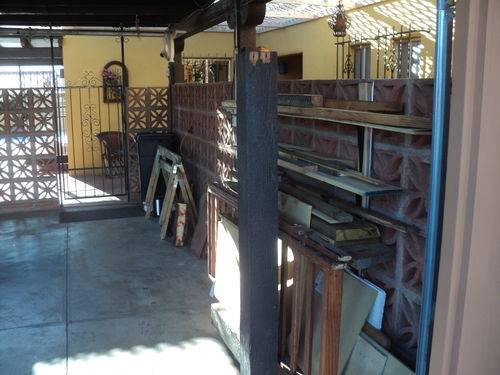 In the laundry room I have a 6′ × 6′ marquetry shop. The total occupied space with tools put away is 109 square feet.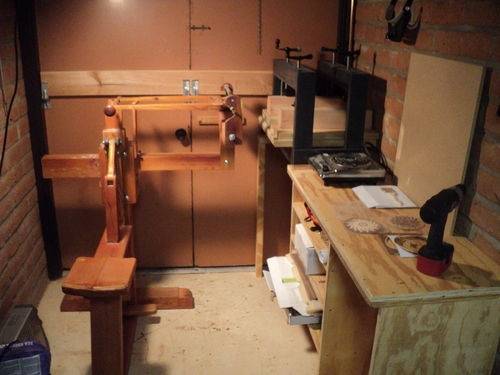 The stationary tools I have are:
Table Saw, Drill Press, Lathe, Disc Sander, Belt Sander, Jointer, Planer, Horizontal Boring Machine, Bandsaw, Compressor, Thickness Sander, Marquetry Press and of course my Chevalet de Marqueterie. They are all good quality tools.
The drawers have a number of hand and power tools and in general I can make anything here that I can in my much bigger, much more expensive shop at home.
I may have as much as $2500 invested here but I don't think so.
Gotta run, I have a tee time but next post I'll start showing you the tools.
Thanks for looking in.
Paul
-- The early bird gets the worm but its the second mouse that gets the cheese.
View all parts of My Take on a Small Budget/Space Shop »