WoodworkingWeb Interview: Jack
This interview with Jack is from April, 2015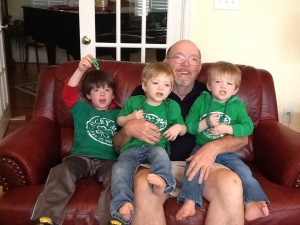 1. What is your "inspiration story" — where did your interest in woodworking all begin?
My woodworking interest began at age 69. I had never attempted nor had I known anyone who did any woodworking. My son called me one day and ask me if I would build a sundeck on the back of their house in Charlotte, NC. Sure son, when do you want it? When I hung up I said what the heck have I volunteered for? With a start date in two weeks, I designed, digested the North Carolina building code, ordered the materials and started a 30 by 24 deck with railings and gate. An easy job maybe for you pros but many a sleepless night followed with the fear of falling flat on my face. Long story short it turned out beautiful, even the building inspector said it was as good as he had seen with the posts in pockets and 11 poured footers. I tell this tale in no way to boast, only to tell you what got me started in this wonderful hobby and it is now my passion.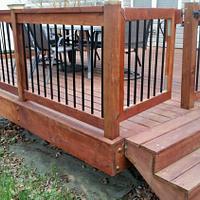 2. Who is your woodworking mentor and why?
I had no mentor of name, rather the internet, youtube and the local Woodcraft store. I have taken several classes that they offer and I have learned so much from all of you dear people here. I would not have believed that I could have what I consider dear friends literally from around the world connected together by our love of woodworking. Thank each and ever one of you.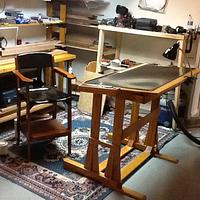 3. Power or hand tools? … and why
When I started building my shop I went all that was possible with power everything. Thanks to my ignorance of how things are done with hand tools I really didn't have a choice at the time and at my age I don't think I have the time to learn. But I envy all of you that use them, just wish I had the skills.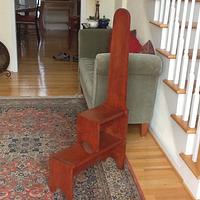 4. What is your dream project and when do you think you will tackle the challenge?
I decided what my dream project was going to be early on. A month or two after I started, I was looking for ideas on the internet and suddenly there was shock and awe. There before me was a picture of a Sam Maloof low backed dining chair. Do you remember the feeling when you first saw it? Mine was disbelief as how could anyone make something so beautiful out of wood with their hands. My goal is to make 6 of them with a table. I have selected the wood for the seats etc, but as yet I have not mastered "the joint", but I will.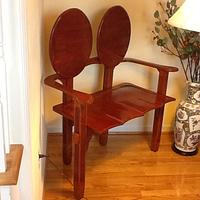 5. What is the greatest gift that this craft gives you?
I have found my self confidence is a level above before I started. I am able now to begin to look at a piece and understand how and why it was made the way it was. I am at a point now I will not hesitate to begin something I like or something someone ask me to make. Getting it to completion is a different story, but now I have a beautiful gang of folks who will almost instantly and freely give expert advise on any subject. Thank all of you.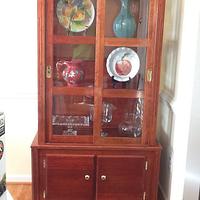 6. What are your "words of wisdom" that you want to pass on to others, especially to beginners?
I learned early on what is the most important thing in woodworking. I went shopping and bought several machine including a tablesaw. The second time I had the saw turned on I was cutting a scrap piece, I failed to lock the fence, it moved and I cut the end of my left thumb off, including the bone. OUCH! I had the blade way too high and my left hand crossed over the blade and I am just lucky I didn't lose my entire hand. Please be careful and think about what you are going to do and how you are going to do it safely. As an older gentleman told me, and I quote "your machines will lay in wait for years just waiting for you to get in a hurry and get careless". Thank you my friends.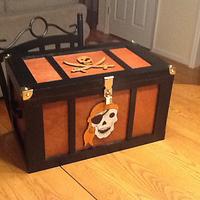 -- Toxins Out, Nature In - body/mind/spirit